Former Liverpool and Republic of Ireland international Jason McAteer has paid tribute to his former national manager Jack Charlton who passed away today at the age of 85.
McAteer who represented Ireland on 52 occasions spoke to Off The Ball about the legacy that Jack Charlton not only left on him and his former teammates, but on Irish society.
"Tears were shed, I'm absolutely devasted to be honest. I'm a little bit broken," McAteer said.
The 49-year-old central midfielder who played under Charlton at the 1994 World Cup in the US, described the aura of 'Big Jack' as well as telling that he felt he was Charlton's favourite in the squad.
"He's such an imposing figure, he had this aura about him, when he walked into a room, you knew he was there, a big imposing figure, 6'4, Geordie accent, but when he spoke everyone listened.
"I had a great relationship with him. I always thought I was one of his favourites. I really had a strong relationship with him."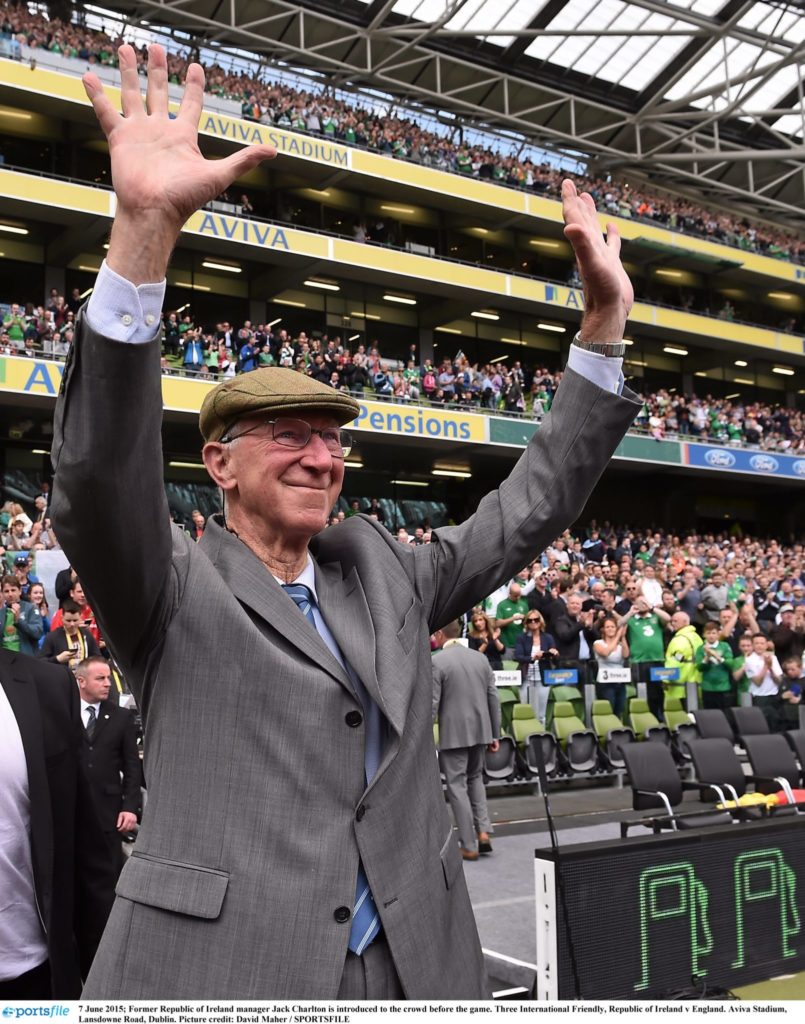 McAteer reminisces about when the former Ireland boss told the then Liverpool player that he would start in the World Cup match against Norway in 1994.
"In the World cup in 94, he called me to his room and told me I was playing in the World cup against Norway and not to be messing around and get some sleep. That was a special moment.
"He was a real man's man. You could go to him and talk to him. His door was always open. He was just a lovely fella.
"It was an absolute privilege to be around the squad with him there, from 94 going into the World Cup until 96."
McAteer spoke about when Charlton decided to call it a day in 1996 after the Republic of Ireland failed to qualify for the Euros, losing to the Netherlands in a play off in Anfield.
"Ninety-six was sad because he was on his way out and he knew it. It was time to rejuvenate the squad and it was going to be very difficult around that time. The night against Holland was really sad, it was just a sad night.
In summing up Charlton's character, McAteer points out that he didn't just impact the Irish squad but in fact Irish society at that time.
"It's not just what he did for us on a personal level, it's what he did for Ireland, with the economy boom of what the squad were doing around that time.
"The way he handled people, and lets not forget, he won a World Cup for England which is one thing but then to manage a different country having been from England was going to be tough, but he was quickly taken on board and people don't look at him any other way now other than Irish.
"We used to joke he'd be Prime Minister of Ireland and get all the votes and do a good job.
"For Jack to leave an imprint on my life the way he did, it's going to take time to get use to this, but it is what it is.
"He had no heirs or graces. If he had something to say he'd say it, he was a very emotional guy. The way he treated us as a squad and as men was unbelievable.
"To some him up, you don't have to play for your country, it's an honour and it's the greatest honour to go and play for your country. But you see a lot of players that don't get on with managers and they don't want to play for one reason or another, we could not wait to go and play for Jack and spend five days in each other's company.
"It was a golden generation for football in Ireland and that's thanks to Jack."
Watch back what Mick McCarthy, John Giles, Kevin Moran and Kevin Sheedy said to Off The Ball about their memories of Jack Charlton. 
Download the brand new OTB Sports App in the Play Store & App Store right now! We've got you covered!
Subscribe to Off The Ball's YouTube channel for more videos, like us on Facebook or follow us on Twitter for the latest sporting news and content.