16 matches, two nights, nine titles on the line, Rob Gronkowski as host and the first Wrestlemania to take place without an audience.
Though WWE have not openly addressed the coronavirus crisis on their programming it's forced the company to move the event from a stadium show in Tampa Bay to a pre-recorded show across two nights mainly hosted at their performance centre.
Richie McCormack and The Irish Independent's Michael Verney joined Will O'Callaghan on this week's Off The Top Rope podcast and they've been giving their predictions for the 16 (yes sixteen) matches due to take place on Saturday and Sunday. Two matches are expected to be changed at tonight's SmackDown, including one of the main events, so beware of potential spoilers below...
Universal Title: Goldberg (champion) v Braun Strowman
Up to 24 hours ahead of the event, WWE had been promoting Roman Reigns challenging Goldberg for SmackDown's main belt, the Universal title. That was despite Reigns (who has twice battled leukaemia) pulling out of the event two weeks ago as his immune system is compromised and doesn't feel safe working during the COVID-19 pandemic. He was replaced by Braun Strowman on the Friday Night SmackDown show.
Richie McCormack (Goldberg win):
"When one of the major people you've built the company around over the past few years basically says I'm not doing this because it's a major threat to my health and well-being, when he pulled out you would have been hoping for some kind of solidarity. I know unionisation is seen as a dirty word by Vince but you expect that collectively the other wrestlers could have spoke to management and said 'Listen, Roman Reigns is not fit to take part in this thing and it could endanger his health and we genuinely think you're risking all of our healths by this thing continuing.
There's rumours that they might have to take a break after Wrestlemania due to not being able to film during the stay at home order so why not just park it now. Whatever PR battle they think they're winning, whatever battle for the casual viewer and whatever about Triple H saying to Ariel Helwani that they're giving the world entertainment when it's need most, it's not the right kind of entertainment. It's entertainment with massive caveats, those caveats are that a) this would be much better in front of a crowd and b) it's not worth risking the health of everyone involved.
"Goldberg's last match against a big man was against Undertaker in Saudi Arabia and he found it hard to do anything. The level of co-operation required given (Braun) Strowman's size I just can't see them pulling it off. Keep in time they've multiple takes given it's pre-recorded and they gave the chance to make it look right but regardless it's going to be ugly and pointless. It only serves to underline how stupid it was to squash Bray Wyatt and take the title from him".
Michael Verney (Goldberg win):
"It's scummy enough that it's happening and crazy that it's going ahead when most people feel it shouldn't be happening. I was disgusted when (Bray) Wyatt lost the title (to Goldberg in Saudi Arabia) and I thought it was a disastrous booking decision. I'd been waiting for him to have that lead spot for a few years because he'd lost every major feud before he was re-packaged but they've now gone back to that.
Maybe they're getting what they deserve now, if that title match is Goldberg against Braun Strowman then it's going to be awful. It'll be so stiff and there will botched jackhammers and spears and horrible moves with a risk of concussion, everything about that match is just horrible".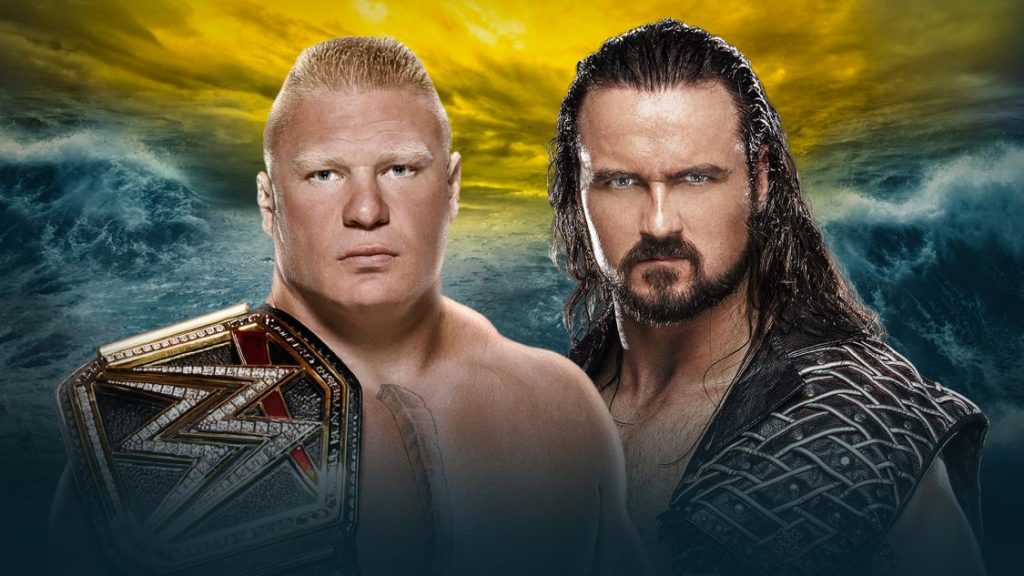 WWE Championship: Brock Lesnar (champion) v Drew McIntyre
Likely to headline on one of the two shows, the Royal Rumble winner Drew McIntyre challenges Brock Lesnar for RAW's WWE Championship. A feud which began when "The Scottish Psychopath" eliminated Lesnar en route to winning the Rumble in January with former NXT champion McIntrye aiming to win his maiden world strap on the main roster.
Michael Verney (Drew McIntyre win): 
"They've built this storyline really well, at the Rumble they portrayed Lesnar as a monster for 35 minutes and then in comes McIntyre and it makes a Wrestlemania main event straight away. They'll built very well on it since then as well but there's no such thing as a Wrestlemania moment in front of an empty crowd, do you have to change plans due to that? Maybe they can delay and give him his pay-off in front of a crowd further down the line but it would be very weird if his crowning moment were to come in front of nobody. I'm not entirely sold on Drew but when you compare him to his first run he's a big improvement. If he loses then I'm not sure how you can keep his character going, I think McIntyre has to win.
Richie McCormack (Drew McIntrye win):
"I have a feeling they'll have a fake set-up like cameras standing by in Scotland so a whole village are watching on and cheering him on so he gets a moment to celebrate, I think they could go very corny here. I'd love to see Drew being brought to the ring by a Limmy character! They've had plenty of time to be creative and create a proper pay-off for this feud".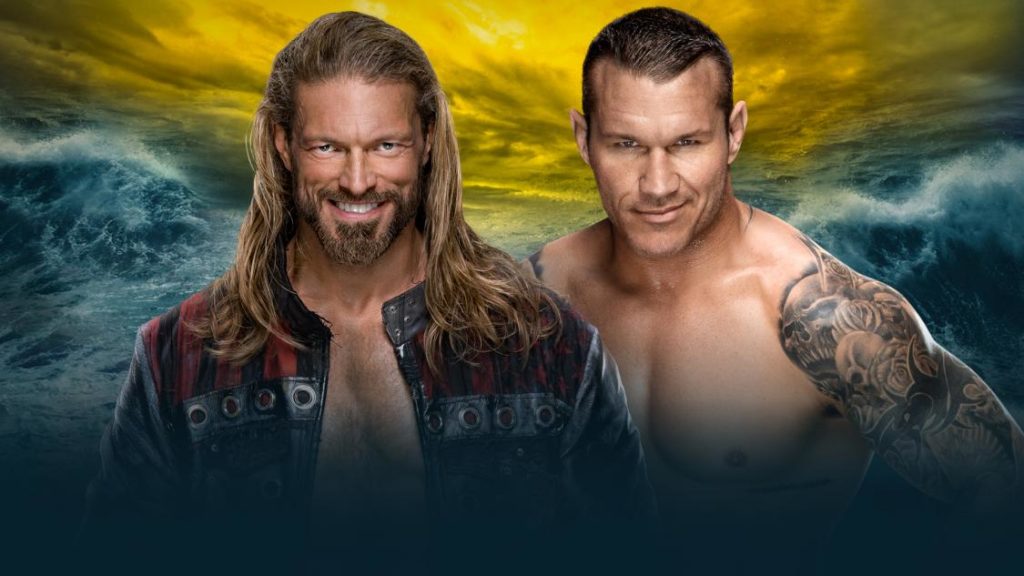 Last man standing: Edge v Randy Orton
Former Team RKO partners Edge and Randy Orton meet in a Last Man Standing encounter which is likely to be the co-main event on one of the nights. Edge made his return at the Royal Rumble after nine years out with a neck injury and that real-life issue has played into this white-hot feud with Orton attacking Edge, his wife Beth Phoenix and Matt Hardy in the two-month long build.
Michael Verney (Edge win):
"This has been some of Randy Orton's best work in years and it's the most interested I've been in his character in a long time. Two months ago we would never have imagined Edge would be back in a ring again. They've done this really, really well and I'm really looking forward to it. As the hurling boys would say "there's a bit of intensity about it", as matches to look forward go, this is right up at the top of the heap. I love how they've gone about it, they've made this feel authentic. Orton has no need to win this match but Edge should win."
Richie McCormack (Edge win):
"Edge's comeback has been so well handled, it's one of the few matches where you're intrigued. I don't think anyone is doubting that Edge gets the win but it's one of the few matches where you really want to see it. I think it'll be fast and intense and Orton will be very safe. It'll also help set up Edge going into the summer where he's likely to have a match at Summerslam".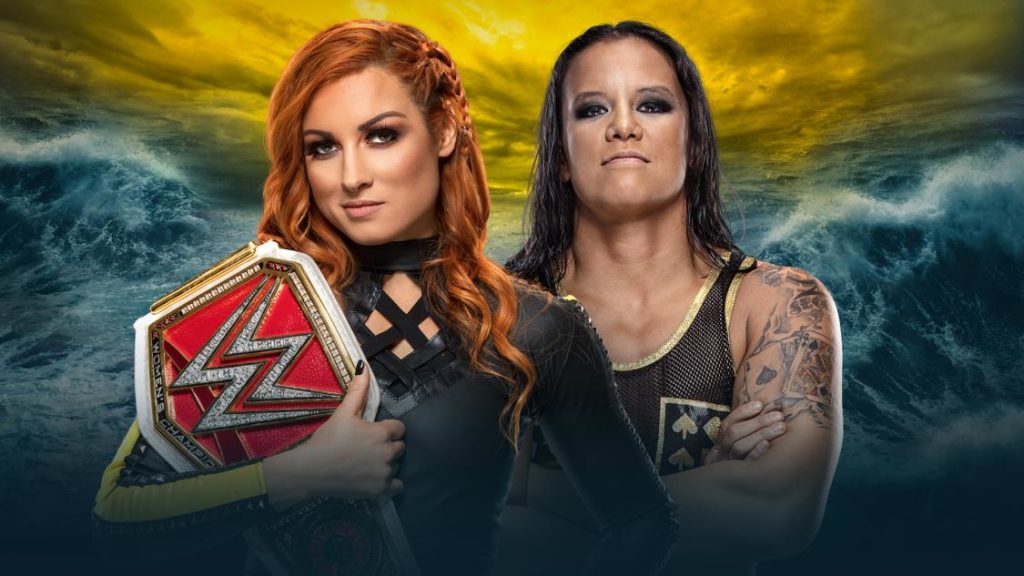 RAW Women's title: Becky Lynch (champion) v Shayna Baszler
For the second successive Wrestlemania, Ireland's Becky Lynch is involved in a women's title match. Having secured the RAW and SmackDown titles at Wrestlemania 35, "The Man" defends her crown against former MMA fighter and NXT champion Shayna Baszler. With Ronda Rousey reportedly agreeing a one-year extension to her WWE deal, the former MMA star is also potentially lurking in the background.
Richie McCormack (Shayna Baszler win):
"Becky needs something chase again. Baszler has to win a fairly convincing style and if she does win it then it gives Lynch something more interesting and she's still retaining a fire in terms of her reaction. My only fear is the match could stink out the joint, they were both involved in a triple-threat late last year and I don't think anyone was happy with how that match went. The only hope is they're worked out those kinks and they can actually build some in-ring chemistry and who knows a certain Ms Rousey might arrive back in the picture.
Michael Verney (Shayna Baszler win): 
"Maybe with Becky the chase would be more interesting than the actual end-point, she needs to have to struggle and fight for something again. Ronda could easily get involved here and maybe screw over Becky this weekend, it would build great heat and light a fire on the RAW women's division. They could have Baszler win and then Rousey criticised for taking her ball and running away after the loss at Wrestlemania last year. There's a lot of options here and they could set up rivalries for months."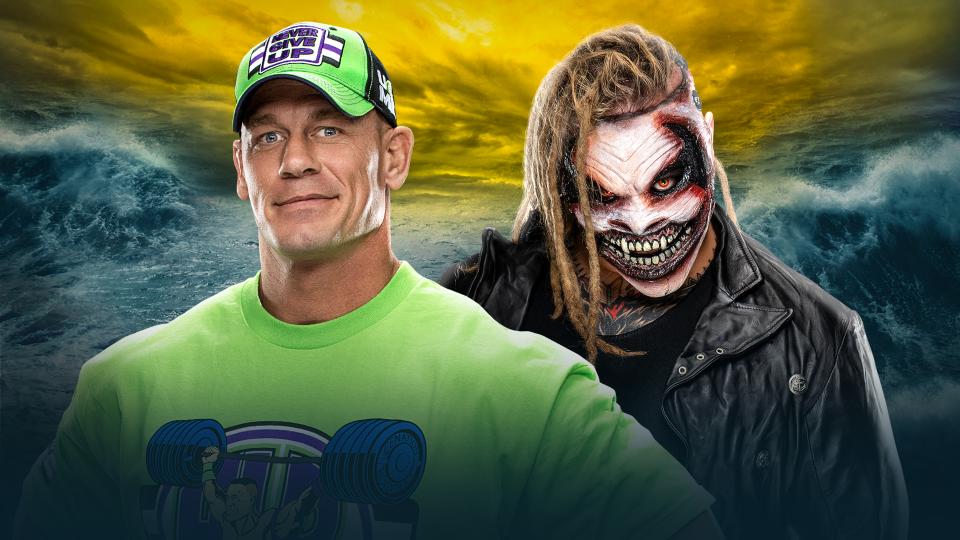 John Cena v "The Fiend" Bray Wyatt
A match which has its origins in Wrestlemania five-years ago, John Cena has returned from Hollywood to take on Bray Wyatt in what's likely to be a cooky "Firefly Fun House" match in which "The Fiend" looks to avenge his previous Mania defeat to Cena.
Richie McCormack (Bray Wyatt win): 
"Someone who will have a massive hand in this match will be Jeremy Borash, who had a massive role in the Broken Hardy pre-recorded segment matches in TNA before he left for WWE. This could be what they hoped Bray Wyatt to be in his match against Randy Orton in 2018, there will be lots of smoke and mirrors in this, especially as John Cena hasn't wrestled much in the last couple of years.
"The Fiend character reminds me of Mankind in the late 90s but what got Mankind over at a main event level was Mick Foley, I'm not sure the fans would warm to him beyond the character and unfortunately with this gimmick he could get stuck in just spectacle matches. If he's going to be in the world title picture then his mystique has to be maintained, that's hard to rebuild. He needs to win.
Michael Verney (Bray Wyatt win): 
"I'm a big Bray mark and it's been sickening to see him end up on the short-end in payoff matches in all of his main feuds, including against Cena five years ago. I was listening to Matt Hardy recently and he said they taped for a couple of days to get the final deletion right and WWE have a similar amount of time to get this right. They can do lots of crazy of stuff so it has the potential to be theatrical. Many of the other matches will have a sterile atmosphere and this has the chance to be something very different and memorable with this one.
"I assume Bray has to go over to Cena, he has to really. Otherwise he becomes a character who gets into feuds but you knew he's not going to win. I'm pray he does win".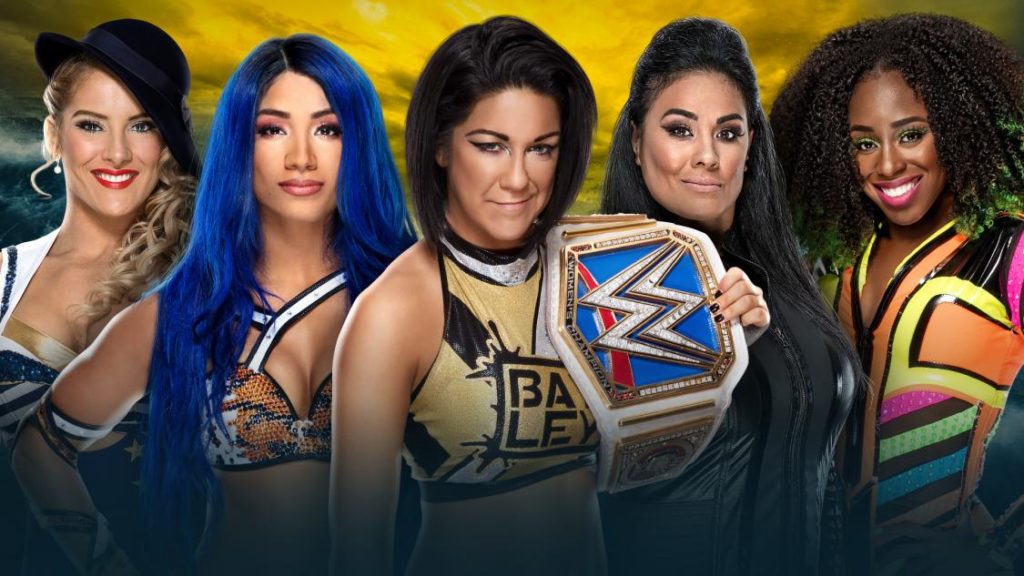 SmackDown women's title: Bayley (champion) v Sasha Banks, Tamina, Naomi and Lacey Evans
Bayley is set to defend her SmackDown women's title match in a Fatal 5-Way Elimination Match which includes her best friend Sasha Banks. Will "The Boss" remain aligned to Bayley or could be finally see a fracture of their friendship?
Michael Verney (Bayley win): 
"I've been waiting for a Sasha against Bayley feud for ages, I'm a big Sasha fan and I've been disappointed to see her miss out on the focus a bit in the last two years. I kinda like the idea of Bayley being the heel in that rivalry, things have kinda flipped since they were against each other in NXT so surely this is the right time to pull the trigger on it and Bayley probably keeps the strap".
Richie McCormack (Bayley win):
"You would hope that the match leads to a showdown between Bayley and Sasha Banks and they've been subetly angling that way for a little while but I think Naomi deserves a chance to get to shine a bit in the match as well, but it's set up for this to end with either one of Bayley or Banks coming out of this as a face.  If it's Bayley coming out of this as a heel against Sasha then it adds a little something different".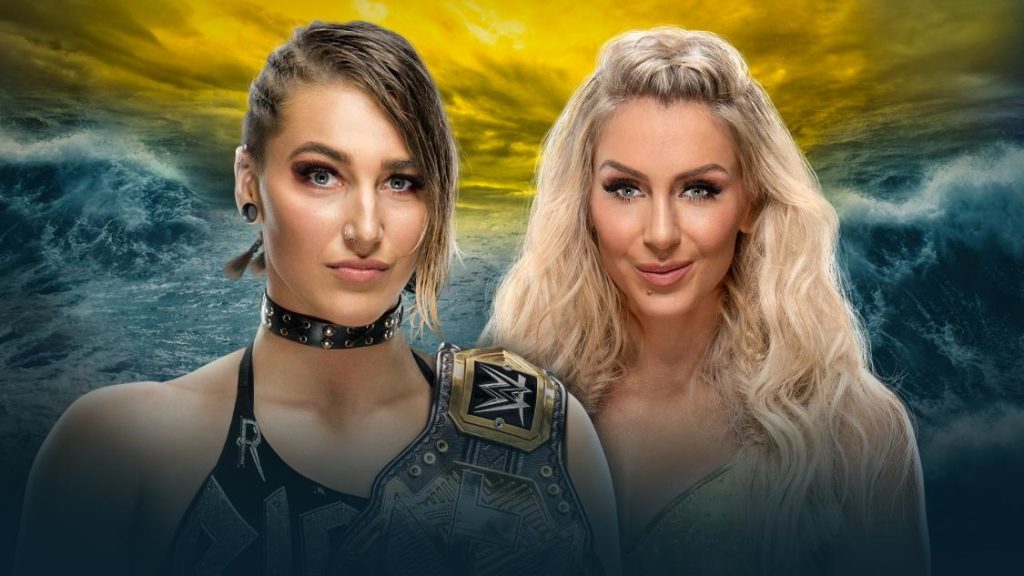 NXT women's title Rhea Ripley (champion) v Charlotte Flair
Having been in last year's historic all women's main event in 2019, Charlotte Flair has opted to face NXT champion Rhea Ripley after winning this year's Royal Rumble.
 Michael Verney (Charlotte win): 
"It's deadly to see an NXT champion on the main Wrestlemania card and there's the potential to build a real star in Rhea Ripley. Will Flair put her over at 'Mania? I don't know. It'll invariably be a great match because Charlotte is an excellent worker. A lot depends on how strongly Rhea Ripley is booked in the match because Vince seems to love Charlotte winning at Mania. It needs to be a creative finish to keep Ripley strong so her momentum is not destroyed. Tapping out would kill her completely".
Richie McCormack (Charlotte win):
"I think there would be a lot of blowback if this is a straight 1-2-3 victory for Charlotte. They've pushed Ripley to a position which is maybe a year too early, they could have established her for a year as champion in NXT like Shayna or Asuka but if she's to lose it has to be where it's like Austin and Bret where she can come out looking strong. Otherwise it would cut the legs from under her. I'm not entirely gone on Rhea Ripley but they've set her up nicely and they have to be careful about she comes out of this match".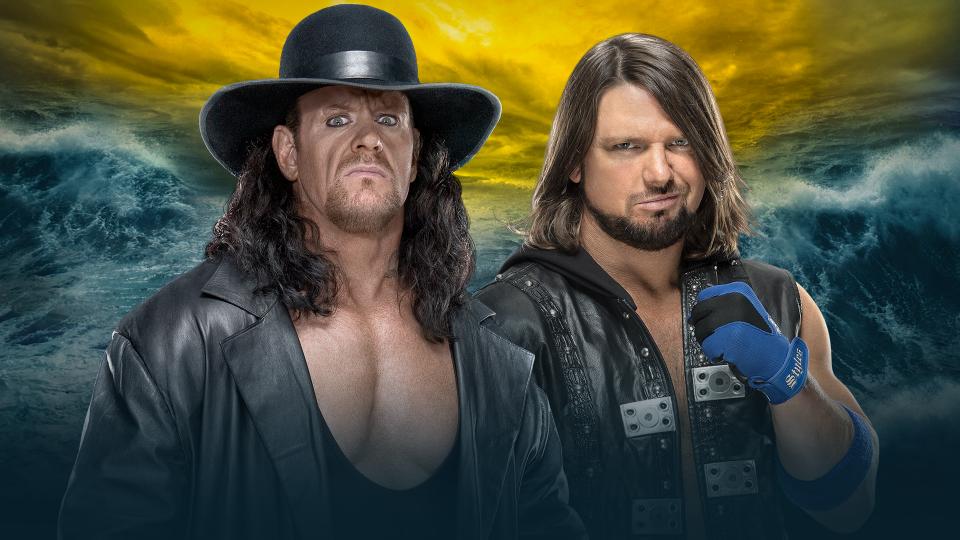 AJ Styles v The Undertaker in a "bone yard match)
Two legends of the modern era have their first significant encounter in a bout set-up when The Undertaker attacked AJ Styles in Saudi Arabia. With Styles nursing a rib injury and Undertaker's movement not what it was 29-years ago, this match is set up as a bone yard match which is a mystery to all of us.
Richie McCormack (The Undertaker win):
"I've really enjoyed the build to this and The Undertaker's American Badass promos. It's made me want to see him again and hear his promos again which wasn't really the case before last week when we go to see a bit of Mark Callaway again and AJ Styles could get a decent match out of him."
Michael Verney (The Undertaker win):
"It's been interesting to hear 'Taker taking about an unholy trinity, Michelle McCool is obviously one part, I wonder if Kane could return as the other. They've loads of time to make the production value good on this and they should place this on a different night to the Firefly match so they can keep it special. Obviously the Undertaker will go over but it's interesting to see where they go with the match itself."
Seth Rollins v Kevin Owens
The "Monday Night Messiah" Seth Rollins, who won the universal title from Brock Lesnar in the opening match last year goes up against his nemesis on RAW, Kevin Owens.
Michael Verney (Seth Rollins win): 
"Two of the best workers in the business. Owens was killed in Goldberg's push in 2018 but he's rebuilt himself with his massive charisma. Even taking the lack of crowds into account, these two have done an excellent job of making you care about this match and I'm invested in it. It's a really tough one to call though, probably Rollins but it's one of those where's nothing really on the line but it feels like there's lots on the line."
Richie McCormack (Kevin Owens win): 
"I would like to see Owens get the win and then have Rollins continuing to snipe away at him. They could easily have an interesting story arc and this is a feud that could run into SummerSlam. It's a feud that seems to be ongoing rather than one heading for a payoff this weekend."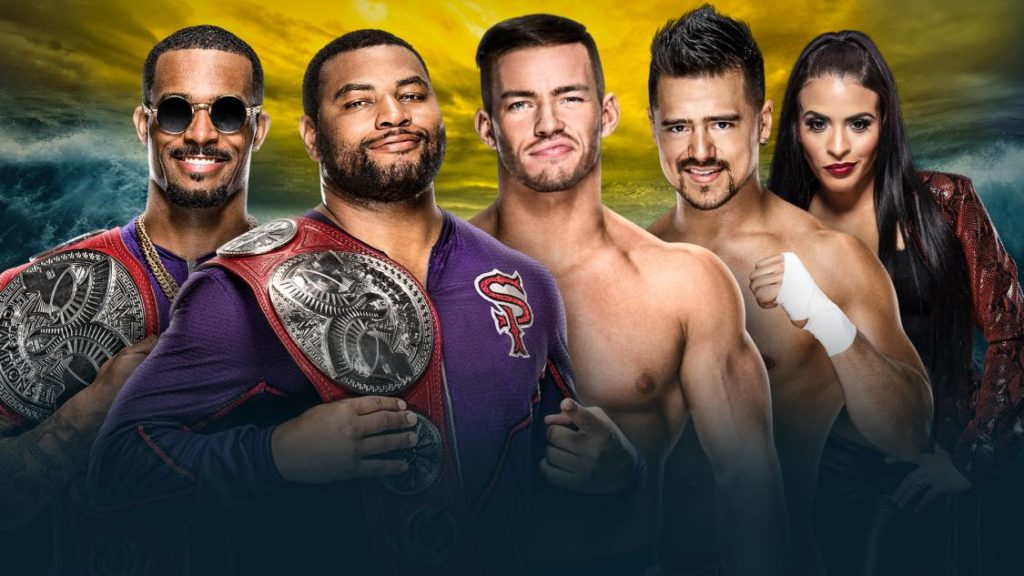 RAW Tag-Team title match: The Street Profits (champions) v Theory and Garza
A match that would probably be on the pre-show were this a one-night Wrestlemania, NXT's Austin Theory will tag with Angel Garza to face the reigning RAW tag champions. Originally this was meant to be a US title encounter between Andrade and Rey Mysterio but both men are currently sidelined. Andrade had, until Monday, been set to tag with Garza.
Richie McCormack (Street Profits win):
"There's several people who they could have replaced Andrade with but for whatever reason they've landed on Austin Theory as Angel Garza's partner for this jumbled together match. You can't see anything but a conclusive Street Profits clinical win. Dawkins and Ford have been impressive inside and outside the ring in recent weeks. It's not going to be dissimilar to a match where Garza was up against Street Profits as well. If anything happens other than a Street Profits win then I'll have a heart attack!"
 Michael Verney (Street Profits win):
"The Street Profits have to go over and have go over very convincingly".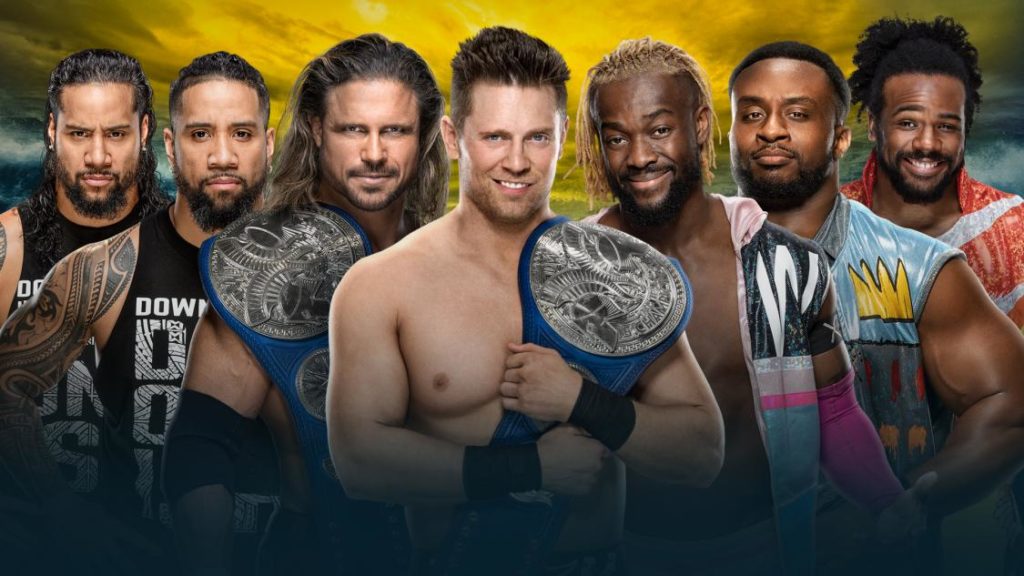 SmackDown Tag titles: Miz and Morrison (champions) v New Day, USOs
This match, which was due to be a three-way ladder encounter, is expected to be either scraped or altered ahead of the show as The Miz is currently ill and missed a taping session last week.
Richie McCormack: 
"These changes make this Wrestlemania very unappealing to tune into because so many matches have been cobbled together or fallen apart. The story of this will be told on Friday night and we'll then know if it's worth watching at the weekend but I doubt it will be. They should probably write this one off".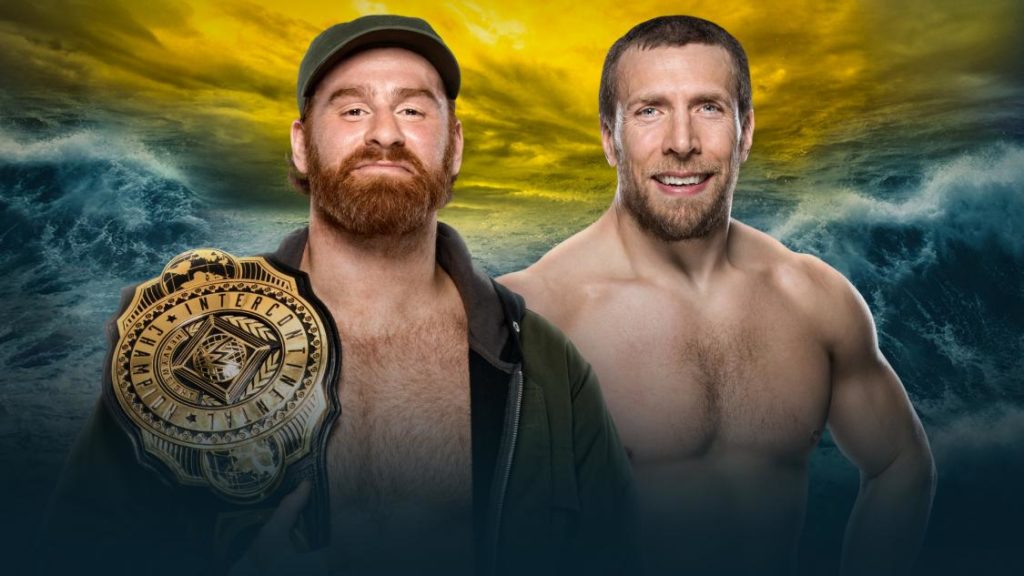 Intercontinental title: Sami Zayn (champion) v Daniel Bryan
Daniel Bryan (with his protege Drew Gulak in toe) returns to the mid-card to challenge reigning Intercontinental champ Sami Zayn (backed up his stable of foreign heels).
Richie McCormack (Daniel Bryan win)
"It's really disappointing that Shinsuke Nakamura doesn't have a match on the card and is instead here as a manager. There was such fanfare through his time in NXT and after his call-up to the main roster but the office think he doesn't speak English so he can't go over, and that's despite him having bags of charisma. When you see the likes of Austin Theory getting to wrestle it makes you a little bit sad that Cesaro and Nakamura don't have more prominent roles and that Daniel Bryan is dangling in this part of the card. This could be the most interesting throwaway match of the night, Bryan and Gulak match a couple of months ago and I'd love something like that."
Michael Verney (Daniel Bryan win)
"Bryan going over is the logical move. Cesaro and Nakamura should be main eventers and shouldn't be languishing down the card. WWE just have too much talent and they don't know how to use it".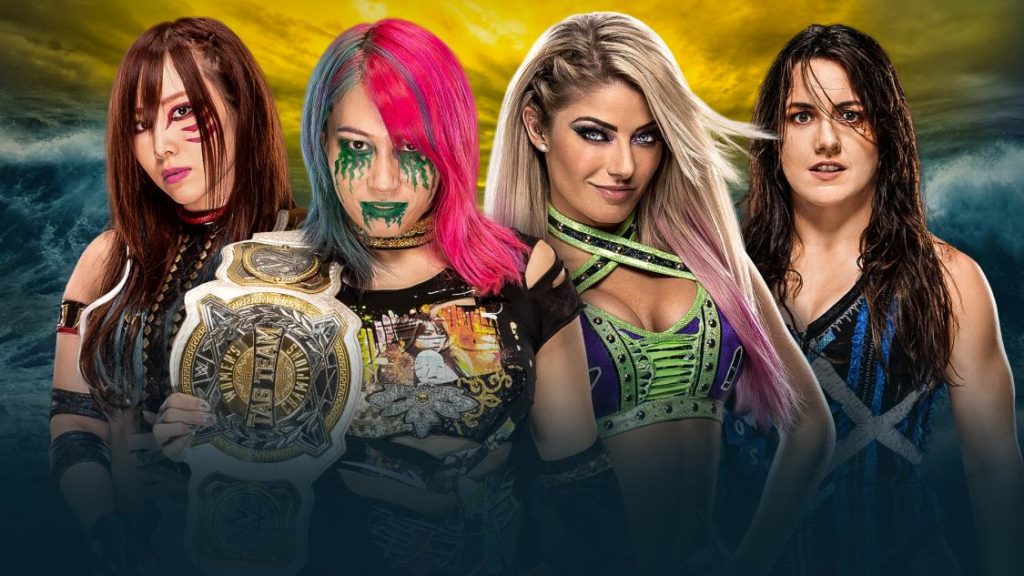 Women's Tag-Team title match: Kabuki Warriors v Bliss and Cross
Nikki Cross and Alexa Bliss challenge Asuka and Kari Sane for their long-held women's tag-team titles in a match where either team could break apart...
Richie McCormack (Bliss and Cross win): 
"I think we're getting a Nikki Cross and Alexa Bliss win here or we could have Alexa turn on Nikki and Cross a massive babyface in the process. Asuka and Kari Sane are money and have huge charisma and are great workers, they've been misused and could do with singles runs. We've lost a lot of steam with Asuka losing clean to Charlotte two years ago. These four could have a really good match but I'm not sure they'll be given the time to do so."
Michael Verney (Kabuki Warriors win):
"They should go for the payoff and have Cross and Bliss lose and then allow them to have a singles programme running into the summer. Asuka doesn't need to talk on the mic, let her do her thing on the mic. It's disappointing to see her go from being Becky Lynch's best opponent to falling right down to the bottom of the card."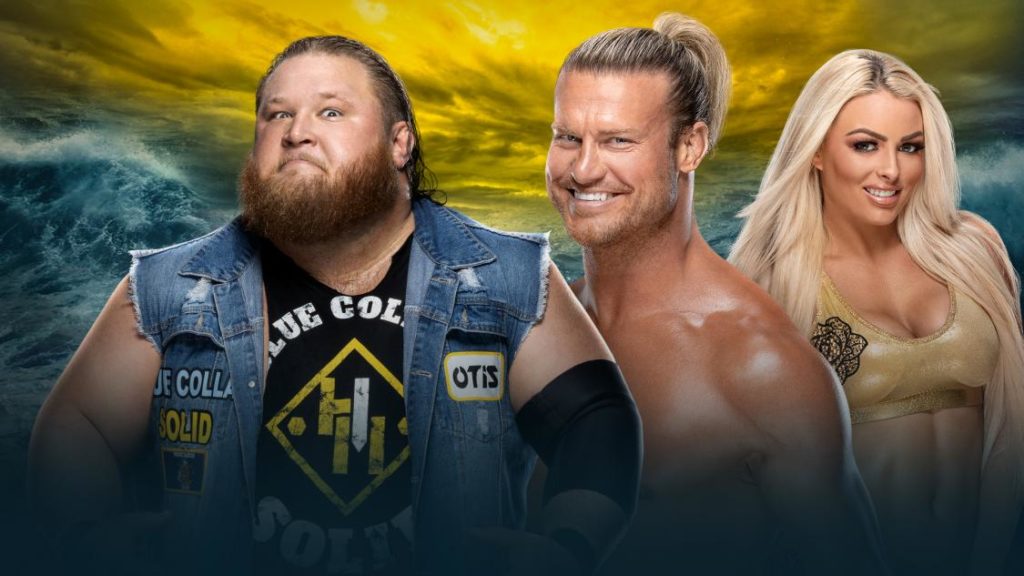 Dolph Ziggler (with Mandy Rose) v Otis
A rivalry with its origins going back to Valentines Day, Otis gets the chance to enact some revenge on Dolph Ziggler, who stole away his love interest Mandy Rose.
Richie McCormack (Otis win):
"Otis is a really likeable character and hopefully a win here can kickstart an interesting summer storyline for him."
Michael Verney (Otis win):
Dolph is well used to doing a job and Otis should get his Wrestlemania moment here. I'm interested to see how they go with the Sonya side to the storyline here and also what Mandy does after the match or if she gets involved".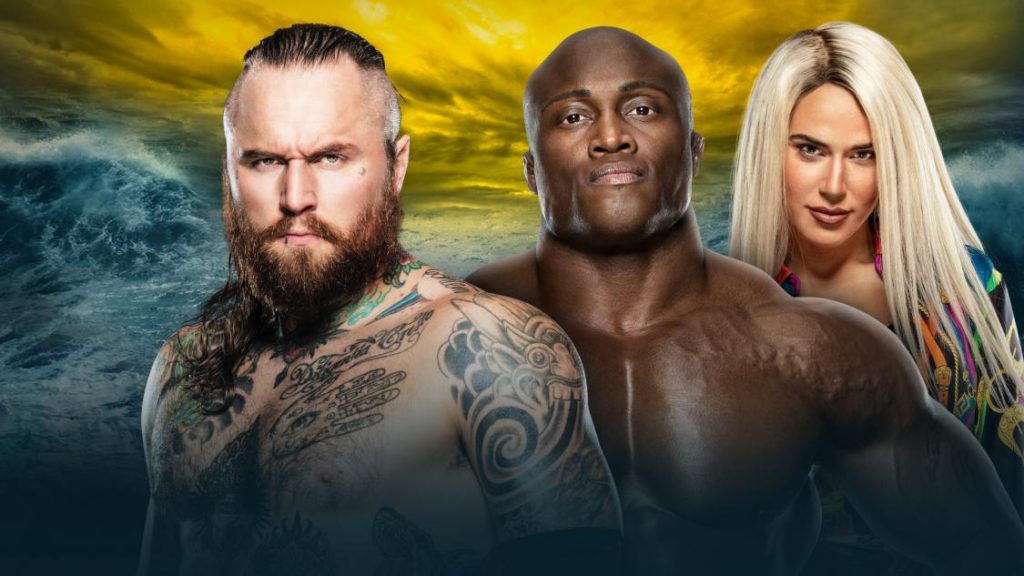 Bobby Lashley v Allister Black
A fairly late addition to the card, Bobby Lashley takes on Allister Black for...reasons...The match graphics shown on RAW to promote it have been longer than the actual build.
Michael Verney (Allister Black win): 
"Lashley I've never been interested in in any company. The only interesting period he's had was the Battle of the Billionaires. There's a lot more upside in Allister Black, who I quite like, but I've no interest in this one".
Richie McCormack (Allister Black win): 
"They've built up Black with a series of jobbers which has kinda made him look impressive but it doesn't make you care about this match. Who in the F cares about this?"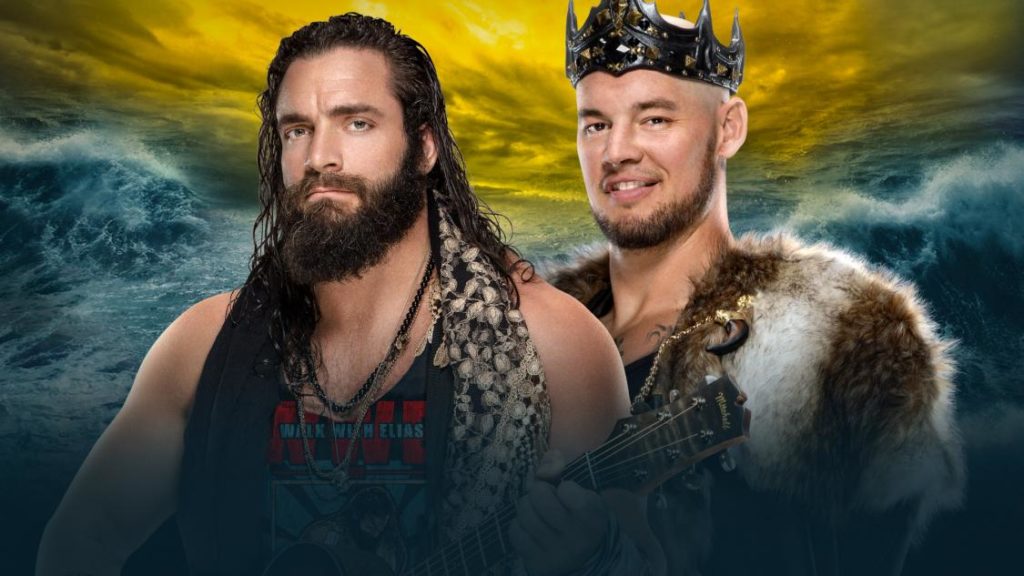 Elias v "King" Baron Corbin
A match made by Wrestlemania 36 host (and former New England tight-end) Rob Gronkowski, King of the Ring winner Baron Corbin takes on strumming strumpet Elias.
Richie McCormack (King Corbin win):
"I think there's a lot to like about Corbin's work and he gets how portray a heel. Gronk is unfortunately going to be all over this and just no. There's a lot more to be done with Corbin down the road but there's nothing there for me in Gronkowski.
Michael Verney (King Corbin win):
"I actually quite like Elias and his gimmick but he's been buried so many times. Corbin has been handed a lot of shit booking but always does a decent job, it's a hard match to care about though".
Subscribe to Off The Ball's YouTube channel for more videos, like us on Facebook or follow us on Twitter for the latest sporting news and content.