Our Sligo Mount Rushmore has been picked - and in the end the Yeats County arguments very much came down to a gaelic football versus soccer theme.
Our own Arthur O'Dea had the picks and Alan Cawley was onboard on OTB AM to make his own suggestions, but in the end only four could make it.
Here are the final Sligo Mount Rushmore selections - the four that will be carved atop Ben Bulben:
===
GAELIC FOOTBALL - Mickey Kearins
The first Sligo man to win an All-Star, Kearins lined out in black and white for 17 years, from 1961 to 1978. Arthur says he was always the number one on the list.
"He played football with Sligo throughout the sixties and seventies, won an All-Star in '71, a Connacht title in 1975.
"Such a phenomenal footballer, and known the country over. I don't think there's any question over his ability, over his legacy. He'd be an absolute certainty for me."
===
GAELIC FOOTBALL - Eamonn O'Hara
O'Hara helped Sligo to the Connacht title in 2007, earning an All-Star and a couple of International Rules call-ups over the course of his career.
Arthur says the Tourlestrane man is well deserving of a second gaelic football nod on the mountain.
"It has to be. It's a very similar C.V. [to Kearins] - wins an All-Star, wins a Connacht championship, An amazing player.
"Both men between them gave almost 40 years service for Sligo. There's the question of whether you're prioritising GAA over soccer, and obviously I've nailed my colours on that!"
===
CYCLING - Mark Scanlon
There was full agreement on the Tour de France stars' inclusion, and Arthur explained why the Cranmore-born man couldn't be left off.
"World junior cycling champion in 1998, rode in the Tour de France, rode in the 2004 Olympics, did the Giro d'Italia as well.
"In terms of an amazing amateur career that blossomed into a hugely respectable professional career, he was a certainty. There was no way you could leave him out.
"He's a world champion, there aren't that many of them coming out of Sligo."
===
SOCCER - Sean Fallon
The late former Republic of Ireland international lined out for Sligo Rovers, but it was his period with Celtic for which he is best remembered.
Alan Cawley made a last-ditch move to put Fallon onto the Sligo Mount Rushmore, replacing Arthur's choice of Raf Cretaro - and Cawley explains why Fallon was so special.
"What Sean Fallon has achieved in football, coming from Sligo, is absolutely phenoenal. He went on to play for Sligo GAA in a game in the Showgrounds against Kerry in a National League quarter-final in 1948, [he] scored two goals and four points.
"He went on and played for Glenavon... Celtic picked him up and he was 27 at the time. He thought because of his age there's no way Celtic would take him, so he changed the date on his passport to make out he was 22!
"[He] moved over to Celtic, played 254 games and scored 14 goals, he was an iconic figure there for seven or eight years. Then he went on to be assistant manager with Jock Stein which is what he might be [most] famous for."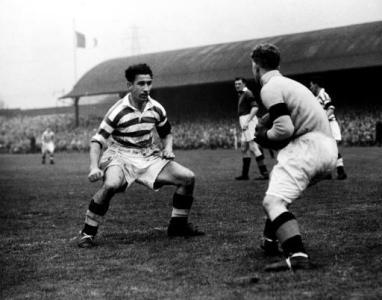 ===
PODCAST:
===
Missed any of our Mount Rushmore county-by-county series? Watch back all episodes here! 
Here is Nathan Murphy's selection of Mayo
Here is Colm Boohig's selection of Cork
Here is Will O'Callaghan and Paul Rouse's selection of Offaly
Here is Shane Hannon and Gráinne McElwain's selection of Monaghan
Here is Diarmuid Lyng and Liam Griffin's selection of Wexford
Here is Neil Treacy and Jack Anderson's selection of Limerick
Here is Enda Coll and Kieran Cunningham's selection of Donegal
Here is Máire-Treasa Nic-Cheallaigh and Michael Lyster's selection of Galway
Here is Adrian Barry and Conor Moore's selection of Westmeath
Here is Ronan Mullen and Dan McDonnell's selection of Louth
Here is Alan Quinlan and Michael Quinlivan's selection of Tipperary
Here is Tommy Rooney and Hector Ó'hEochagáin's selection of Meath
Here is Conor Deegan and Donal O'Neill's selection of Down
Here is Ger Gilroy and Joe Molloy's selection of Kildare
Here is Thom Malone and Paul Howard's selection of Wicklow
Here is Dave McIntyre and Paul Fitzpatrick's selection of Cavan
Download the brand new OTB Sports App in the Play Store & App Store right now! We've got you covered!
Subscribe to Off The Ball's YouTube channel for more videos, like us on Facebook or follow us on Twitter for the latest sporting news and content.