It's hard to believe we have reached the end of the decade, so I have decided it's time to pick my best Gaelic Football 15 of the last 10 years.
Cue insane debate!
Well, maybe not really. The wonderful thing about these type of takes is that there is no right answer. It's all about opinion, which is how it should be for a sports fan.
Here we go!
Goalkeeper: Stephen Cluxton 
The 37 year old Dublin captain is the current Footballer of the Year, picked up his sixth All-Star in 2019 and lifted the Sam Maguire Cup when the Boys in Blue made history by winning 5 All-Ireland titles in a row in September. What else can one say? Well, he revolutionised Gaelic Football with his place kicking, accuracy and sweeper play. Add to that some excellent shot-stopping. First player on the team, in more ways than one.
Right Corner Back: Jonny Cooper 
An All-Star in 2016 and 2018, what is more important with Jonny Cooper in my mind is his resilience. He fought his way into Jim Gavin's plans and has been a key member of the blue defence in the invincible years. Sent-off in the drawn 2019 All-Ireland final, he justified Gavin's faith the second day as Kerry failed to goal. In a team, you need a warrior. Cooper is one.
Full Back: Neil McGee 
Donegal's dream ascent to All-Ireland glory in 2012 was a consequence of the methods of the 'Messiah', Jim McGuinness, but Sam didn't return to the Hills without the players. Michael Murphy and Colm McFadden may have taken the limelight, but Donegal's teak tough defence was a huge factor in crashing through Ulster and dining at the top table. Neil McGee won three All-Stars and is the full-back selection, a specialist in the role.
Left Corner Back: Keith Higgins 
Mayo didn't win the All-Ireland this decade, but Keith Higgins is one of the most stylish footballers and best defenders of our time. The sometimes hurler won four All-Stars and was ubiquitous in his efforts as Connacht hearts were broken time and time again at Croke Park. It wasn't for a lack of trying that he's without a Celtic cross.
Right Half Back: Lee Keegan 
Footballer of the Year in 2016, Keegan's goal in the All-Ireland final the following year should have won it for Mayo. It's sad for him that he's waiting for the Holy Grail. A four time All-Star, excellent man marker and point scoring defender, he's one of the best Gaelic Footballers we have ever seen.
Centre Back: James McCarthy 
Seven All-Irelands with Dublin, versatile, stylish, the man for the big occasion. He has straddled the Pat Gilroy and Jim Gavin eras successfully. Only 29 too.
Left Half Back: Jack McCaffrey 
He wouldn't be in the team alone for his performance in the drawn All-Ireland game this year, but it just reminded us how special a 'baller' McCaffrey is. Blistering pace, goal scoring ability. Footballer of the Year in 2015.
Midfielders: Brian Fenton and Aidan O'Shea 
Brian Fenton has never lost a Championship game. Try to get your head around that! A towering presence, Footballer of the Year in 2018. Those surging runs, the goals, the central presence evoking memories of Brian Mullins and fellow Raheny club-mate Ciaran Whelan. Fenton is a Terminator 2 model. What a player.
Aidan O'Shea is the embodiment of the modern Gaelic Football player; hugely physical, hugely influential as a fielder and battering ram as the spiritual leader of Mayo's summers.
Right Half Forward: Michael Murphy 
Michael Murphy has been playing for what seems like forever. The Donegal skipper is now nearly on the scene for 13 years at inter-county level and is still winning All-Stars. In 2012, his rocket of a goal lit the touch paper in the All-Ireland final. Classy on the ball, a playmaker and a leader.
Centre Half Forward: Ciarán Kilkenny
The point guard of the Dublin team, Kilkenny has been ever present in Dublin's five in a row odyssey. It will only become apparent in time how hard that was for any team to achieve. Three All-Stars and a huge performance when it mattered as Dublin made history two months ago.
Left Half Forward: Diarmuid Connolly 
Connolly's performance in the 2017 final against Mayo, the best game I have seen in the flesh, marks him out as one of the most talented footballers to grace the Croke Park turf. Comfortable off both feet, he was very effective earlier in the decade. The clamour to get him back demonstrated his 'unicorn' effect. Only two All-Stars, but you can't leave him out.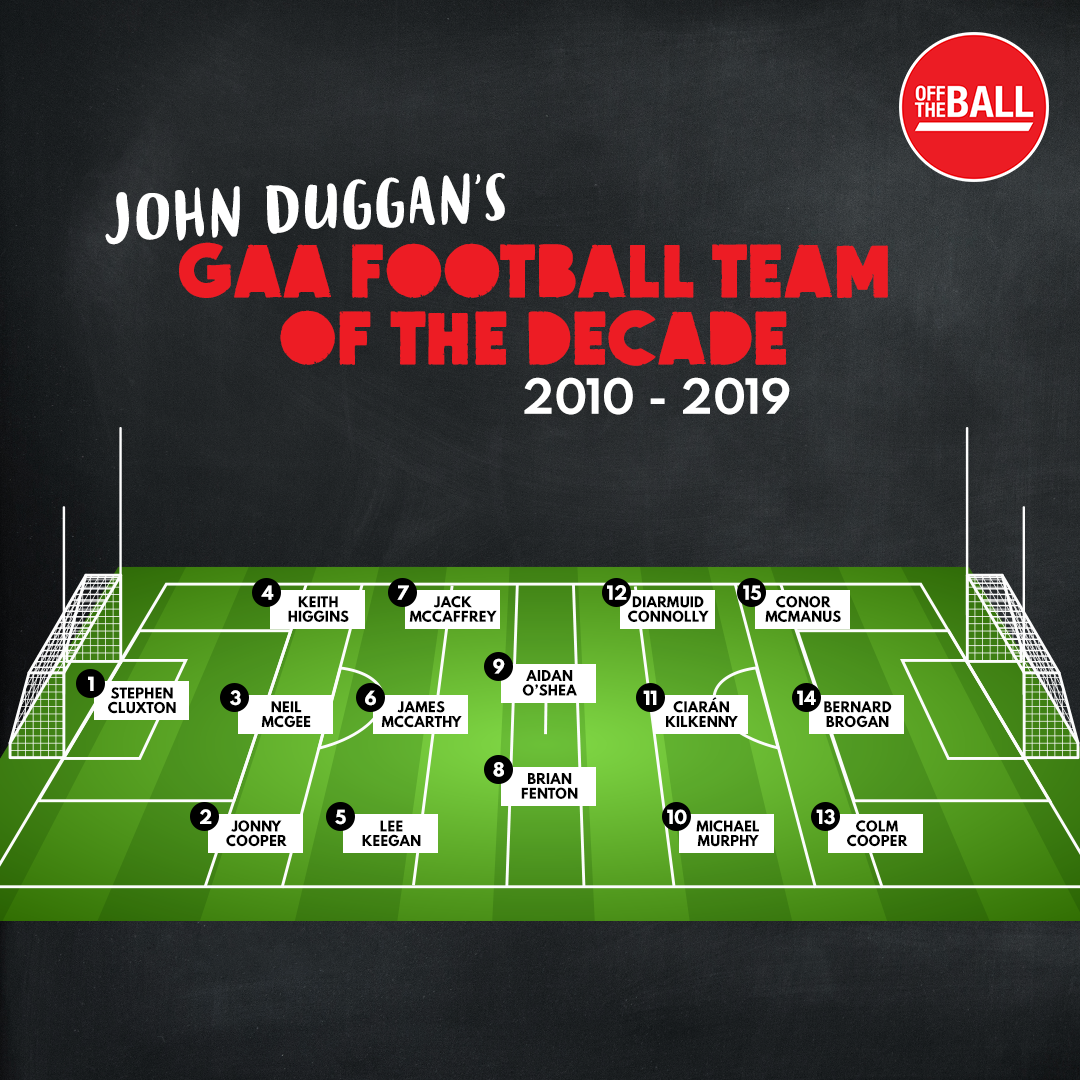 Right Full Forward: Colm Cooper 
The 'Gooch' won his eighth All-Star in 2013, and played on until 2017, before resting his golden boots. The only Kerry player in my team, he was a sensational forward, scoring 11 goals at HQ. Just a natural. Such fun to watch.
Full Forward: Bernard Brogan 
Bernard Brogan was Footballer of the Year at the start of this decade in 2010, but only retired recently. A key member of Dublin's breakthrough team of 2011, he scored two crucial goals in the 2013 All-Ireland final, Jim Gavin's first title. Brogan scored 21 Championship goals, was comfortable off left and right and had the pace to match. He was the man you would just give the O'Neills ball to.
Left Full Forward: Conor McManus 
Monaghan may not have reached the All-Ireland decider since 1930, so for Conor McManus to get in my team may come as a surprise. It shouldn't. Simply one of the best footballers in the country, unplayable at times, with the killer instinct from open play. McManus has won 3 All-Stars and how often have we heard people say that the Farney have only one forward? It's unfair, but more reflective of his brilliance.
Agree? Disagree?
Tweet @johnduggansport with your Gaelic Football team of the decade!
Subscribe to Off The Ball's YouTube channel for more videos, like us on Facebook or follow us on Twitter for the latest sporting news and content.