When the Antrim Mount Rushmore was picked on this morning's OTB AM, there was no surprise at all that the final four included legendary motorcyclist Joey Dunlop.
The Ballymoney native had a hugely successful career on the bike - winning three hat-tricks at Isle of Man TT meetings, 24 Ulster Grand Prix, and numerous TT Formula One world titles.
Sadly, Dunlop's life was ended in a crash in the Estonian capital, Tallinn, 20 years ago. He had been leading the 125cc race at the time, and later 50,000 mourners attended his funeral back in Northern Ireland.
Ciarán Barr and Neil McManus spoke extremely highly of Dunlop in picking him for the Antrim final four alongside AP McCoy, Mary Peters, and Terence McNaughton.
Former Ulster, Ireland, and Lions star Stephen Ferris also added to the Dunlop praise, saying he brought communities together in the North.
"It didn't matter what side of the community you were from, if you were Catholic or Protestant, or whatever your beliefs were, everybody loved Joey Dunlop.
"That famous red helmet, the TT wins that he's had, everybody forgets he's an OBE, MBE, he travelled all around eastern Europe with his charity work.
"Stephen Watson, who is a sports reporter up here in Belfast, used to travel all around with him. I messaged him earlier for a bit of information on him.
"He said when Joey went to wherever in the world, whether it was Japan, Estonia, Latvia, he was an absolute superstar. He would get off the airplane and there were hundreds of thousands of people waiting for him at the airport to get his photograph.
"He was a complete rockstar! He also helped make the famous Honda CBR, he worked for the Honda team in making that motorbike.
"Another good story was when he was in, I think Latvia, he was delivering aid to an orphanage out there somewhere. He was in his van, on his own, and it was that cold that he couldn't light a cigarette because the gas in the cigarette lighter had actually frozen!
"That's the kind of lengths he went to."
Ciarán Barr said that Dunlop's achievements can be put in context if you take a spin around the roads near where he grew up.
"Joey Dunlop was on my list. AP McCoy and Joey Dunlop I had together, two jockeys effectively! What you'd want to do is you'd want to drive up to the north-west around Cushendall and then out to Ballymoney and up to Coleraine, and actually drive the roads these guys race on.
"It's crazy stuff. And then the skill of them and the speed they do it at is just off the radar. And then they go and do TTs and race all around the world.
"It's a big tradition in the north-west, it's a big thing. Mechanical excellence, machines, the riders on those machines, it's a big culture.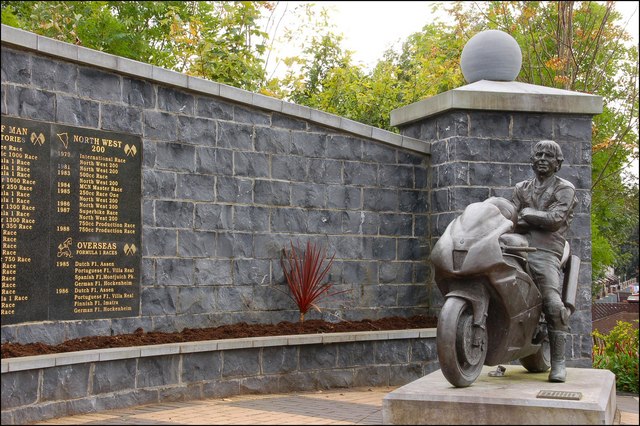 "And people come from all over the world to go and watch those races in the north-west of the island. I've driven on the roads, Bushmills, all around there, and you just think 'These guys are racing on these [roads]?' It's extraordinary the speeds that they're going at.
"Joey Dunlop, as a kid you would have been aware of him, as a young man you would have been aware of him and the whole Dunlop family, but him especially.
"[He was] a very reserved sort of person. You'd see him being interviewed on the television, he didn't have a lot to say! But there was a sort of charisma about him as well, massively courageous. You just had to be."
Antrim hurler Neil McManus added that the Dunlop name continues to reverberate around the sport.
"Joey Dunlop, his family would live close to where my wife is from, and he is a legendary figure in that sport. He is somebody who was totally committed to it, and obviously a very sad end to his motorcycling career, along with his brother Robert.
"He is world-renowned. They were known as the 'Armoy Armada', that's what that group of motorcyclists were known as, because they were fearless, totally and utterly fearless.
"The next generation of Dunlop's has just carried that on. The name will live with motorcycling all around the world. These guys fixed their own motorbikes at the kitchen table, didn't really get involved in the professional side of the sport too much because they were in it for the love of the sport.
"They managed to really captivate an entire nation who would follow them anywhere around the world. Unfortunately Joey died in Estonia, but it was massive news at home when that happened.
"He was revered all around that area because he was such a nice guy, a humble guy, but he loved motorcycle racing.
"He was a hero to so many people who were involved in that sport, which is massive along our coast."
"Good mornings start with Gillette" The mornings are a moment of reflection, a moment to prepare to feel your best for the day ahead. Starting your day with a shave gives you the confidence to feel at your best for the day ahead, no matter what is in store.
Download the brand new OTB Sports App in the Play Store & App Store right now! We've got you covered!
Subscribe to Off The Ball's YouTube channel for more videos, like us on Facebook or follow us on Twitter for the latest sporting news and content.