Former Ireland international Bernard Jackman is asking Irish people to help Irish frontline workers by donating to the Feed The Heroes campaign.
Jackman stumbled across 'Feed The Heroes', which was started by Cian O'Flaherty, on Twitter a couple of weeks ago and was compelled to make a donation.
At the time the campaign, which is raising money to buy meals for hard-working Irish frontline staff, had raised around €5,000 but (at the time of writing) has soared to almost €580,000.
Irish health chiefs have predicted a surge in COVID-19 cases this month and with that in mind Jackman feels that it is important to maintain the support for those at the coalface.
"I know this from sport, early in a competition or tournament, adrenaline will get you through the start of it," said Jackman.
"But as this goes into three and four and five and six weeks and they're backing up, massive shifts after massive shifts and the stress that they're facing on the front lines, it's going to be more important that we can get that quality food to them and keep them going."
"I think small little things like that will give them a lift. So apart from the nutritional side of it, it's just actually seeing that the country cares for them and respects and appreciates them.
"I would hope that we can keep this fund going and keep feeding our front line service workers."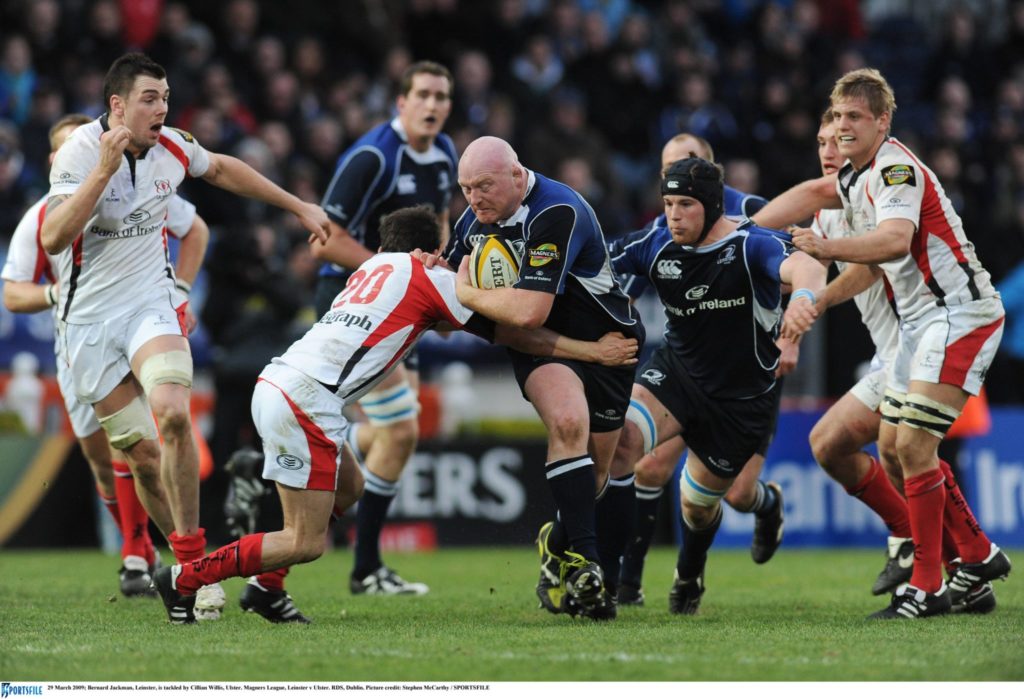 Jackman acknowledges that so many people around the country have been hit hard in the pocket due to the ongoing crisis.
The ex-Leinster hooker is encouraging people to donate whatever amount they can afford.
"The companies that are working with the restaurants and the catering providers, they're getting meals to frontline workers for about seven euros a pop," said Jackman.
"Even just to buy one meal for them would make a difference. I know everyone's tight on money at the moment but any small donation is a great way to show our community spirit."
Rugby, like every other sport in Ireland and worldwide, is in shutdown at present as health staff and governments attempt to get a handle on the pandemic.
The Six Nations ended prematurely mid-competition while restart dates for the Guinness PRO14 and Heineken Champions Cup are as of yet unknown.
However it is at a more grassroots level where the Henieken Cup winner with Leinster is missing sport.
"Even bringing my kids to Saturday morning sport is now gone," said Jackman.
"The chats you have with the other parents, seeing your kids run around and playing is a gift and something that I really miss.
"The sooner we get back to that the better. It's a huge part of so many peoples lives and I hope we just get back to it as soon as possible."
Feed The Heroes partners with restaurants and takeaways, caterers and commercial kitchens to prepare and deliver the meals and co-ordinates with the frontline teams to ensure they get to where they are needed.
So far meals have been delivered to staff at the Covid-19 Testing Centres, HSE Contact Tracing, the National Ambulance Service, the Fire Brigade and an Garda Síochána as well as hospital workers.
Feed The Heroes has clearly struck a chord with Irish people with the funds raised to date coming from more than 11,700 individual donations.
The meals, as well as providing much needed food, are also a simple way of showing solidarity and gratitude to Ireland's critical frontline workers who are working long shifts in very challenging circumstances as they combat Ireland's biggest ever public health emergency.
To donate to the Feed The Heroes fund log onto www.feedtheheroes.com
Subscribe to Off The Ball's YouTube channel for more videos, like us on Facebook or follow us on Twitter for the latest sporting news and content.