Brian O'Driscoll says regardless of the rivalry and deep-rooted history between Ireland and England, losing to Wales was in some ways more difficult to swallow during his international career.
The former Leinster, Ireland and Lions centre joined Ger and Eoin on OTB AM and said that while losing to England was always tough, the Welsh were a dogged opponent.
"People still love to beat England and to deny England success, you'll be another 800 years trying to change that mindset. It's exciting playing well against the likes of England, because more often than not they're one of the best teams in the world.
"If you can park the history bit, you know you have to really excel in your performance if you are to beat them, be it at home or away. That's the thrill players get, and then you feed off the public's perception of how important it is to beat England. You enjoy the adulation that comes from that.
"I don't think they're the most difficult to lose to, there's been lots of niggles with Wales over the years. With Gats [Warren Gatland], the way he felt he was treated in Ireland with being kicked to touch for Eddie [O'Sullivan].
"That dragged on for a number of years so I think there was always a nice bit of niggle between ourselves and Wales.
"Gatland drove it into his players as well that Ireland was the big game. Sam Warburton talked about it a while ago in his column that all the perceived animosity between Wales and England was nothing on what they felt when they came over and played us or when we played them in Cardiff.
"I think the feeling was probably mutual, we had plenty of big games against them as well. They probably got the better of us in the bigger games, Grand Slam in '05, they nearly got it done against us in '09, they beat us in the quarter-final of the World Cup in 2011.
"They're some pretty big moments in clutch games. Thankfully we did get one-up on them in 2009 but I definitely felt as though it was probably a little more difficult to stomach [defeat] against Wales."
We'll have Brian's record-breaking Six Nations try in 2011 up against his farewell against Italy in 2014 in one of our polls this wek as we look to crown the 'Greatest AVIVA Stadium Moment' - and he says there's only one winner between those two.
"I think that's easy for me, of course it's nice to pick up a record but the memories from that 2014 game, having my little girl out on the pitch afterwards, the manner in which we set ourselves up for a title the following week.
"We put in a really good performance so yeah, I look back and that's one that stands out immediately. There was the Grand Slam denial of England in 2011, the New Zealand Ryan Crotty game."
That loss to the All Blacks was one of the AVIVA Stadium memories Brian said he'd rather not have to think about too often, but acknowledged the crowd were incredible on the night.
"You want me to to turn to tears? You talk about atmospheres, that was one of the best atmospheres. You can't re-write history because of three minutes at the end.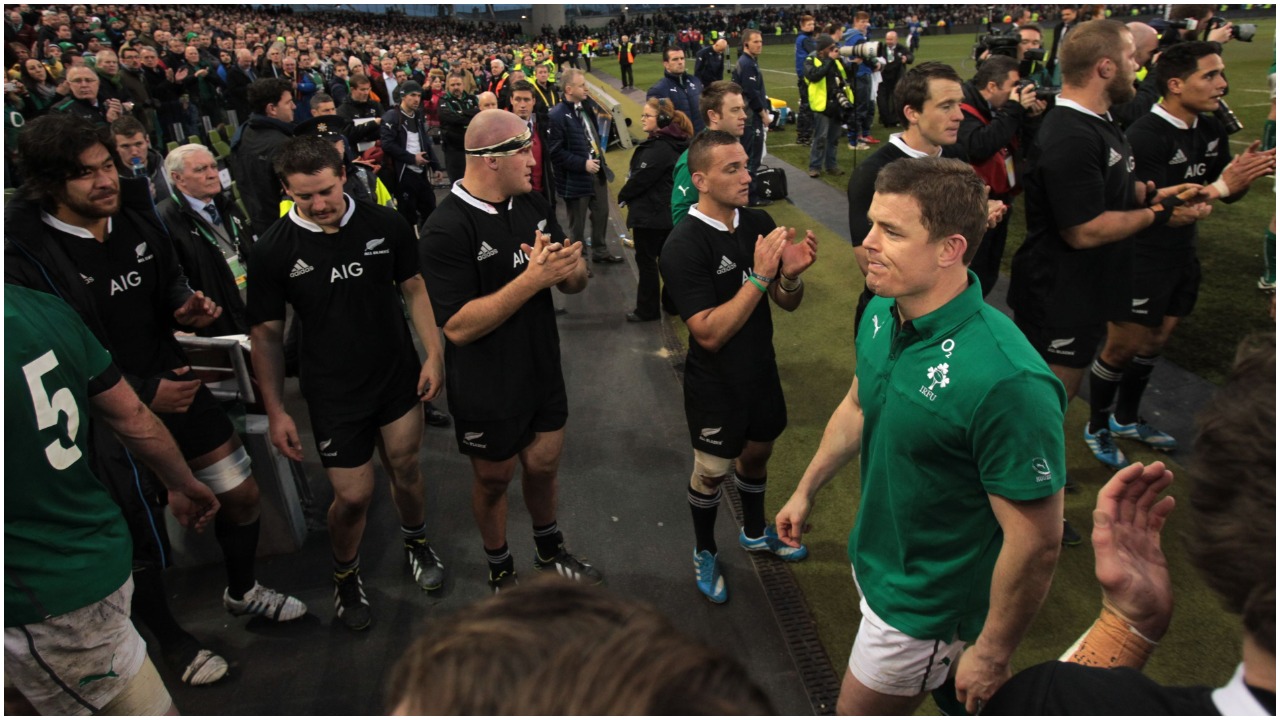 "That was an insane atmosphere that whole game, I got to take it in from the pitch for 50, 55 minutes and then I got concussed so I was in the dressing room and I came back out again.
"There's no doubt that the atmosphere that day was sensational. It was electric. And then it was just killed by one moment. People talk about leaving the stadium that day with eerie silence, no-one was talking to one another. That's certainly how it felt in the dressing room.
"It was a steep learning curve. A bit harsher for some of us that never got the chance to then put that right next time out, but it was as loud as I remember the AVIVA being, that's for sure."
Aviva Ireland has been a proud sponsor of the Aviva Stadium for 10 years. 4. Since 2010, over 7.2 million fans from around the world have attended matches at the Aviva Stadium. We're encouraging fans to tell us your favourite moments from the iconic venue by following Aviva Ireland on Instagram and Twitter and sharing them using #SafeToDream
Download the brand new OTB Sports App in the Play Store & App Store right now! We've got you covered!
Subscribe to OTB Sports's YouTube channel for more videos, like us on Facebook or follow us on Twitter for the latest sporting news and content.