It is often the curse of the maverick that recognition of their supreme talent is always tempered by the feeling that they could have achieved more with their gifts.  
What Tony Sheridan had can only be described as a gift. Unfortunately, there is that nagging feeling that he could have used it that bit better.
So, why didn't he achieve more in a professional career that promised so much? A mixture of bad luck and self-confessed complacency seems to be the answer.
"I thought I made it," he admitted to Team 33. "Once I got into the first team, I thought I made it. Sometimes you need someone to put their arm around you and say to you that you haven't made it."
Having spent his teenage years at Coventry City, Tony Sheridan was just breaking into the first team when the manager, Bobby Gould, resigned.
"Bobby Gould was great for me but I think it was after 12/13 games, he came to me that he was going to give me a rest," recalled Sheridan. "We went down to QPR and got beaten 5-0.
"The next thing I see on the six o'clock news on Coventry BBC is that Bobby Gould had resigned."
In his place came the Liverpool legend and former assistant manager to Graham Taylor at England, Phil Neal. It is fair to say that the pair didn't see eye-to-eye.
Phil Neal took over as the manager of the team and for a number of reasons the pair didn't see eye-to-eye.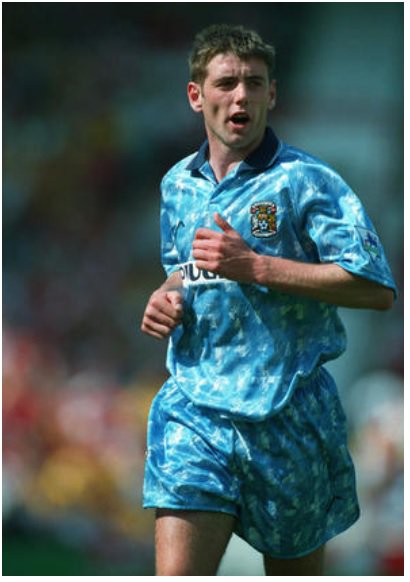 "Just because you were a good player, it doesn't make you a good coach," reasoned Sheridan. "He wasn't a good coach. The best that we seen out of Phil Neal was when he was a player on the pitch"
Neal wouldn't last long as Coventry City boss and in his place came the former Manchester United manager, Ron Atkinson. Unfortunately for Sheridan, his time at Coventry went the way of Neal's and he left for Dublin.
After signing for Shelbourne in 1995, however, Tony Sheridan blossomed.
His natural ability on the ball stood out most of all as he helped guide the Dublin club to two FAI Cups in the mid-90s. In 1996, he earned the Player of the Year award and another opportunity to have another crack at football in England.
It was another Liverpool legend who could determine his fate on this occasion.
Graeme Souness, who had reportedly tried to sign Sheridan for Liverpool, was now in charge of Southampton and he flew the Dubliner across to have a trial at the club.
"Yeah, we flew into Manchester," recalled Sheridan. "Him and his wife picked me up from Manchester airport and went back to his house. We were just chatting away and he asked me if I wanted to go out and grab something to eat.
"You're in awe, you know. Graeme Souness, Liverpool, one of the greatest teams ever and you're going out and getting a bite to eat with him."
As he remembers it now, Tony Sheridan was doing all that he could to impress the Scot.
"He was probably trying to get a feel of me to see what I was like," he suggested. "The first thing he said to me when we got to the restaurant was 'Do you want a drink?'
"I was trying to be nice and calm so I said I was alright. He said 'come on, have a drink'. I said 'no, no'. Then he goes 'look you can have a drink, it doesn't matter'.
"So, obviously, I then said I'd have a pint of lager."
Unfortunately for Sheridan, the timing of the trials wasn't ideal and a move to the club never materialised.
"The next morning we flew down from Manchester to Heathrow and there was nobody there to pick us up, so we got a taxi to Southampton," he explained. "I enjoyed myself but the problem was that I didn't really get to play any games.
"It was more of a training session because it was an international break. I enjoyed it but the players who would've normally been there were gone on international duty."
His confidence didn't take a hit from this though, it just became one of those uncontrollable things.
Back in Ireland, Tony Sheridan returned to Shelbourne the following year as they beat Derry City to claim another FAI Cup. Many, however, came to regard this side as one of the never to win the league.
Yet more potential left unfulfilled.
"I think we had a fantastic team," suggested Tony Sheridan. "No disrespect to the team that did really well in the Champions League but for me, that was the best Shelbourne team.
"Maybe the problem with the team was that we were a really good footballing team. That when it came to the hard battles that we didn't pull up our socks and put it in."
Having shone so brightly on so many occasions, however, Sheridan's outlook on his own career offers some insight.
"Am I frustrated? Not with football," he admitted. "Probably with myself more so than anything else.
"I don't know if I had a reputation. I think some people would say that I'm mad, but I just think I'm a happy-go-lucky person and I just wanted to play football.
"People say to me that 'you're an entertainer', but I wasn't doing that to show off. I just wanted to play football to the best of my ability.
"If I did things in a game that made people say 'wow', that's not me putting it on. That's just me playing football the way I wanted to play."
Download the brand new OTB Sports App in the Play Store & App Store right now! We've got you covered!
Subscribe to Off The Ball's YouTube channel for more videos, like us on Facebook or follow us on Twitter for the latest sporting news and content.