Former Manchester United and Republic of Ireland captain Roy Keane has spoken of how he failed to connect with some of his team-mates towards the end of his time at the club.
Keane was speaking to Sky Sports Football, when attention turned to something that had been said by Wayne Rooney in relation to Keane's approach to dressing-room dynamics.
"I always remember my first away trip, having an argument with Roy Keane," said Rooney of a trip to Newcastle.
"Roy was watching the rugby the night before, he went to get his food, so I turned it on to X Factor and hid the remote!
"He wasn't happy about it, so we had an argument but I think straight away he respected me for having a go back at him."
Keane, shockingly, had a different view on things.
"We certainly did have an argument, let me tell you," said Keane, shaking his head at a memory that seems to linger.
"I like my rugby league and someone did change the channel - I wasn't happy. We didn't have an argument about it because I remember the next day we came down to breakfast and he said 'Did you find the controls?' and I told him where to go.
"If that is an argument, God help us. But I certainly didn't respect Wayne because he stood up to me because he wanted to watch the X Factor. I had a lot of respect for Wayne anyway, because I thought he was a brilliant player."
Roy Keane on dressing room
But while the story is in itself amusing, it showed that the dynamics were shifting in the United dressing room and it wouldn't be more than 18 months before Keane was to leave after criticising some elements of the squad after a match at Middlesbrough.
"Dressing rooms are always changing every summer, the dynamics are changing and younger players are coming in.
"When I was getting towards the end of my career, at the likes of Wayne and Rio, Fletcher and O'Shea - things were changing, the dynamics were changing.
"I always used to roll with [it], enjoyed it, because there would be a new type of energy, especially if they were good players because you think 'listen, these will help us win trophies.'
"But, towards the end, I remember thinking 'no, I'm not really getting some of these', I [didn't] get their banter or their humour.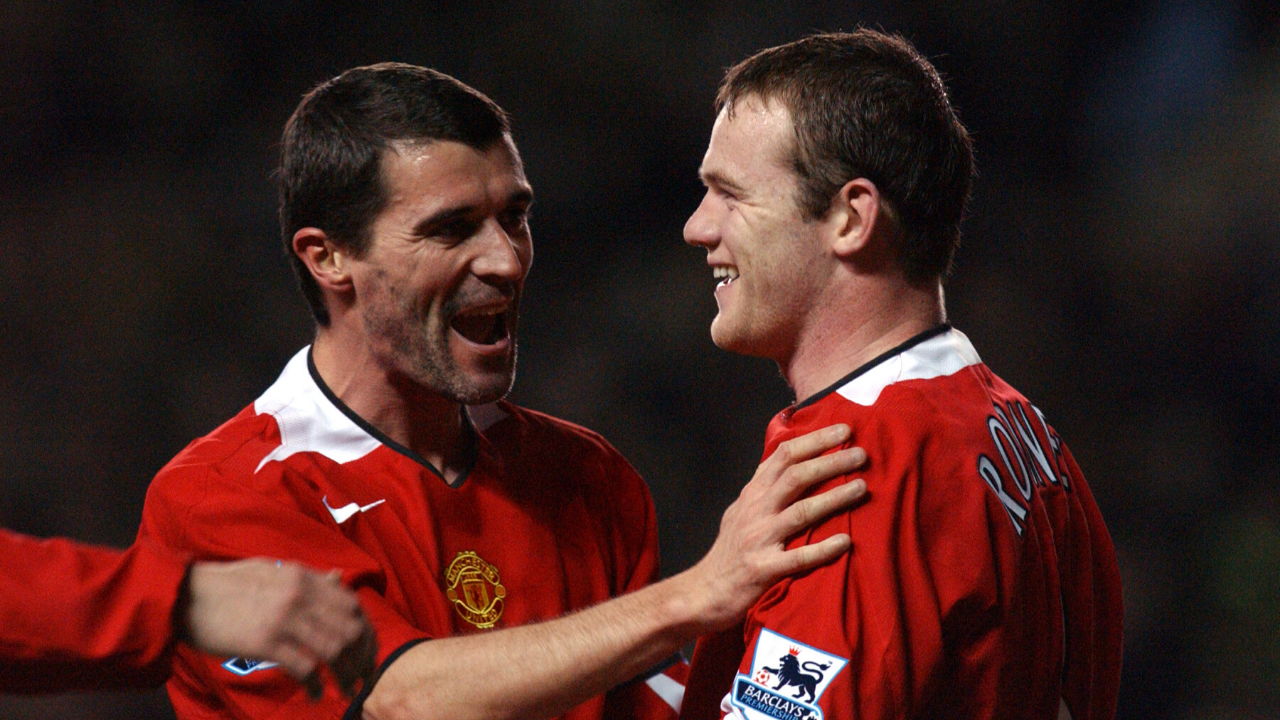 "I probably very rarely had a conversation with any of them; I was constantly looking at the bigger picture - were they going to be good players for Manchester United?
"So, even when I left the club, there were a lot players that I probably didn't miss one bit.
"I would look around the dressing room after training and a lot of the players were on their phones - whether I am a bit old school, or a bit grumpy.
"Even with Wayne or Rio, I didn't get their banter or what they stood for sometimes. That was just a personal thing."
Keane spoke about how he had adapted to the changing of the game over the course of a storied career, but reiterated the disinterest he had in socialising with some team-mates towards the end.
"Towards the end at United, with the types of players that were coming through, I didn't always get them. Personality-wise, they were not for me, but they were obviously very, very good players and I was a professional that was delighted to play with them.
"But in terms of having banter with them, or having a cup of tea or a coffee with them? No - forget it."
Download the brand new OTB Sports App in the Play Store & App Store right now! We've got you covered!
Subscribe to Off The Ball's YouTube channel for more videos, like us on Facebook or follow us on Twitter for the latest sporting news and content.