At the two extremes of Stephen Kelly's professional career, the looming presence of Roy Keane manifested itself.
"I came into the squad when Brian Kerr was the manager," recalled the former full-back on Friday's OTB AM, "and Roy Keane was back so that was my first introduction to him.
"As a young player coming in, it's Roy Keane that's there and you're just in awe - he was just a born leader."
Training-ground interactions would be as close as Kelly came to playing alongside the former Irish and Manchester United captain, however.
Forced to wait until 2006 for his Irish breakthrough, Roy Keane's second international coming had been and gone by then.
Years later, with Kelly approaching the premature end of his playing career and Keane taking up the role as Ireland's assistant manager, their paths crossed once more.
"From my own personal experiences with him," explained Kelly, "he's very engaging and personable.
"When you're with him one-on-one, Roy's a different person than you see there."
The 'there' in question signalled Keane's recent appearance at an Off the Ball roadshow. Sharing his thoughts on a range of individuals from his days as a Manchester United and Ireland player, Keane's performance struck Kelly as regrettable.
"Everything can be going well, but then all of a sudden something snaps," noted the former Fulham player, "so when you watch that, it is disappointing.
"He says things as he thinks they are, and sometimes he goes too far."
In a discussion that touched upon numerous elements of Roy Keane's Irish experience, Stephen Kelly was particularly displeased with the disparaging remarks reserved for his former teammate Jonathan Walters.
Amid claims that called into question Walters' commitment to Ireland, his success as a professional footballer and his decision to share publicly a difficult period of his family life, Kelly argued that Keane had unquestionably crossed a line.
"If you've played in the Premier League for a sustained period of time as Jon did," reasoned Kelly, "and captained your country as Jon did at times, and scored goals and performed on the big stages, then ya, you've had a good career.
"You may not have won medals and put yourself in that elite bracket, but you've had a good career.
"It's disappointing what was said and you're watching it through gritted teeth. I think it goes over the line when [Keane is] discussing [his] family, that shouldn't be discussed.
"It becomes borderline vendetta then."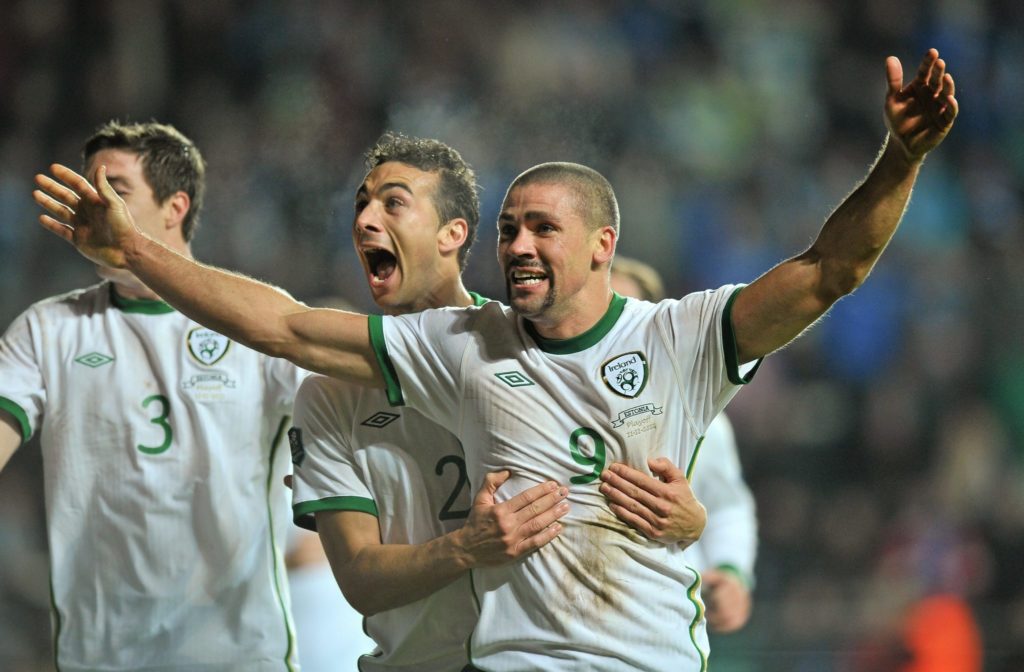 In certain respects, Stephen Kelly is acutely aware that an objective assessment of his own career falls closer in line with Walters than Keane.
Bedevilled by injuries, Kelly spent the majority of his career as a Premier League player; making it all the way to a Europa League final with Fulham in 2010.
Yet, with the exception of his 2011 Nations Cup success with Ireland, medals were not forthcoming.
Given the nature of Keane's contempt for Walters' own playing career, Stephen Kelly reiterated the importance of not getting swept away by the sole idea of trophies being the sole indicator of success.
"As much as people might say it didn't happen for me, I can't change that," he stated, "you move on.
"I'm confident that what I did in my own career, happy with what I did and other people might not think it's good, but I'm proud of what I achieved.
"I don't need to have someone else tell me something."
At the tail-end of a playing-career that ended before Kelly hit his mid-30s, his final engagement with Keane was notable for its absence.
A feature of the Irish set-up when Martin O'Neill and Keane took over in 2013, his initial involvement did not carry across the entirety of their five-year reign.
"I don't hold any grudges," assured Kelly, "at the time I was trying to do as well as I could to get picked.
"They didn't think I was good enough, so you move on.
"I'd been in the Ireland set-up since I was 15 though, and you'd think you would get a phone call or something.
"That didn't happen, and that's the way it was."
Download the brand new OTB Sports App in the Play Store & App Store right now! We've got you covered!
Subscribe to Off The Ball's YouTube channel for more videos, like us on Facebook or follow us on Twitter for the latest sporting news and content.