The thrill of Robbie Fowler's return to Liverpool in 2006 remains of great significance to the local lad who never really wanted to leave in the first place. 
Three years after Robbie Fowler made his Liverpool debut against Fulham in 1993, the English striker had twice been named the PFA Young Player of the Year on the way to scoring 85 goals for the club.
Operating a few years beyond the club's hey-day, Fowler, who would nevertheless leave in 2002 with a handful of medals in his pockets, became a reliable folk hero for the club's fans.
In truth, were it not for his own sense of wellbeing, he may never have left.
"As a Liverpool lad," he explained on Wednesday's OTB AM, "I didn't ever really want to leave, to be honest, but I had to for my own sanity."
Leaving Gerard Houllier's side for David O'Leary's Leeds United, a subsequent move to Manchester City couldn't satisfy the gap created by his Liverpool departure.
"I would never, ever disrespect Leeds or Manchester City," he reasoned, "but I'm a Liverpool lad.
"If I got the call now to go back and play for Liverpool, I'd be in the gym first thing in the morning.
"I love Liverpool as a club and a place. It was the best thing ever."
I know people say that I was past it, but my goals-for-games in that second spell for Liverpool was actually not too bad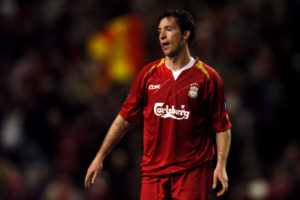 Approaching his 31st birthday, it admittedly came as some surprise - to Fowler, as well as onlookers - that a return to Liverpool was in the offing four years after his departure.
"It was incredible," he recalled of the return. "I think it was better than my first spell for Liverpool.
"I know people say that I was past it, but my goals-for-games in that second spell for Liverpool was actually not too bad.
"Even before I'd scored that first goal against Fulham, I'd actually scored three goals that were disallowed.
"All three were called offside, but two of them weren't and should have counted."
Across an 18 month spell under Rafa Benitez, Robbie Fowler may not have done too much to build upon a stellar reputation that was already firmly established with the club's fans.
Yet, in such recollections of his career, it stands as perhaps the high-point.
"Going back to Liverpool," he explained, "it was like waking up on Christmas and getting the best present you've ever wanted."
Watch back Robbie Fowler's full interview here. 
Subscribe to Off The Ball's YouTube channel for more videos, like us on Facebook or follow us on Twitter for the latest sporting news and content.