Joe Molloy was joined on the Football Show on Off The Ball by former Norwich player Paul McVeigh, an early adopter of yoga in football and now a motivational speaker.
McVeigh made his way in the Premier League, moving to London as a 16-year-old from Northern Ireland with a curiosity not typical of apprentice footballers. He loved to read Encyclopedia Britannicas.
This curiosity served him well and led to his unconventional post-football life as a motivational speaker.
McVeigh admits such alternative practices were far from the norm in football dressing rooms of the early 2000s.
Watching his club captain Gary Mabbutt at Spurs in the late 1990s prepare in the physio room for 45 minutes just to make it out onto the training pitch made the young player think wanted to leave football with his body free from injury.
"It started with a conversation with my mother," remembers McVeigh and she suggested yoga. I was like 'What, in a church hall with a load of middle-aged women? It's not really for me.'
"But, I tried it and gained that open-mindedness and 25 years later as a 42-year-old guy I'm completely injury-free."
Cut up in a million pieces
McVeigh may be injury-free but the introduction of a yoga mat at training could have left some mental scars.
"I was doing my yoga at home and I had just got to the stage where I had just established myself in the Norwich team regularly, I was scoring goals and I decided to bring the yoga mat into the training ground.
"You can imagine 25 footballers looking at one guy bringing in his yoga mat, I came back in after training looking for my yoga mat and it's been cut up into a million pieces.
"I was thinking there's no way I'm letting these guys get the better of me, so I went an got another one. I brought it in the next day and they actually burned it, set it on fire."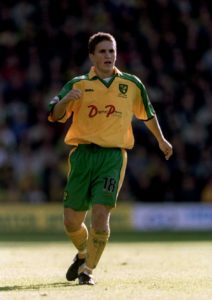 McVeigh wasn't going to let that stop him: "I said 'I'm not letting them, beat me,' and I went again and got another one. This time they brought it into the car park and started doing doughnuts, driving over it, completely ruined it.
"Until eventually it got to the stage where I brought it in and no one touched it. They just started throwing abuse at me instead of physically wrecking my stuff.
"So I started doing yoga in the room beside the physio room and I wouldn't be able to tell you the insults I got for doing yoga at a professional football club in the early 2000s!
"But this is how society changes and beliefs change, they went from that first stage which is just abuse, that violent opposition, to that second stage which is questioning or curiosity.
"So why are you doing that yoga? and I'd say 'it's going to make me feel better so when we get out to training I'm going to be in better shape, in better condition.
"So after another couple of weeks of me being in there by myself, a few other people poke their heads in through the door, until you get to this third stage of the process of change, where it becomes acceptable or accepted.
"People see me doing my yoga, and say 'it's going to make him better at football' so it becomes normal to do."
Download the brand new OTB Sports App in the Play Store & App Store right now! We've got you covered!
Subscribe to Off The Ball's YouTube channel for more videos, like us on Facebook or follow us on Twitter for the latest sporting news and content.