Beginning as a small group of friends watching matches together, Palmeiras Dublin has quickly made a name for itself as home to some of Ireland's most passionate football fans.
*** Note: Joining the group in Temple Bar for the São Paulo derby in February (before COVID-19 social restrictions), Jake O'Donnell examines how a small group of expats built a community for Dublin's bustling Brazilian population. ***
Beads of sweat are gathering on Cassio Chaves' forehead. His relentless drumbeat is fuel for the songs of a surrounding section of fans cheering on Palmeiras in the São Paulo derby.
On the pitch, it's end-to-end as both Palmeiras and Santos threaten to break the deadlock and find a winner. Beside Cassio, Luis Henrique Bena has done his job on drum duty too. It's time for the players to do theirs now. 
Renato Dias, another fan, cuts a frustrated figure in his Palmeiras jersey between the two drummers. Then, finally, Rony puts the ball in the Santos net. There is an explosion of energy, excitement, hugs and congratulations. But, it's all halted as suddenly as it began – offside.
An acapella of Portuguese curses follow, and then, a roar of encouragement. The compact collection of green and white jerseys grows louder, urging their team into the opposition box.
But it's the whistle that decides it again. A 0-0 draw and with that, the group are transported back to the reality of their surroundings again. 
For the first time in nearly two hours, they are aware of the game of pool that has been going on behind them, aware of the enclave of Liverpool fans in the corner and aware of the flocks of American tourists in the same basement bar. 
As they are every week, the near-100 fans – Palmeiras Dublin, they call themselves – their drums and their colour, are some 9,000 miles away from the actual action at the Urbano Caldeira Stadium.
Instead, nestled in the corner of a basement bar, Palmeiras Dublin are in what they describe as their own home ground: On The Ball sports bar at Buskers, Temple Bar.
Here, surrounded by framed jerseys and huge Palmeiras Dublin flags, the group has established itself as the best atmosphere outside of South America to watch the 10-time Brazilian champions.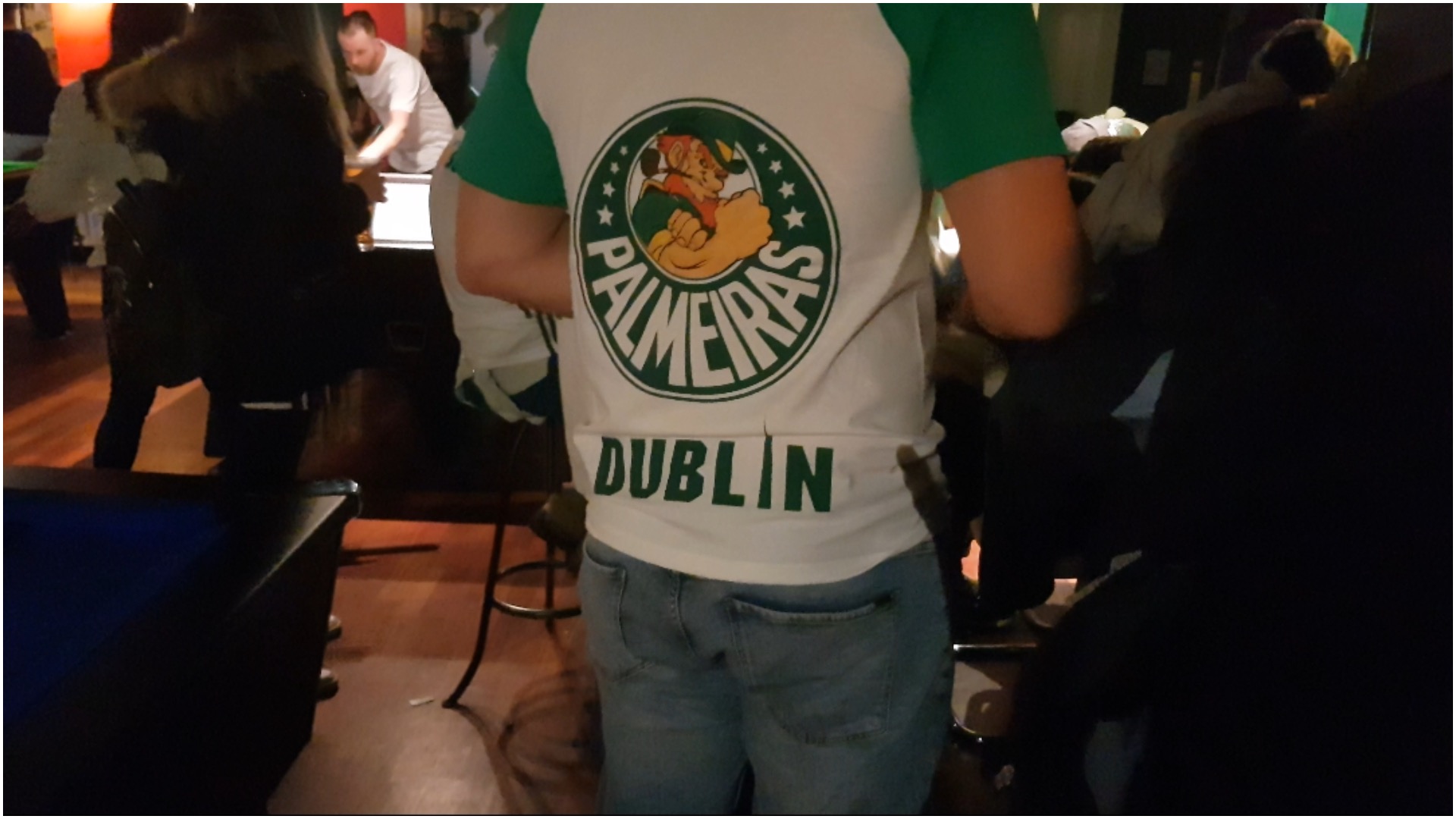 I just said, 'No, this life is not for me anymore, I need more quality to life.'
While nearly 100 packed in to watch the São Paulo derby on a Saturday in February, the group's founder, Renato Dias, explains to Off The Ball that it hasn't always been such a big affair. 
"There was one match I watched alone with one other person – two guys. Just two guys, but it started like that and then continued on," Renato remembers. 
Palmeiras' 10th league title in 2018 was the other end of the spectrum. Upwards of 400 people showed up for the decisive win over Vasco de Gama, with the majority of them flooding out onto Fleet Street for an impromptu street party that shut down the east side of Temple Bar.
There were also the times the group hired an open-top bus, packed it with Palmeiras fans, flags, drums and colour, and drove it through the city for a victory parade-style celebration of the club's anniversaries in 2016 and 2018. 
Undoubtedly there is an element of madness to the whole venture – as the bemused Dubliners who saw an open-top bus full of Brazilian football fans go down Dame Street will tell you – but that has been central to the group's success and also what makes them self-described fanatics. 
Now the official model Palmeiras use to establish fan clubs across the world, Palmeiras Dublin all stemmed from an unhappiness Renato had with life in his native Brazil.
Working as a university teacher, life was "just busy, busy, busy," he explains. "I just said, 'No, this life is not for me anymore, I need more quality to life.'"  
And so, after returning from a holiday to Ireland in 2013, Renato went straight into work and informed his boss that he would be leaving and moving to Dublin.
Once here, he created a second home and – somewhat accidentally – a second family for himself through his love for Palmeiras.
Originally trying to bring together fans in Dublin for a one-off celebration of the club's centenary in 2014, Renato immediately saw the potential for more and organised the group to watch matches in the Living Room Bar on O'Connell Street.
An offer soon came in to move to Buskers in Temple Bar, where, in their own space, the group has quickly grown as a de facto culture club for a section of Ireland's 16,000-strong bustling Brazilian community. 
It was crazy. At that moment, I was home – I was in Brazil.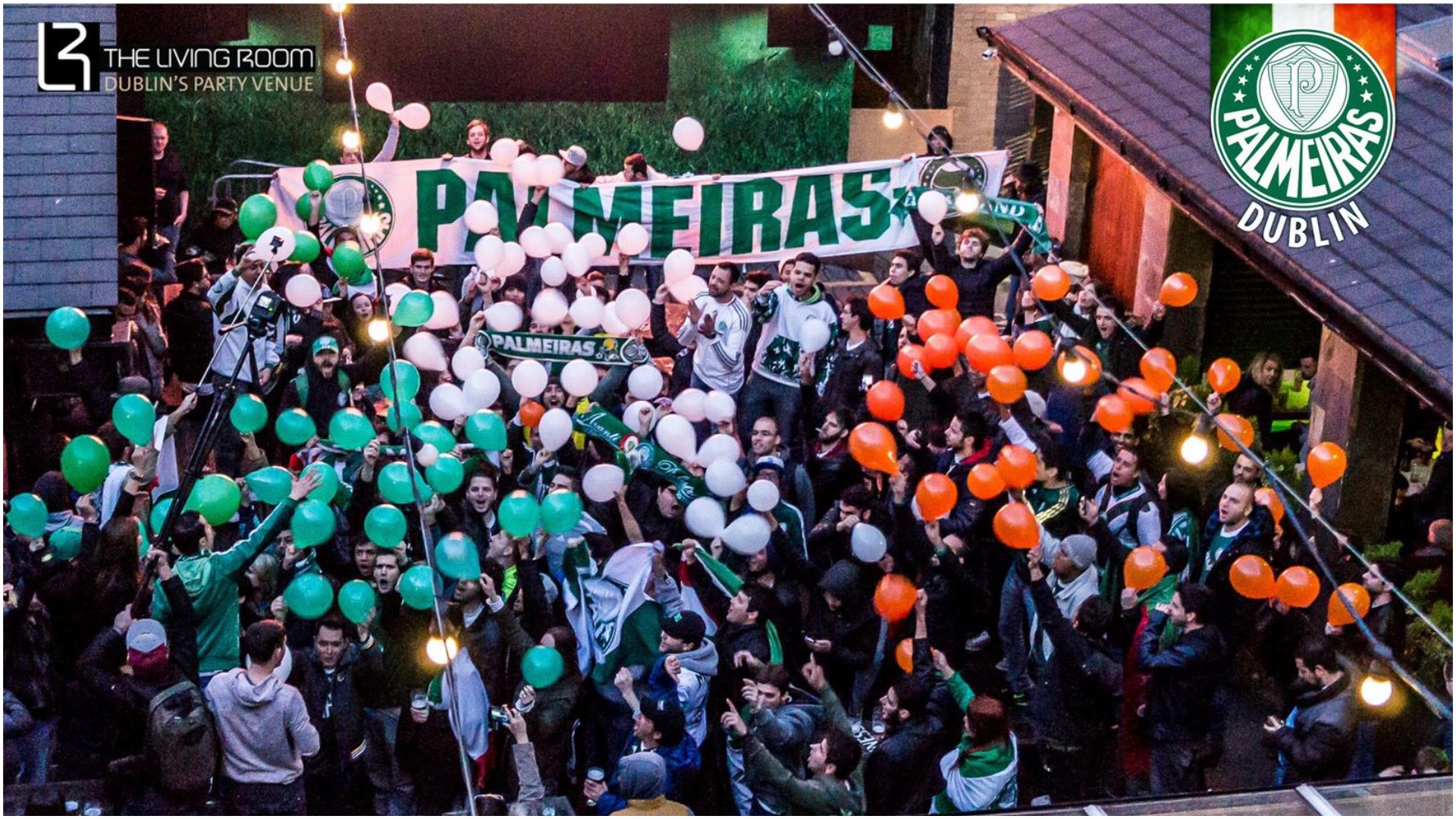 While many of the club's forces are students here for less than a year to study English, each has their own reasons for arriving in Dublin. (Renato points to the green of Ireland matching the colour of his beloved Palmeiras. The fact that both countries care about beer and football is an added bonus, he says.)
Whatever the reasons, as the city's Brazilian community has thrived, so too has Palmeiras Dublin.
Vitor Teixeira, a third-generation Palmeiras fan, is representative of many who have arrived in the city and found an instant home.
Moving to Dublin four-and-a-half years ago, Vitor was introduced to the group after a chance encounter with Renato in the Living Room pub.
"It was crazy," he recalls, "We were wearing the same jersey and there is this beautiful photo – if I showed you now, you'd say I knew Renato for 10 years then, but it was just the first day I met him." 
An instant friendship was born and a trip to watch a match with Palmeiras Dublin soon followed. 
"I got here and I saw more than 100 fans and everybody celebrating. I wasn't even five days here but, at that moment, I was home. I was in Brazil."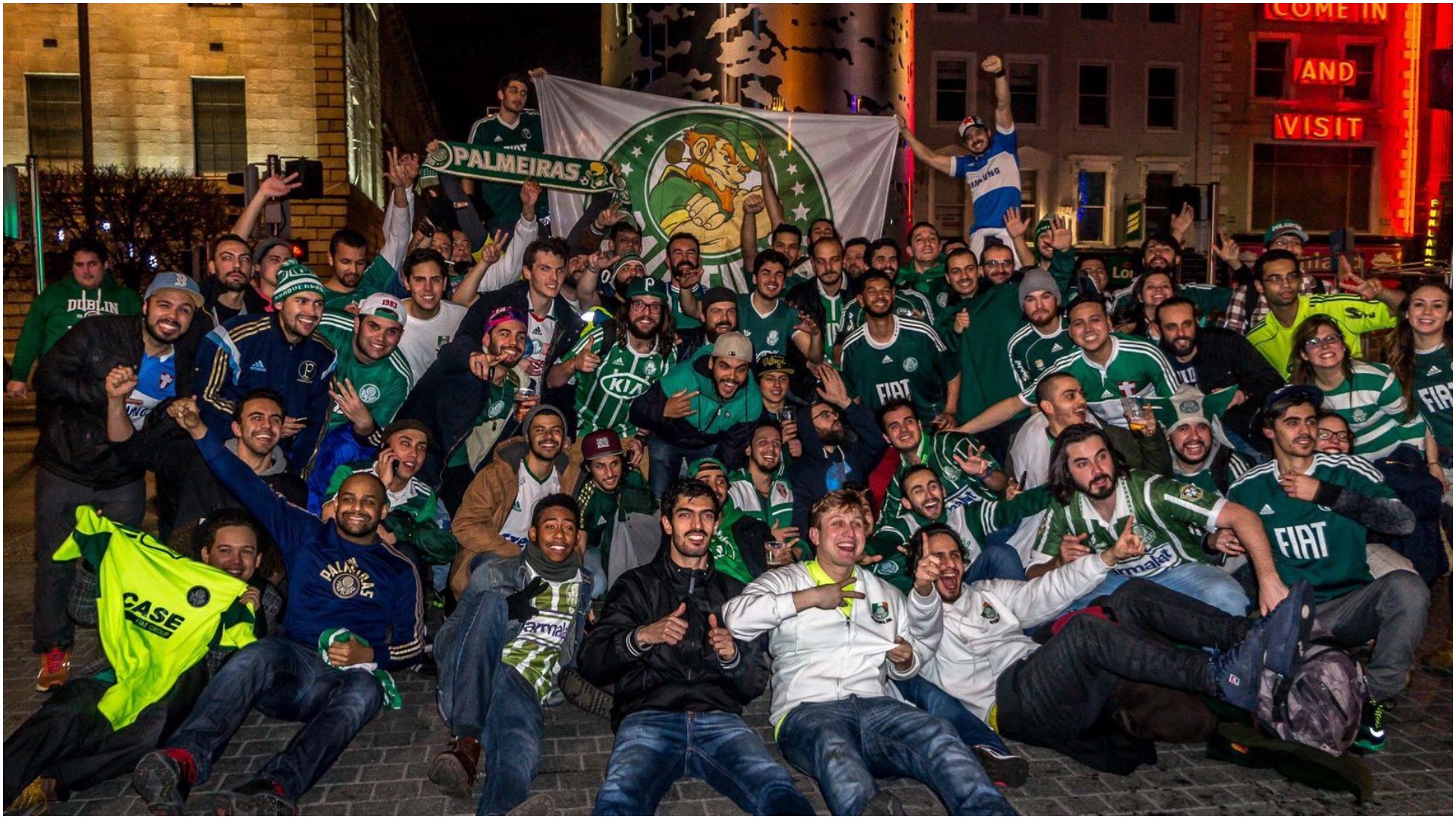 Now a leading member, Vitor looks to ensure the group, while always about Palmeiras and the matchday experience, is also much more for students and emigrants settling into a city so far from home. 
The group provides regular barbecues, parties, five-a-side tournaments with rival fans and above all, a group of friends and a support network in the country's capital. 
"Everybody finds a home," Patricia, Renato's wife and another leading member of the group, explains.
"Everybody finds happiness whenever they are here together. If they are missing Brazil, they know they will always have us here."
As important as they are for Brazilians in Dublin, Patricia is keen to stress the group is also a lot more diverse than that. 
"We actually have more Irish people who never knew about football," she explains, highlighting the importance of the leprechaun adopted into the Palmeiras Dublin logo.
It's Saturday night, all of my friends are elsewhere at a party and I am here.
"Like you saw downstairs, they are always joining in and celebrating with us because it is a good environment, with good energy."
Viral videos of street parties after wins have attracted many more who are drawn by the carnival atmosphere rather than the football.
Patricia herself admits that her own relationship with the club and football was a late development: "It started with someone I dated, but now it's love.
"What I really like, what I really support," she says, summing up Palmeiras Dublin, "is, it's Saturday night, all of my friends are at a party and I am here.
"I want to be here. I feel good to be here with family, friends, my husband, and I see myself coming here for the next two, three, four, five years – it's love."
What could possibly come between that love in five years' time?
"Maybe a baby," she laughs, before interjecting: "I'll still bring the baby if the game starts before 10!"
Download the brand new OTB Sports App in the Play Store & App Store right now! We've got you covered!
Subscribe to OTB Sports's YouTube channel for more videos, like us on Facebook or follow us on Twitter for the latest sporting news and content.