As Manchester United's form continues to deteriorate under Ole Gunnar Solskjaer, Gary Breen addressed the physical toll this appeared to be taking on the Norwegian, and why he must now strive to create a greater sense of individual purpose for the task at hand.
Ahead of tonight's derby clash with Manchester City, Solskjaer's United, fresh from a 4-0 defeat against Everton at the weekend, will hope that a positive result can reignite their hopes of attaining a top-4 finish, and qualification for next year's Champions League.
Despite hopes that the prospect of a local rivalry can give United's lagging players cause for an upturn in performance, however, Breen is doubtful that this alone is enough to thwart City as they attempt to resume their position atop the Premier League table.
"There are a group of players - and we even said this during that brilliant run under Solskjaer - that are not of the Manchester United quality," stated Breen on Wednesday's OTB AM.
"There's a lack of consistency, and they can't do it week in, week out."
Problematically, Breen now believes Solskjaer himself is becoming more aware of these limitations, and has subsequently reassessed what he can realistically do with Manchester United in the near to immediate future.
"He's changing his tone now," Breen expressed upon hearing Solskjaer suggest that a Premier League title charge may come too soon for United next season.
"Visibly he's changing. He looks withered already in terms of that bounce that he had.
"I know that by winning games that changes things, but an educated group of Manchester United fans [will ask], 'Hold on a minute, you said Manchester United were going to be back?'"
I know he's your mentor and stuff like that, but just stop banging that drum. You got the job on the back of it to a certain extent ... but this is the real test now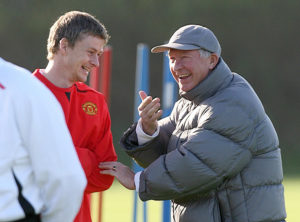 Pinpointing United's weekend defeat to Everton, Breen took issue with how he perceived Solskjaer to be dealing with what amounted to an embarrassing defeat for the club.
"One of the other things noticeable in that defeat to Everton is that he didn't get off the bench," Breen commented, "he was not demonstrative at all and he just sat there and let it unfold.
"I'm one of those who expects players to take care of business once they cross over that line, but nevertheless, you want a manager cajoling and demanding.
"There's no way Ferguson would have sat down there."
Yet, it was with the looming figure of Alex Ferguson that Breen perhaps found his most pertinent issue with Ole Gunnar Solskjaer.
"[Solskjaer] keeps referencing Alex Ferguson," an exasperated Breen stated.
"I'm just thinking, 'Come on man, just have your own identity a bit!'
"I know he's your mentor and stuff like that, but just stop banging that drum. You got the job on the back of it to a certain extent ... but this is the real test now.
"Looking at it now, this just doesn't look like it's going to go as they hoped."
Download the brand new OTB Sports App in the Play Store & App Store right now! We've got you covered!
Subscribe to OTB Sports's YouTube channel for more videos, like us on Facebook or follow us on Twitter for the latest sporting news and content.