Football management is a 'profession that should come with a mental health warning' according to former Dundalk boss Shane Keegan.
In the wake of Newcastle United's sacking of their long-suffering manager Steve Bruce, and the comments that came to light after he was fired, Keegan recalled the stress and abuse that often gets placed on managers' heads.
After he was sacked by Newcastle, it was revealed that Bruce had been called a 'tactically inept cabbage head', among other things, which understandably had a negative impact on his mental health.
This revelation, as well as his own experiences, prompted the former Dundalk manger to suggest that football management 'should come with a health warning'.
Speaking on OTB Football Saturday, Keegan recalled the day that current Republic of Ireland manager Stephen Kenny, who was manager at Dundalk at the time, tried to warn Keegan about the perils of management.
"When I got offered the opportunity to go full-time at Wexford, we had the league title wrapped up, and we just happened to have Dundalk in a cup game," Keegan said.
"Myself and Stephen were talking after the game. Stephen said, 'What's your hopes for next year?' I kind of said, 'Mick [Wallace] has offered me the opportunity to go full-time'.
"So, I'm leaving the day job to have a bash at it, to give it a go'. In my head this was my dream scenario; I am about to become a full-time manager! This is what I want and this is what I worked so hard for.
"Stephen looked at me, and said, 'What?! You are going to leave a full-time job to have a go at this?' I said, 'yeah!'"
While Kenny did not try to talk Keegan out of full-time management, he did offer him some sage advice.
"I won't say he tried to talk me out of it, but he did give me a few home truths to let me know if I realised what I was letting myself in for," Keegan said.
"Stephen had been I don't know how many years in management by that stage. Obviously he knew the tough bits and he'd been through the wringer about how it can affect family life. So, it is very very tough."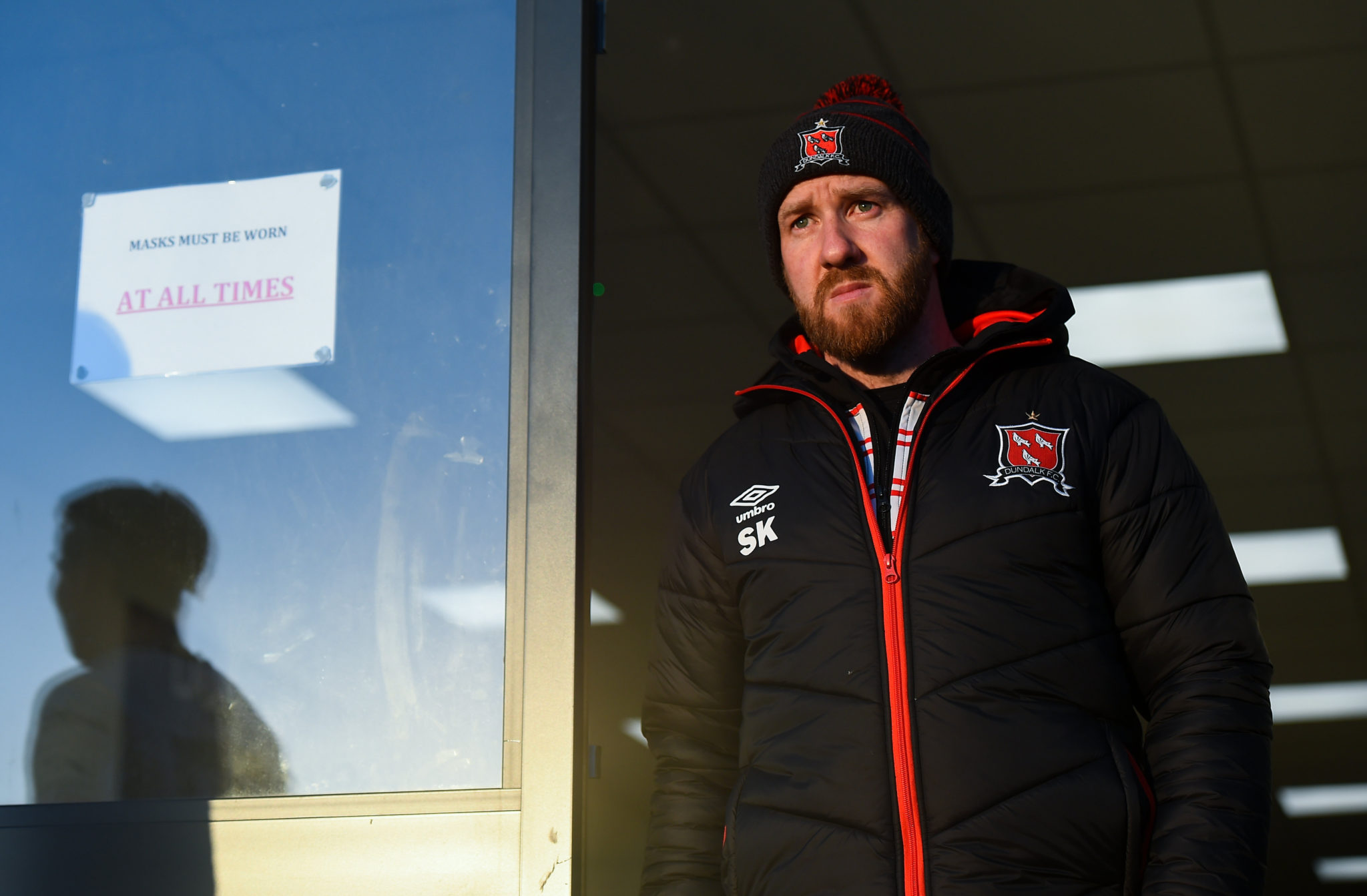 'Football management should come with a mental health warning'
Keegan is no stranger to the precarious nature of football jobs, and the difficult circumstances that can arise from being fired.
He recalled a particular chapter of Michael Calvin's book, Living on the Volcano, in which Calvin details the sacking of former Colchester manager Joe Dunne.
"I can't believe there isn't more of a thing around mental health issues in management," Keegan said. "Some of the stories you hear.
"The one that sticks with me is... Joe Dunne. He was telling the story where they [Colchester] were going through a tough run, he knew he was under pressure, but because he was struggling with family time, he found a good way to get around that.
"He actually brought his son to the training ground and matches a lot. So on this particular day they were after losing the game.
"After the game he is going, 'right, I am in bother here', and the next thing a knock comes on the door and somebody says to him the chairman wants to see him in the office.
"He throws the car keys to his son and tells him to get in the car, because he didn't want his son to be around for it, obviously.
"He goes into the office, the chairman gives him the bullet. He comes down, into the car and the son is in the car balling his eyes out.
"He says, 'what's wrong with you?'. The son says, 'It's just come on the radio that you are after getting sacked!'"
Football on Off The Ball, brought to you by Sky. All the football you love in one place across Sky Sports, BT Sport & Premier Sports  
Download the brand new OTB Sports App in the Play Store & App Store right now! We've got you covered!
Subscribe to OTB Sports's YouTube channel for more videos, like us on Facebook or follow us on Twitter for the latest sporting news and content.