Journalist Dion Fanning discussed the criticism of Stephen Kenny and the lack of great days in Irish football on the Sunday Paper Review on Off The Ball.
In the five games since taking over as manager of the Republic of Ireland, Stephen Kenny's side has scored just one goal.
The newly-minted international manager is also still in search of his first win in the role.
Despite the lack of results, there are clear promising signs that Ireland are playing a better style of football than in the past.
This new style, along with the lack of great days in recent Irish football memory, is why Fanning thinks that the Kenny criticism is unwarranted.
"I think there is a lot of good will towards Stephen Kenny, but I think there is a reason for that good will," Fanning said.
"The reason for that good will is the football that Stephen Kenny plays, and wants to play."
Instant gratification
There are some Irish football fans that have suggested that the team peaked in 2016 when the qualified for the European Championship, after beating Germany.
Fanning does not believe that these events actually did any good for the game in Ireland other than give it 'instant gratification'.
"I would actually dispute the idea that some of those nights and some of those events are actually of any benefit to Irish football," Fanning said.
"When you talk about Euros 2016, you talk about Ireland beating Germany… going back to Euros 2012 and looking at that as ground zero for modern Irish football.
"Things should have changed, and nothing happened. They didn't happen, we know now, because of the way the FAI was being run by John Delaney and those problems.
"But that was the time for Irish football to change and nothing happened.
"Instead we had a succession of big-name managers, who provided those moments."
Fanning believes that there has been nothing other than the feel-good factor in the moment to come out of those 'big moments' in Irish football.
"A friend of mine used to say, 'what's wrong with instant gratification? It is instant and it is gratifying'," Fanning said.
"That was how Irish football was run. We had these moments, we took the hits, we got our adrenaline hit and then we just forgot about it.
"I would look back on Euros 2016 and say it was a complete waste of time in the history of Irish football.
"We got nothing from it."
Gibraltar should not be the yard stick
With Kenny being five matches into his tenure without a win as Ireland boss, many have looked back to more recent victories, in particular that night against Gibraltar.
Fanning does not think that there has been an Irish football renaissance to look back fondly on for a while, though.
"There is no recent golden age that Stephen Kenny is trying to escape from," Fanning said.
"Mick McCarthy, in his unfortunate decision to be commentator on all these recent matches, keeps talking about Ireland beating Gibraltar as if it is Ireland/England in Stuttgart in '88.
"Ireland beating Gibraltar is the touchstone, the reference point for Irish football now.
"If you can [say], 'I remember the great days of the Nations League,' then fine, but there are no great nights.
"There is a dwindling number of great nights in Irish football, and something had to be done."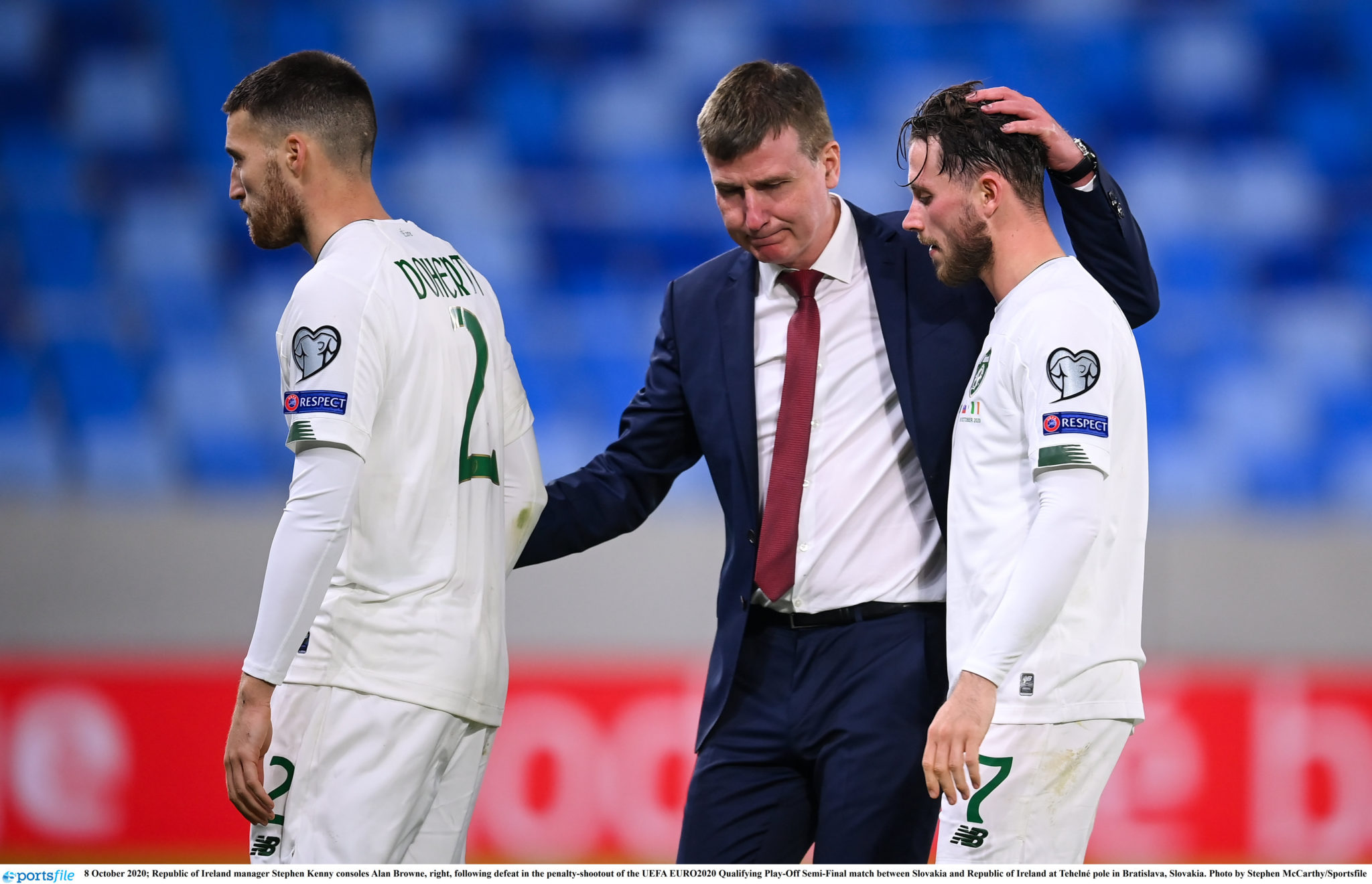 Kenny is encouraging
Fanning believes in the current era of Irish football and thinks that Kenny and the FAI are on the right track.
"The FAI and Stephen Kenny are starting on a road which has potential to be far more significant, far more important for the future of Irish football, the way Irish football is played, and the development of players in this country," Fanning said.
"I actually don't understand the reaction, the worry and the concern at this point.
"I thought the Slovakia game was encouraging.
"It would have been even better if protocols had been followed on the plane and Irish close contacts restrictions weren't as strict as they are [so we could have] Aaron Connolly on the pitch."
Download the brand new OTB Sports App in the Play Store & App Store right now! We've got you covered!
Subscribe to OTB Sports's YouTube channel for more videos, like us on Facebook or follow us on Twitter for the latest sporting news and content.