This week on OTB AM, we're in partnership with Pandora to bring you the best gifts for your loved ones this Valentine's day. To celebrate Valentine's day, we're looking back on some of the greatest partnerships in sport.
On opposing teams for a number hotly-contested Premier League seasons, here are the partnerships Ger Gilroy and Eoin Sheahan selected on Monday's OTB AM.
Roy Keane and Alex Ferguson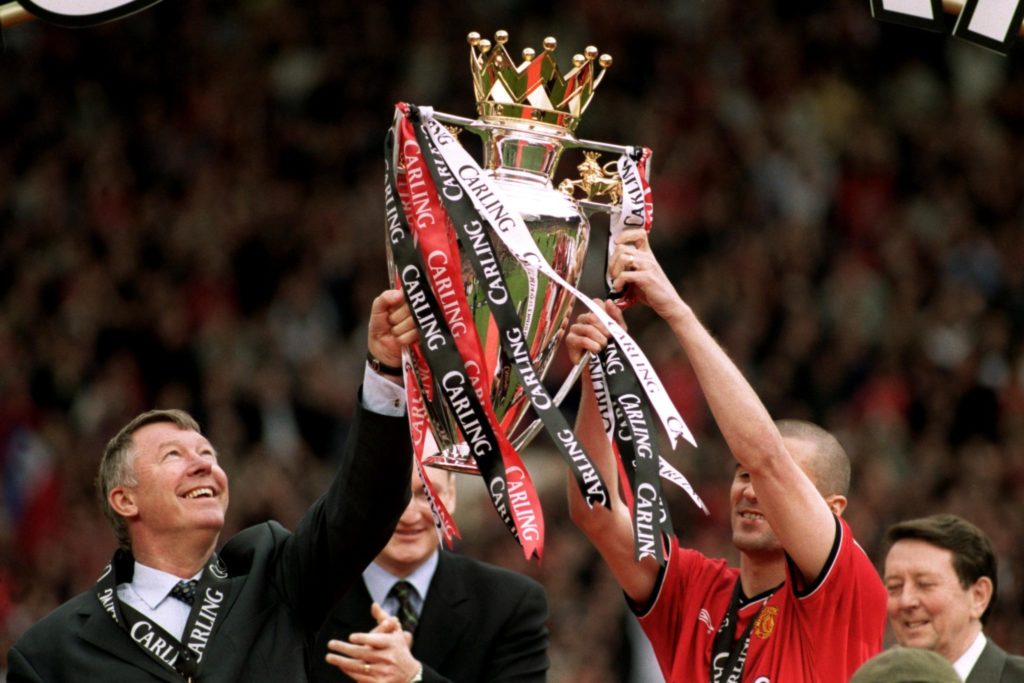 The year was 1993. "What is love" was the song of the summer, Jurassic Park had just hit theatres, and Manchester United had won their first of 13 Premier League titles under Sir Alex Ferguson.
Despite being the talisman on the best team in the league, Fergie's midfield maestro Bryan Robson was aging and was a shadow of his former self. The Scot needed a replacement fast, and that came in the shape of Cork man Roy Keane.
Keane joined the Red Devils from Nottingham Forest for a British record £3.75 million fee. Despite being relegated with Bryan Clough's side, Keane joined United as one of the most coveted young stars in Europe.
Keane had a verbal agreement with Blackburn Rovers to sign with Kenny Dalglish's side. However, he made a miraculous U-Turn to sign a contract at Old Trafford which saw him earn less than he would have at Ewood Park.
The Irishman and the Scotsman, both controversial figures, would go on to enjoy a trophy-laden relationship at the club. Keane captained Ferguson's team to an unprecedented treble in 1999.
Keane dragged United to the Champions League final against Juventus that year, despite knowing he would be suspended for the final. Keane scored a goal and was the best player on the park. It was his finest hour in a United shirt.
In his autobiography, the former-Aberdeen manager said "Pounding over every blade of grass, competing as if he would rather die of exhaustion than lose, he inspired all around him. I felt such an honor to be associated with such a player," about the Juventus game.
Roy and Fergie Break-up
Unfortunately, this partnership, one that defines modern English Football, would eventually go sour. The pair fell out of love with each other in late 2004. After United's embarrassing 4-1 defeat to Middlesbrough, Keane went to an interview with MUTV, an interview that has since become infamous.
In the interview, Keane slated United's current state. He questioned why Rio Ferdinand was such a high earner and said some players such as Alan Smith and Kieran Richardson "Didn't know what they were doing."
Other incidents, such as a bust-up between the Ireland captain and Ferguson's assistant Carlos Queiroz on their Pre-season tour, prompted Ferguson to release Keane in 2005.
The period in which Keane captained United was one of the most successful in club history. In his eight years as United skipper, the club enjoyed six league titles, two FA Cups and a Champions League.
Perhaps two of the most outspoken men in English football, their partnership coincided with one of the most dominant periods in recent football history.
Thierry Henry and Dennis Bergkamp
Before he was one of the most hated men in Ireland, Thierry Henry was a fresh-faced teenager playing his football for AS Monaco in Ligue 1. He helped his side to the 1998 Champions League semi-final and was part of the victorious French team at the World Cup that summer.
Henry made a 10.5 million Euro switch to Juventus in January 1999. The Frenchman never settled in at the Stadio Delle Alpi. He departed the club that August having scored just three goals in 16 appearances.
He was signed by his compatriot Arsene Wenger at Arsenal. Wenger signed Henry to replace another Frenchman, Nicolas Anelka. Anelka, who had scored 23 goals in 65 Arsenal appearances, left a hole that needed to be filled.
Many people saw Henry's output in Italy and questioned the purchase. However, the former Monaco manager was adamant he had got the right man.
Wenger immediately moved Henry to a striker, where he partnered Dutch forward Dennis Bergkamp. The former Juventus man became a lethal striker, and a beautiful partnership was born.
Henry would go on to become Arsenal's highest ever goalscorer, and former Ajax and Inter man Bergkamp would enjoy a career renaissance beside Henry.
The Invincibles
Henry and Bergkamp, alongside Patrick Viera and Sol Campbell, would go onto win two Premier League Titles. They managed to wrestle the title away from Keane and Fergie in 2002 as they went for four-in-a-row.
Their second Premier League title would see them finish unbeaten in 2003/2004. Henry scored 30 of the Gunner's 73 league goals on the way to just one of his four Golden Boot awards. The veteran Dutchman had 12 goal involvements that season, including eight assists.
Although the pair could never bring a European title to Highbury, the duo also won three FA Cups in their time together in North London.
Bergkamp retired in July 2006, and Henry left for Barcelona the following summer. The current Montreal Impact manager won the one title that eluded him so far, The Champions League, under Pep Guardiola in Catalonia.
After he broke Irish hearts, Henry followed David Beckham stateside to play for the New York Red Bulls in 2010.
He eventually returned to Arsenal on loan in 2012 on loan, where he scored one goal.
You can celebrate love this Valentine's Day with a special gift from Pandora. Find the perfect gift this Valentine's Day at your local Pandora store. Show her that you know her.
Subscribe to Off The Ball's YouTube channel for more videos, like us on Facebook or follow us on Twitter for the latest sporting news and content.