Jon Walters has rubbished the sanctimonious response of certain British managers and analysts to Marcelo Bielsa's 'spygate' farrago.
Joining OTB AM on his way to training this morning, the Burnley forward highlighted the hypocrisy of opinions that seek to demonstrate the Argentine has compromised a moral, mutual understanding.
"There's no point in [people] getting on their moral high-horse," Walters stated.
"Every club is doing things against the rules."
From on-pitch incidents to the pervading nature of club's tapping-up players, the Irish international doesn't believe any avenue of professional football is necessarily guilt-free.
Reserving special criticism for the national media and their influence in over-hyping the issue, the irony of their outrage was not lost on Walters.
"The English media have jumped on it," Walters stated.
"Then you talk about the English media's morals and how they clamber to get the England team and print it to the detriment of the English team.
"They're the ones shouting the loudest saying what he has done is cheating."
He's not broken any rule, he's trying to find small margins and he's doing an unbelievable amount of work behind the scenes.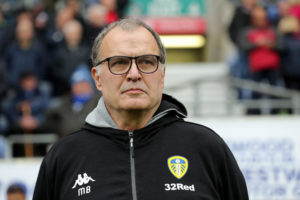 Arguing that he sensed a certain amount of jealously in those seemingly content to pile on in the pillorying of Bielsa, Walters noted: "People don't like when people are successful."
"He's not broken any rule, he's trying to find small margins and he's doing an unbelievable amount of work behind the scenes."
Considering the Argentine's initial 'victim' Frank Lampard, the Irish striker was left wondering how strongly he would hold to his standing in different circumstances.
"What if Frank Lampard's striker dived in the penalty area, last game of the season to get promoted, won the penalty, scored it and got promoted," Walters asked.
"Would he be shouting about him cheating? I don't think so."
Furthermore, the Burnley man raised certain advantages this member of England's 'Golden Generation' has over his contemporaries.
"Saying what's fair and what's not in football, Frank Lampard can probably get players from Chelsea and other clubs [on loan] because it's Frank Lampard," Jon Walters noted.
"[Those players] might not go to, say, a Rotherham in the same league ... is that fair?"
An incident that has garnered more traction than perhaps anyone suspected, Bielsa's Leeds United will continue their push for promotion with a tie against Stoke City tomorrow.
Download the brand new OTB Sports App in the Play Store & App Store right now! We've got you covered!
Subscribe to Off The Ball's YouTube channel for more videos, like us on Facebook or follow us on Twitter for the latest sporting news and content.