John Meyler joined The Football Show on Wednesday to speak about his day in the dugout beside Jurgen Klopp.
A sentence you never thought you would read. Meyler and Klopp spoke about hurling among other things.
Meyler's son, David, bought his dad the gift of a day beside Jurgen Klopp in the dugout at a charity match against Celtic, at a charity auction.
Meyler thoroughly enjoyed the experience, respecting Klopp's management of "huge egos."
Having gotten a taste for a professional football setup it led the Cork man to think about doing the job himself.
"I'd love to have managed for a year in the Premiership or something like that," said Meyler, "It would be brilliant to have a professional setup, professional everything.
"The closest I got was the Munster Championship, where you're playing a match on Saturday, Saturday, Saturday and you're going from one to the other and that's as close as I'm going to get.
"You have to manage all that, manage the environment, manage the players, manage the whole thing. It was a tremendous experience."
Managing the dressing room
As a Cork manager, one would assume managing egos was part and parcel of the job, but John Meyler was in awe of how Klopp dealt with the dressing room.
"Looking at Klopp with the likes of Mane and Mo Salah, trying to keep all those happy. David often said to me, 'Dad you've never managed these guys, they've all egos.'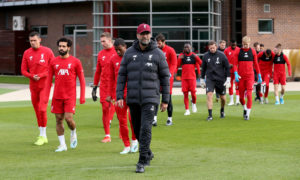 "You're trying to massage 20 or 30 egos inside in the dressing room, which is difficult. Huges egos, huge talents, and here's this guy doing it. A super guy.
"Even when you see the older guys in that testimonial match the likes of Robbie Keane, he was managing those guys."
Red Tracksuit
While Jurgen Klopp and John Meyler clearly got on, the day didn't have the perfect start, with Meyler not suitably attired.
"I turned up in my normal clothes, and Jurgen says to me 'John where is your tracksuit?' There was a young fella in and out helping and he says to him 'go and get John a tracksuit.'
"So the young fella goes and comes back with a lovely bright red, Cork hurling red tracksuit. So I put that on.
"I had black shoes on. Klopp goes 'you know you cannot go out with a pair of black shoes on.' So he sent the young fella out to get a pair of runners for me.
"He comes back with nothing. So Jurgen goes, 'I have a pair,' so he opens up a box with a brand new pair of  New Balance runners.
"Jurgen, I can't wear these, they're white, I can't go out on a GAA pitch in a pair of white runners, I'd look terrible.
"'I know how you feel,' says Klopp."
Download the brand new OTB Sports App in the Play Store & App Store right now! We've got you covered!
Subscribe to OTB Sports's YouTube channel for more videos, like us on Facebook or follow us on Twitter for the latest sporting news and content.