One of a four-man strong contingent of Republic of Ireland players at Sheffield United, John Egan discussed the club's recent promotion to the Premier League on Wednesday's OTB AM, and the personal hurdles he had to overcome before reaching this career highlight.
"You have to be a hard bastard to stick it out the whole way," surmised Ger Gilroy of the circuitous route John Egan has taken to stand on the precipice of Premier League football.
A former academy player at Sunderland and the son of a Kerry footballing legend bearing the same name, Egan's professional career offered a series of false starts.
Intermittently appearing here and there for a variety of clubs up and down England's lower leagues, what he managed to achieve this season with Sheffield United is all the more impressive when held up against the troubling whole.
"People think being a footballer is all great and that there's no downs to it," Egan stated on Off the Ball, "but I can assure you it's a long road."
"To be a footballer, you have to be mentally strong.
"When I broke my leg, coming off that pitch in Bradford that night, I was in a world of pain but half-thinking, Jesus, is that it?
"I kept my belief all the way through my rehabilitation at Sunderland, wrote down by goals and what I wanted to do.
"Thankfully I just stuck to the plan and kept trying to get better."
When we come back, the goal will be to take to the Premier League like we've taken to the Championship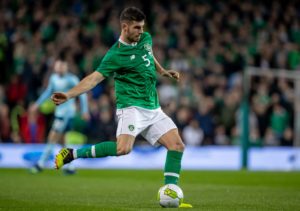 Citing the importance of "belief" in his road to recovery, the 26-year-old John Egan is now keen to make up for lost time and seize the opportunity of playing top-flight football.
"It hasn't really sunk in yet," Egan noted of the prospect that lies ahead, "but even thinking about it there, it's unbelievable."
"When we come back, the goal will be to take to the Premier League like we've taken to the Championship.
"We can't be afraid of it and we've got to try and attack it.
"The Premier League is like a world league now, so no doubt there's going to be some tough games.
"If we keep to our principles though, I think we'll have a good season."
Capped only a couple of times internationally thus far, John Egan is similarly keen to exert some influence with the Republic of Ireland.
"I feel ready as ever," Egan said of his international future.
"I'm looking forward to this summer, and next season and testing myself at the highest level."
Download the brand new OTB Sports App in the Play Store & App Store right now! We've got you covered!
Subscribe to OTB Sports's YouTube channel for more videos, like us on Facebook or follow us on Twitter for the latest sporting news and content.