As Off The Ball marked the passing of a Republic of Ireland legend in Jack Charlton, former players of his recalled what he could do with a first impression. 
Former players of Jack Charlton, Mick McCarthy, Kevin Moran, Jason McAteer and more recalled their memories of a man who had meant so much to their professional careers.
Between 1986 and 1996, Charlton brought the Republic of Ireland soccer team to places it had never been before. From the '88 European Championships in Germany to the '94 World Cup in USA with Italia '90 thrown in for good measure, he left an indelible mark on his adopted country and its people.
Across the course of a show dedicated to Jack Charlton's life and legacy on Off The Ball, we got a special insight into the Leeds United legend and the first impression he would make on people.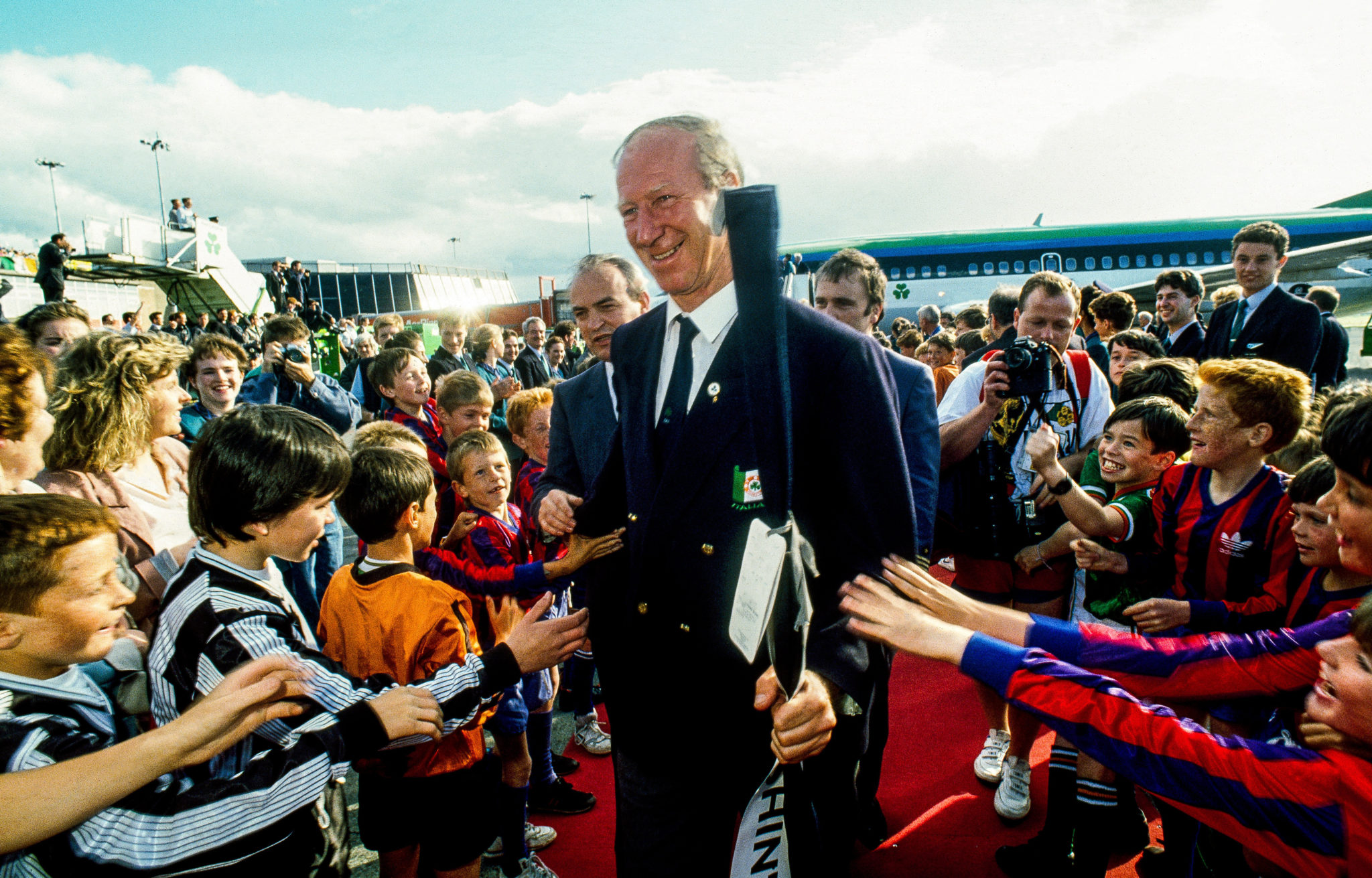 "He's such an imposing figure," recalled Jason McAteer of the man who gave him his Ireland debut, "he had this aura about him when he walked into a room that you knew he was there and when he spoke everyone listened.
"I got asked to play for England but I wanted to play for Ireland and when [my former Bolton Wanderers manager] Bruce Rioch made that call, Jack came down to watch me play.
"I'll never forget it then in the players lounge after he just made a beeline for me where I was standing with my Mum and my Nan. 'I want you to represent the Republic of Ireland against Russia at Lansdowne Road.'
"I was overcome. Not only am I standing here with Jack Charlton, but he's given me my opportunity."
"He gave me a big hug then and told me to enjoy the night" 😂

On a sad day, @MCATEER4 recalled some happier moments with Jack Charlton | 🇮🇪

Full Video ➡️ https://t.co/cLOKkLB1Md pic.twitter.com/PQZRMn0LsV

— Off The Ball (@offtheball) July 11, 2020
For the former Manchester United player and Dublin All-Ireland winner Kevin Moran, things were a little bit different when he first met Charlton as Ireland boss in the mid 1980s.
"I'd missed the first game he managed against Wales," he recalled in conversation with Off The Ball, "and the next game then was a trip to Iceland for [a mini-tournament] so I met him for the first time then at the airport.
"Funnily enough, I'd been there a year or two before with Manchester United and I had remembered that you couldn't buy any drink on the island itself so you had to get it in the duty-free going in.
"I mentioned this to Jack. 'Sure, go ahead, get some beers'. I just thought that was brilliant because he was so easy going."
Mark Lawrenson was another who happened to miss that Wales game and had to wait for an introduction to Jack Charlton.
"Ronnie Whelan, Jim Beglin and myself couldn't go because of a replay or something," the former Liverpool defender explained, "and we first met at a training camp somewhere the following month.
"We went out to basically practice free-kicks, corners and all that because us three Liverpool lads hadn't been there the last time.
"Jack walked out and this umbrella all neatly wrapped up and he told the other lads to show us three what we were supposed to do.
"Anyway, as we are watching the lads run through the set-pieces, I was watching Jack just standing out behind a goal with his back to us practicing his golf swing with the umbrella.
"After about 15, 20 minutes I shouted to him. 'Jack, we're done here.' He just said, 'Good, will all three of you remember?' We said we would of course and that was it. He was making a point in a nice way."
"I knew him before he had become manager," recalled Charlton's former Irish captain, Mick McCarthy, "we used to have a pint together in the Red Lion pub and we'd become friendly. I say friendly, but I was just in awe of him.
"When he came into the Ireland job then, he just made things plain and simple what he wanted and he was very tactically aware, Jack. He trusted me and I'll always remember that. He made me captain of Ireland and that was the proudest moment of my life."
"He is the bloke who gave me the best time of my life in football" | #RIPJack

Former Ireland boss and captain Mick McCarthy explained to OTB what truly Jack Charlton apart | 🇮🇪

Full Video ➡️ https://t.co/Kn38LoL1fZ pic.twitter.com/TtSduLJ91e

— Off The Ball (@offtheball) July 11, 2020
For former Republic of Ireland midfielder and manager John Giles, Jack Charlton was a long-time teammate of his at Leeds United. Furthermore, in the days when Giles was still a Manchester United player, Jack was the brother of his old teammate, Bobby Charlton.
"I went to Leeds in 1963," he recalled. "I was 22 and Jack was there, I think he was 27 or 28 at the time and I remember I had to strip next to him in the dressing room.
"I had met him before then though because he was a brother of Bobby and he use to come to Manchester to see him, but I got to know him very well when I went to Leeds.
"He had a strange career because Leeds were mostly a Second Division team and weren't doing very well when Don Revie took over. Jack wasn't the best trainer in the world  and I think Don Revie gave him a warning that if he didn't buck up he'd be out.
"To his credit, he then became the best centre half in what's now the Premier League for at least five seasons and that includes him playing in the World Cup and winning the World Cup. He was a top-class centre half."
Watch back what Mick McCarthy, John Giles, Kevin Moran, Jason McAteer, Mark Lawrenson, Ray Houghton and Kevin Sheedy said to Off The Ball about their memories of Jack Charlton.