Former Arsenal and England striker Ian Wright explained to Off The Ball how he would set about getting into defenders' heads with the hopes of disturbing their concentration and scoring goals. 
One of English football's greatest goalscorers, there was more to Ian Wright's prowess in front of goal than his ability to finish.
If he was to get the better of his defensive opponents, the expected physical battle that ensued would often require an additional mental aspect.
"I used to constantly try and talk to defenders," he explains, speaking at OTB Sports' Cadbury FC remote roadshow. "I tried to put them off their game to get any kind of edge."
The non-league footballer who earned his first professional contract with Crystal Palace at 22, Ian Wright joined Arsenal six years later and went on to break the club's scoring record; an achievement since surpassed by Thierry Henry.
Throughout his unusual rise to the top of English football, Wright, who would amass 33 international caps in his career, never lost some of what he learned at the other end of the spectrum.
"I used to love it because I come from Sunday morning football and that's all we did," he recalls. "We would just try to wind people up."
It was a strategy that worked better on some than others.
"Steve Bruce, Gary Pallister, Neil Ruddock," he lists of a few central defenders his talking worked a treat on. "I could tell them things like, 'Our manager told us to play on you, you were the main focus in our team talk.'
"Once [a defender] answers, you can go to the next level of sledging then.
"You'll get people and when you keep going at them, at some stage they will say something back. As soon as they say something, I know I've got them.
"You know that they've reacted and that their mind can be played with and they might make a mistake."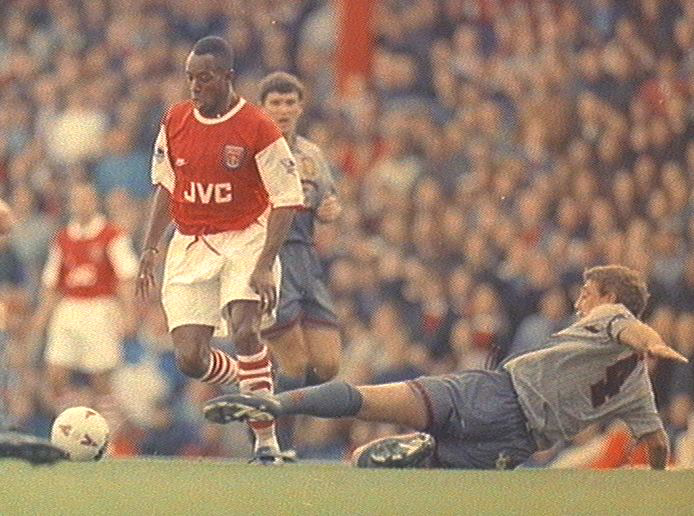 Although plenty would succumb to Wright's tricks, there were those who would give him enough to be thinking about themselves.
"I couldn't get a word in with Des Walker," he notes of the legendary English defender.
"When you made a run against someone like Des, he'd just tell me, 'I'm not going to fall for that one, your midfielder doesn't even have time on the ball to hit the pass.'
"Des would be telling you what you can't do in your own game. He was quick, strong and read the game unbelievably well. I was always just trying to get a word in.
"Lucas Radebe is another who looked at you but didn't say much. What Lucas would do though, he would smile and that would be enough for me. If he smiled that means I've got somewhere.
"Someone like Rio Ferdinand then, he was vexed with me because when he was younger he really liked me. So, the first thing I did was slaughter him about the way he looked and played. He used to hate me.
Of course, the only thing worse than being talked to was not being addressed at all.
"There were some defenders I wouldn't even bother speaking to," he recalls. "I would tell them, 'I'm not talking to you, you're not worthy of me speaking to you. I'm going to beat you without getting into your head.'"
Speaking at OTB Sports' Cadbury FC remote roadshow, Wright did have a word or two to say about his co-star on the night, Sol Campbell.
"The thing about Sol was that he could literally look at you as if he was looking through you," he explains of Campbell's ability to disregard Wright entirely. "He would make you feel like you weren't there.
"It never stopped me though. Just because he is not listening, you never stop. You have got to keep going and try to annoy him. With Sol though, he would just not pay me any attention."
OTB Sports, in partnership with Cadbury FC – are running a brand new series of in depth chats with some of the biggest names in Premier League and in Irish football history.
Check out Cadburyfc.com for updates on promotions and giveaways
Download the brand new OTB Sports App in the Play Store & App Store right now! We've got you covered!
Subscribe to Off The Ball's YouTube channel for more videos, like us on Facebook or follow us on Twitter for the latest sporting news and content.