Dundalk manager Filippo Giovagnoli spoke to Off The Ball ahead of the Europa League tie on Thursday against  KI Klaksvik.
Giovagnoli has called the job at Dundalk a 'Kamikaze Mission' in the past, but he sits just 90 minutes away from the group stages of the Europa League, and with it a multi-million euro windfall.
Given the strange circumstances around his arrival and the situation at the club generally, Giovagnoli says it was important to make an early impression.
"The first thing was to be accepted," said the Italian of communicating with the experienced footballers at the club.
"Players that already won, have experience even in Europe. Let's make sure they know what we are doing, which we did and they understand.
"We have knowledge of what we do and they accept us, we are honest people. We always say the truth and we want to create this kind of environment."
Environment
Giovagnioli is clear about the kind of atmosphere he wants to create around Oriel Park.
"A true environment, where when we discuss it, it is reality. If I say something, it is going to happen. If I promise you something, it is going to happen.
"This is what we built and the players enjoy this, they enjoy the way that we train. I think we brought something a little bit different.
"Now they trust us, of course, we trust them. We super-trust them and that makes this group like a real family."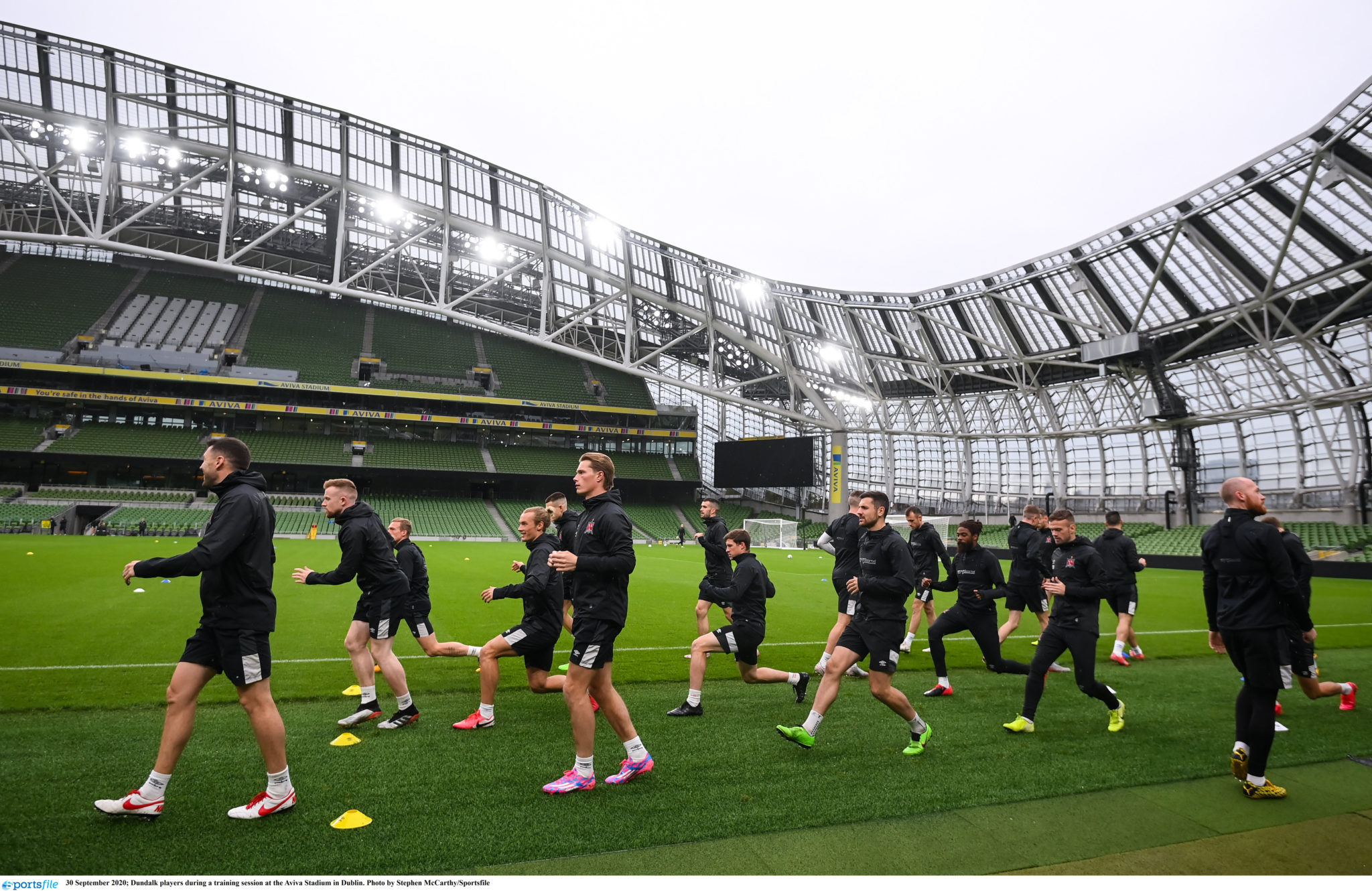 The early successes of his tenure on the pitch have helped him create that atmosphere where the players can believe in the coaching staff.
"It's important because then you are credible," according to Giovagnoli.
"When you work on something with the players and then what you work on is happening in games, then you have credibility.
"Then you can say things and they trust you and this is what we are building. I am just disappointed and upset with that last game with Shamrock Rovers that we couldn't perform.
"We didn't prepare at all because our mind was here [the Europa League]. We had to rest twelve players after the game in Moldova.
"I hope we will face another game with Shamrock Rovers under different conditions and I think it will be a different story."
Giovagnoli says Dundalk wanted the game moved but is looking forward to having another cut at Rovers.
"We tried, we asked if it was possible to postpone the game. Not only because of us but for the League of Ireland.
"To have a fair game, I think is better, but listen it is what it is.
"Our focus now is this game [in the Europa League], it is the most important game we have now and this is where we are going to put our attention.
Download the brand new OTB Sports App in the Play Store & App Store right now! We've got you covered!
Subscribe to Off The Ball's YouTube channel for more videos, like us on Facebook or follow us on Twitter for the latest sporting news and content.