French football writer Philippe Auclair said that football in the country has got to 'grow up' and stamp out crowd issues, like the English leagues did in the past decade. 
Ugly scenes broke out during the Nice vs Marseille game on Sunday night, when Nice fans stormed the Allianz Riviera pitch during the night's Ligue 1 meeting of the sides.
Both clubs have been summoned to a Ligue de Football Professionnel (LFP) disciplinary hearing on Wednesday to explain their actions.
Nice fans throw bottles

Payet lobs one back

All hell breaks loose pic.twitter.com/YvtirkPyc8

— Richie McCormack (@RichieMcCormack) August 22, 2021
Philippe Auclair lamented the actions of the fans, but also the reaction to it from the French football authorities.
"French football has got to grow up in this particular instance", he told Off The Ball. 
"Unfortunately, the people in charge of French football have to grow up themselves, take responsibility and not constantly throw the blame on others"
The game was abandoned 90-minutes after it was originally called to a halt by referee, Benoit Bastien.
Nice say they held discussions on Monday with its Populaire Sud supporters group, and have told Allianz Riviera management of the need to install barrier netting to prevent the kind of bottle-throwing that sparked Sunday's violent scenes.
That stand will reportedly be closed for four home games.
"Away fans are treated like animals in some French grounds."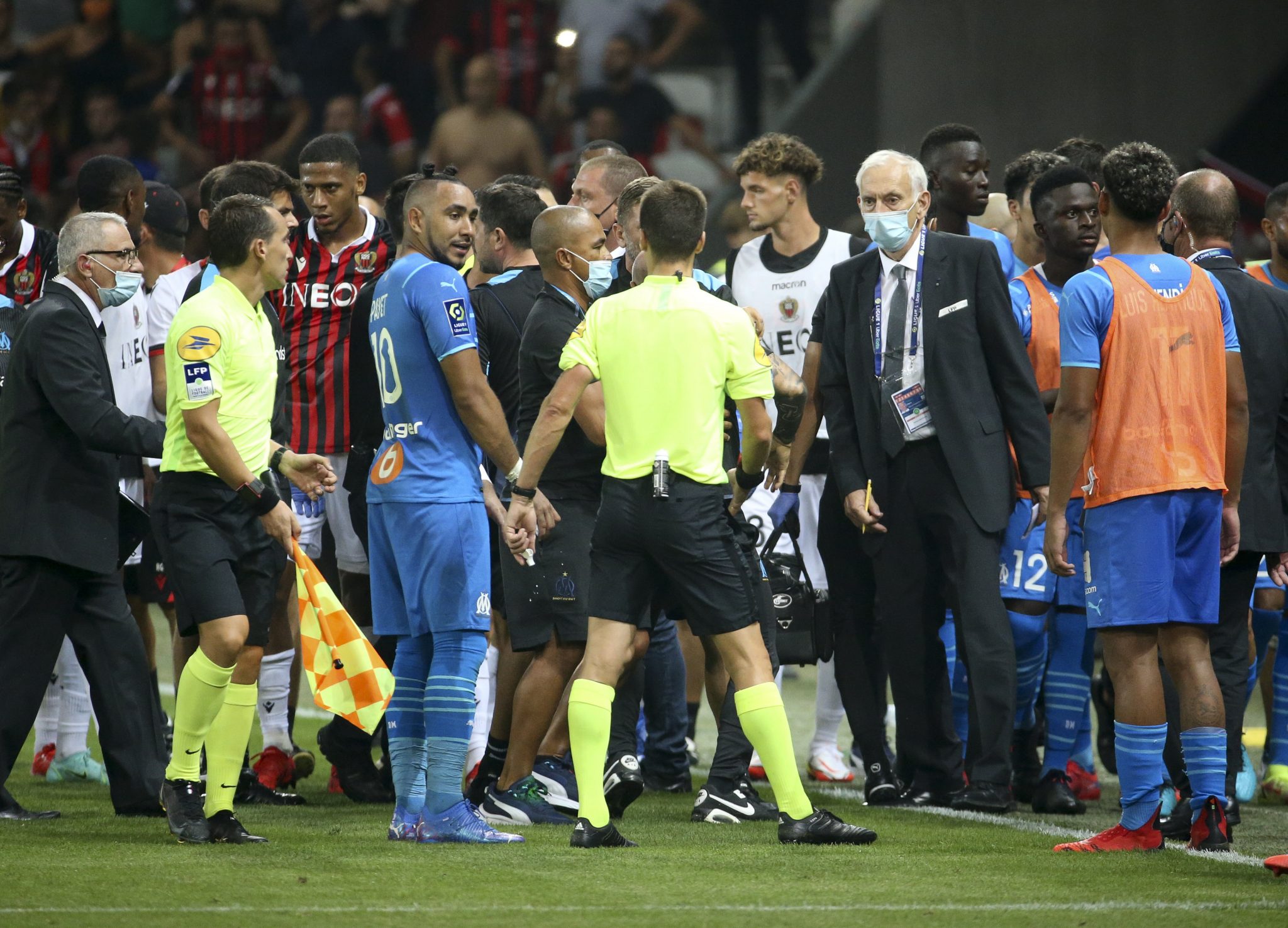 Auclair is firmly against the return of fencing to French football grounds, and insists that a better way to solve the issue, is to follow the approach English football took to stamp out Hooliganism.
"When I hear that, I lose the will to live, honestly. Have they learned nothing?"
"Away fans are treated like animals in some French grounds. They are treated like potential criminals. This doesn't encourage them to behave well"
"It is obvious that we know who these people are. Just ban them. Do what has been done in England for a very long time, where nothing of the kind is happening anymore."
Meanwhile, it's reported that a Nice supporter was arrested on Monday for hurling a bottle at Marseille's Dimitri Payet.
Nice are placing blame for the escalation purely at Marseille's doorstep.
"While nothing can excuse the actions of a few individuals guilty of throwing bottles onto the pitch," a statement read, "There is no doubt that it was the attitude and actions of several members of Olympique de Marseille that saw the incident escalate out of control.
"First of all, two experienced members of the OM playing staff lost control and threw projectiles directly into the nearby crowd of spectators, then one of Jorge Sampaoli assistant coaches crossed the field to attack and knock out a supporter, who of course should not have been there, but nevertheless remains in hospital."
Indeed, one of Jorge Sampaoli's backroom staff was pictured aiming a punch at a pitch invader.
Meanwhile, Marseille have defended their decision not to return to the pitch.
Nice players did return after a 90-minute delay, but the OM camp headed back to Marseille despite LFP orders.
"There was a controversy over whether or not we should have resumed this match," Marseille communications director Jacques Cardoze told RMC Sport, "We are told that it is because there is a possible threat to public order and possible disturbances that we had to resume the match.
"The match has not resumed and following these incidents, nothing happened. The argument of disturbing public order does not hold water."
Football on Off The Ball with Paddy Power – new normal? Same old football. Visit PaddyPower.com to get the latest on the Acca-Cracker Free Bet.
Premier League confirms that some international players won't be released
Download the brand new OTB Sports App in the Play Store & App Store right now! We've got you covered!
Subscribe to OTB Sports's YouTube channel for more videos, like us on Facebook or follow us on Twitter for the latest sporting news and content.