Just as it was two years ago, Ireland must navigate their way through Denmark at the Aviva Stadium tonight to secure qualification to a first major tournament since 2016. 
In 2017, it was Denmark – inspired by a Christian Eriksen hat-trick – who won 5-1, pipping Ireland to a place at the World Cup. In the meantime, the two sides have played out three draws, two 0-0s and a 1-1.
In the build-up to those games, the Danes haven't been shy to express their view of footballing superiority over Ireland. Denmark's Thomas Delaney commented that playing Ireland was akin to opening a can of beans with your bare hands.
Kasper Schmeichel meanwhile, said that meeting Ireland reminded him of his days playing in England's League Two, while Spurs' Christian Eriksen added that his Irish opponents played like they were "too scared to go forward" with the ball.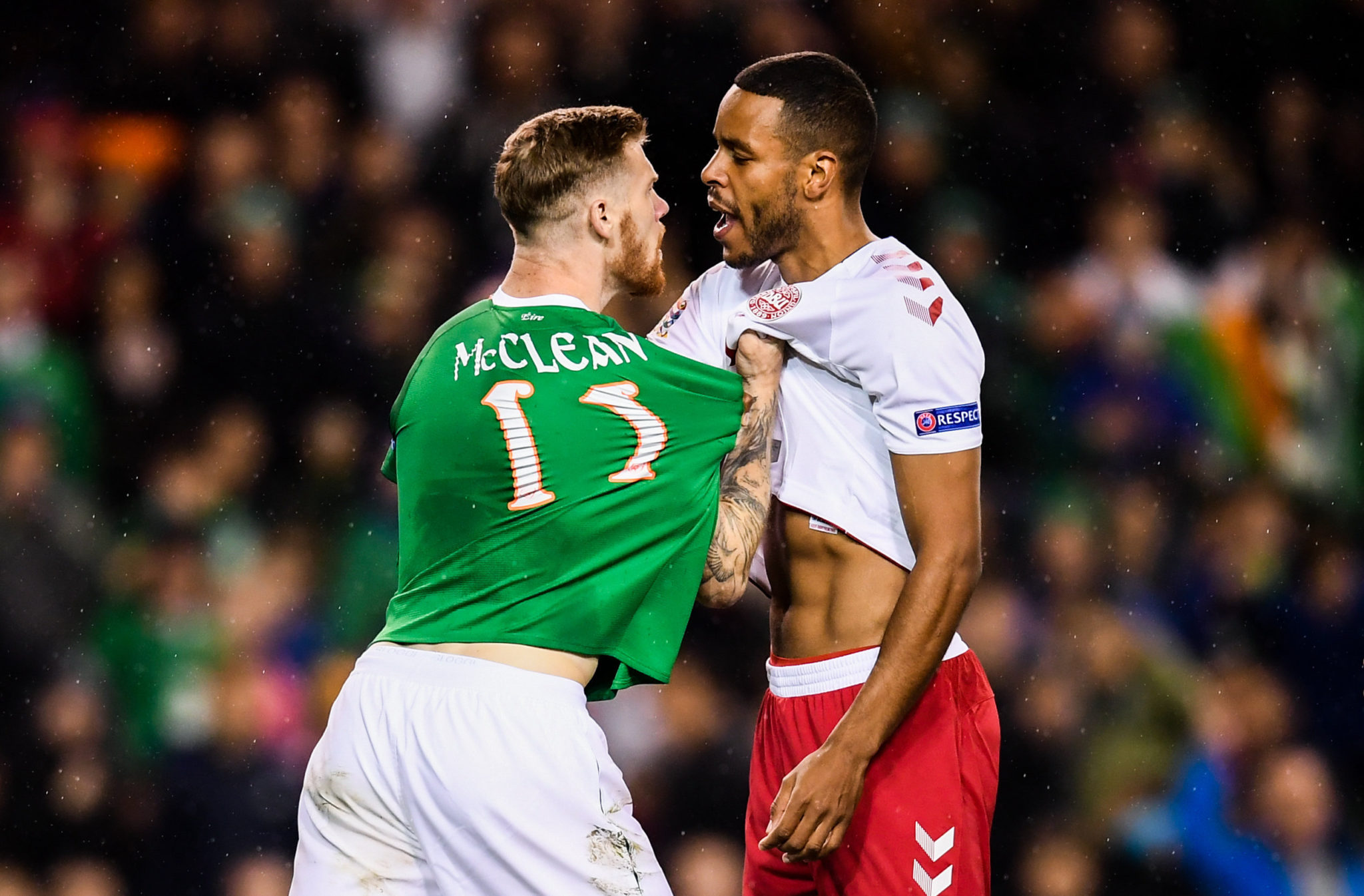 To get the view from someone other than a trash-talking player, Monday's OTB AM welcomed Danish journalist Leif Rasmussen into the studio to preview the crunch game.
Rasmussen began by saying that Denmark's recent performances against Ireland had led to disappointment amongst fans.
"The Danes think that the Irish, we should beat nine times out of ten normally. We have drawn a lot of times now so the Danes are actually a little disappointed, I would say."
Rasmussen, however, added that the one player Denmark are worried about is Ireland's captain on the night, Shane Duffy.
"He is not a player with flair but he has this presence that the Danes don't like.
"Inside they are a little bit afraid because they know if it's 0-0 with 10 minutes to go they will struggle because they know one set piece to Shane Duffy can ruin everything."
Another concern, Rasmussen said, was the reality that Denmark are not the same team as they were when they easily defeated Martin O'Neill's Ireland two years ago.
"It's not the same team that it was", he commented, "it's not the Danish team in that form.
"Simon Kjaer in the defence has not played for Atalanta, that is a bit scary.
"But then they have brought in Andreas Cornelius with his physical presence that gives us a chance to out mark Shane Duffy from set-pieces and score goals as well."
Despite those worries, Rasmussen was widely adamant that Denmark would come out on top at the Aviva.
"I think the problem for Ireland is that they have to score a goal.
"I think Denmark will win 2-0. I think the Irish will become frustrated after one because they will need two goals and then they will concede in the last minutes too", Rasmussen said.
Subscribe to Off The Ball's YouTube channel for more videos, like us on Facebook or follow us on Twitter for the latest sporting news and content.