What's that humming into earshot, like a drone in Homeland terrifying the locals? Why, it's 'Sunderland 'Til I Die', of course!
Season 2 is back with a bang, with a new cast but the same old feeling that everyone involved is totally and abjectly doomed to both professional and personal failure thanks to Sunderland AFC.
We pick up episode one, with the club's new owner Stewart Donald and director Charlie Methven. Both men have the distinct disadvantage of being notably Southern, with Donald's accent being the giveaway. Methven, however, couldn't be more Southern if he had turned up to the AGM with a regatta jacket, quaffing Pimm's and aiming his antique dualling pistols at the tea lady.
Both men provoke a mixture of empathy and my-god-what-are-you-doing-to-yourselves pity that is usually reserved for contestants in the early weeks of The Apprentice. Donald is quite a charming character, quite simple in his outlook and having an everyman quality that Sunderland fans can, and will, relate to. He is the owner of the club, with the Mackems looking ahead to at least a year in League One.
"That piss-take party stops now," says Methven in the initial press conference, and one of the first scenes of the show.
The piss-take party continues directly into the next scene where he hosts a team meeting in a pair of red trousers so loud as to cause a ringing of the ears. For a marketing man, one might assume that Methven could have guessed that turning up to work like an attendee at one of Big Suze's house parties might have rubbed the staff up the wrong way.
"It is a failed, fucked-up business - it was 100% fucked," says Methven of the situation he arrived into at Sunderland.
Anyone who saw Jack Rodwell on his chaise-longue, having grapes trailed into his gob by breathless servants, would be inclined to agree.
In something of a tirade towards exhausted-looking employees about the culture at the club, he cuts a figure of energy. This may be the type of energy that the club needs, or he may find himself swallowed into the amorphous blob of football executives who have abandoned all hope entering the Stadium of Light.
"You can have a role in the renaissance," he says with more hope than expectation.
We roll title sequence which, in my experience is just a vaguely-annoying northern man crooning 'In the city where they used to build the boats' - SKIP INTRO - '...proud."
Stewart Donald
The first intimate look at Stewart Donald sees him in the bathroom of a likely-rented gaff, struggling to put on a tie. A hideous portent of what is to come?
"The start of the season - your heart beats a little bit faster, and a little less regularly," says Donald with a fundamental misunderstanding of how the human form works. Which, in fairness, stands him in good stead to understand the Sunderland playing staff.
After a few media duties, Donald gets to work. By work, we mean aimlessly meandering among and between offices at the training ground, a la David Brent.
Once he's settled in, Donald takes a good hard look at the playing squad and realises that they are a rather unlikeable bunch. In the way that, say, Harold Shipman was largely not-a-good-egg.
Out go Didier Ndong, Steven Fletcher and Jack Rodwell, part of a footballing where-are-they-now playing out in actual real-time in front of your actual eyes.
Jack Ross
But who will take control of this rag-tag bunch of misfits? Why, it's Jon Hamm-cum-Owen Coylealike - Jack Ross!
As if proving that you definitely CAN trust a man with two first names (see both Donald, Stewart and this author), Ross rolls up like a low-rent Glasgow copper that will both bust this case wide open and try and sleep with your girlfriend.
Ross has got his work cut out, as Sunderland players turn up for the first day of pre-season with the urgency and sticktoitiveness as a group of teenagers in a K-hole.
In fact, in a scene plucked right from a 1970s footballer's nightmare, one of the players turns up in shorts, basketball top and flip-flops, a Louis Vuitton washbag and on the phone to either (a) his agent (b) a floozy or (c) someone else that will likely rile every Sunderland and football fan worldwide.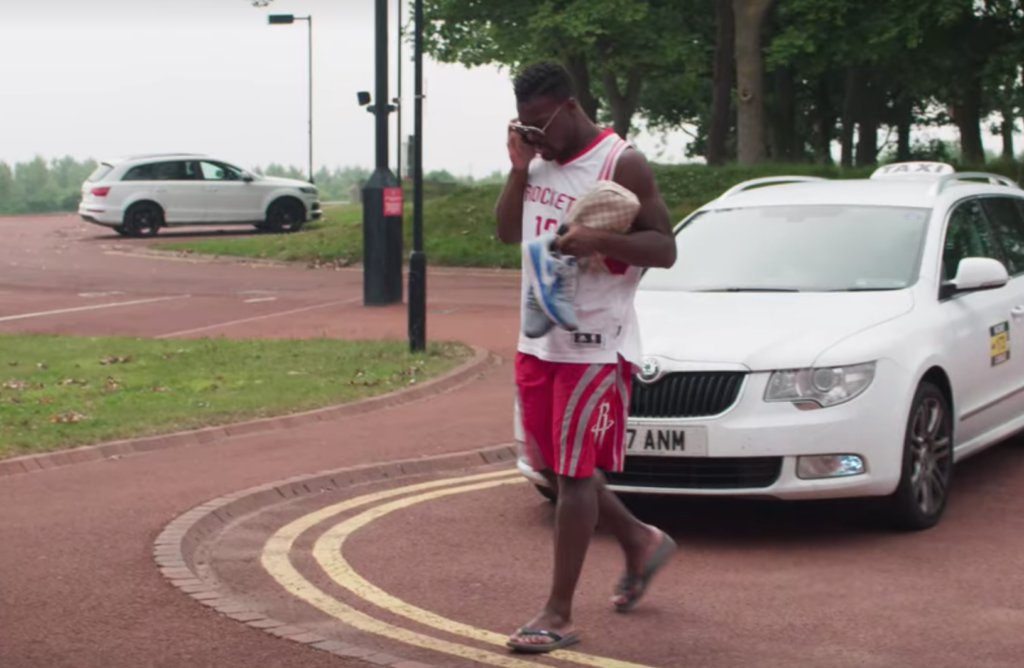 Adagio for Strings
Episode 1 peaks with Charlie Methven's ideas for perking up the stadium experience. Out goes the fusty old 'Dance of the Knights' (of Apprentice theme tune fame) and in comes Tiesto's Adagio for Strings.
In one stroke, Methven goes from vaguely-useful marketing man to full-blown socialite-turned-DJ charging £1,000 per appearance at a provincial nightclub. You can actually see the moment what faith the employees had in him turned to outright incredulity. It is quite something.
Methven stands in the middle of the pitch doing that 'louder, louder' hand gesture to the PA, who wonders how his life choices have led him to basically bringing off a posh man to a crescendo of Dutch trance classics.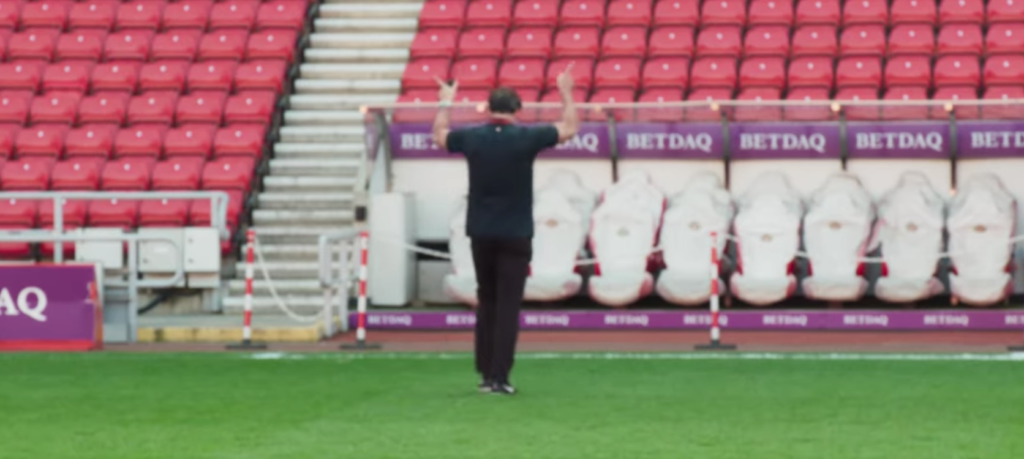 The actual football
After replacing their pink seats which, in their defence, look much better once done, the attention turns to the football.
Donald and Methven are joined by Juan Sartori, non-executive director at the club who accompanies them to the match. The pre-match nerves are getting to the lads over their hopelessly-undercooked fry up (don't judge us, Juan.)
Sartori blesses us with one of the semi-incomprehensible Spanishisms, which goes like this: 'In Spain, we have a phrase - the calm before the storm."
No wonder the people of Sunderland voted for Brexit after absolute foreign muck like that. Coming over here, summing up our emotions in perfect English. The cheek of it.
On the pitch, Sunderland play Charlton Athletic at the polished turd Stadium of Light, with the natural cinema of football being completely removed from football by it being tinkered with cinematically.
1-0 Charlton, penalty.
Shots of anguished fans, general sickness in the stomach of Methven and Donald. General bemusement from audience.
1-1 Sunderland, Josh Maja.
Chaos of limbs, fans in ecstasy, that lad is a player. Fans generally throwing v-signs and telling a general portion of the stadium to fuck off.
Six minutes added.
Corner, knocked back in - header from Gooch to win at the last.
Soppy music and slightly disturbing elongated 'GOOOOOOOOOOCH' from commentator.
A very solid episode one, finishing on a good note that you know cannot last. These people cannot have nice things.
Subscribe to Off The Ball's YouTube channel for more videos, like us on Facebook or follow us on Twitter for the latest sporting news and content.