Aaron Connolly only has two caps for Ireland. He's only 20 years of age, but a regular for Brighton in the Premier League. His impressive start to the Premier League's renewed season should put him at the forefront of Stephen Kenny's plans.
Robbie Keane scored five goals during the Euro 2000 qualifying campaign. It was 1999, Keane was just 18 years of age. Three years later, Keane and Damien Duff would lead Ireland's attack at the 2002 World Cup. Duff was 23, Keane 21.
That 2002 World Cup remains the pinnacle of Irish football for this century. Beating a second-string Italian team and putting it up to France valiantly in Euro 2016 is our best memory from recent years. Neither comes close to Keane knocking that last-minute equalizer past Oliver Kahn.
Keane and Duff were obviously star players. They are exceptional at a level of sport where everyone is at the peak of performance. But crucially, they were also both trusted early in their careers. None of Ireland's recent managers would have willingly started a 21-year-old and a 23-year-old up front together in a competitive game. Not least nurture two teenagers so they were comfortable playing international football during their early 20s.
The failure of Euro 2000 fed into success in 2002. Alongside Keane and Duff, youngsters Shay Given, Stephen Carr and Ian Harte all featured for Ireland in 1998/99.
Ireland's pool of talent has diminished since then. The quality of players coming through hasn't been the same, but that's not really the reason for Ireland's failings. Each of the managers the FAI have hired over the last decade have brought in a new personality but the same philosophy on the field. An overreliance on known commodities and a reluctance to show any ambition wound up with the country compiling stats you don't want to compile.
In eight Euro 2020 qualifiers, Ireland scored seven goals. Two of those games came against Gibraltar. Denmark and Switzerland, the teams who finished ahead of Ireland, scored 23 and 19 goals respectively. Ireland were very fortunate to be close to them in points at the end of the campaign.
That was cause for celebration for Mick McCarthy. Coming third in a five-team group where the top two teams qualify while playing awful football. It's the lowest of low bars.
Stephen Kenny isn't likely to do that. Kenny's place in Irish soccer is akin to that of Barack Obama's place in American politics. Obama's Yes We Can slogan rejuvenated the Democratic party. It offered a tone of belief and ambition that pushed him to become President. Kenny's belief and ambition is evident in how he speaks about his players but also in how his teams play.
Scoring seven goals in eight games but scraping into a playoff won't satisfy Kenny's ambition, nor will it reflect his style. Having come from the underage setup, he's also more likely to give young players real opportunities for the senior team. First on that list is Aaron Connolly.
Connolly is 20 years old. He has two caps for Ireland and is a fixture in Brighton's first-team squad. He played in both of Brighton's games this past week. Connolly has played for Kenny already, starting on the wing for the under-21 team while Adam Idah played upfront.
Assuming Kenny plays some variation of 4-5-1, Connolly can either play out wide or up top. Ireland don't have irreplaceable options at either spot.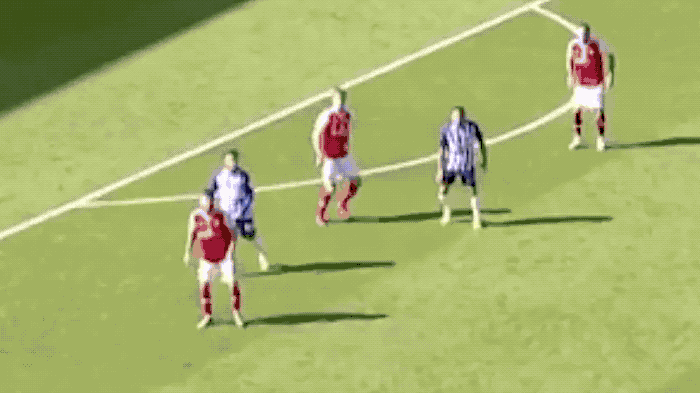 Connolly came on for the last 20 minutes against Arsenal at the weekend. He played upfront with a second striker. He wasn't heavily involved, in part because Arsenal were able to establish a greater foothold in the game. But he made the decisive touch at the end.
Neal Maupay made a great run off the ball for Connolly to turn the ball around the corner. His deft touch was perfectly weighted, setting Maupay up to finish.
When Connolly has played on the wing for Ireland's underage teams, he has shown comfort on the ball to dribble past opponents. His link-up play is precise and he shows off great awareness with the ball. Starting against Leicester on Tuesday, Connolly played as part of a front two before becoming a sole striker in the second half. Leicester dominated possession, which meant Connolly mostly lived on scraps.
Even in that scenario, his link-up play impressed when the opportunity arose.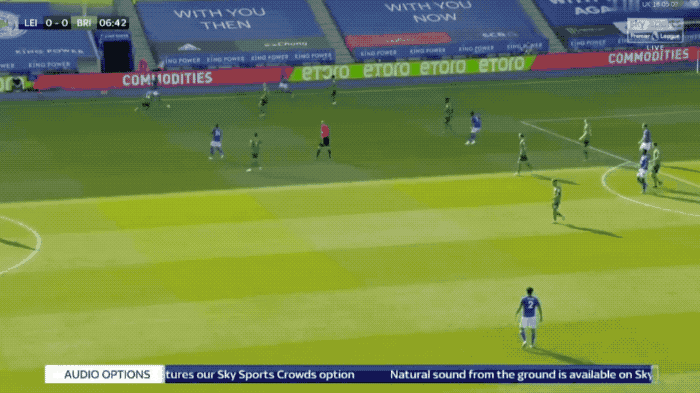 Kenny will put a greater emphasis on players who can simply retain possession. Doing that requires a whole team capable of showing comfort in possession. There's no point having 10 players sharing the field with a James McClean or Shane Duffy who is going to panic or make rash decisions when working in tight spaces.
In the above clip, Connolly tracks the ball back down Leicester's left side before possession changes over. He pushes upfield to threaten the space as soon as Brighton have the ball. He receives a pass while moving forward, but has the awareness to recycle the ball backwards with one touch. Had he tried to control the ball in stride and attack the halfway line, he'd have been immediately met by an advancing centre back.
This isn't a spectacular sequence but it allows Brighton to retain possession and prevents Leicester from building pressure by winning the ball high upfield.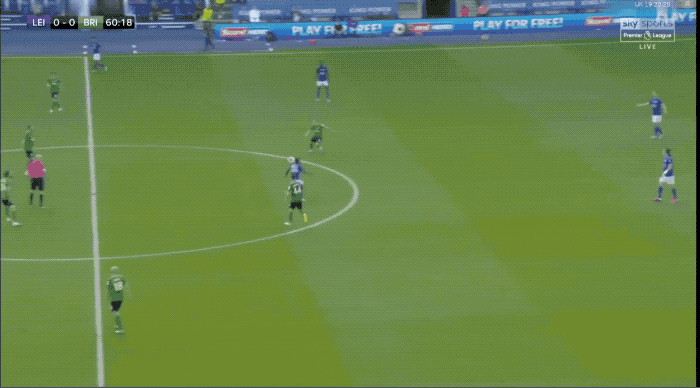 Again, Brighton win the ball from Leicester and it quickly finds its way to Connolly. This time it's further upfield so Connolly has options in front of him when he initially gets on the ball. He has an option inside but instead shows patience to let his second option find the space outside. That sets the platform to attack.
Connolly gets the ball back on the edge of the box, but the ball he receives turns him away from the box. A good pass would have set him up to play the ball forward or shoot on goal first time. He played the ball backwards first time, not realizing how much time he had to turn on the ball.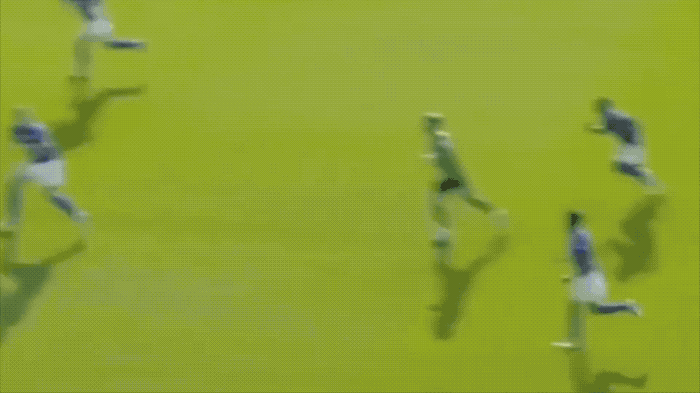 His most impressive moment of link-up play against Leicester came when he ran in behind the defence from a throw-in. Connolly found space between two defenders, then had the perfect first touch to maximize his space while moving infield. He delivers a good pass and follows it across the field to provide an option for his teammate.
The sequence ends with a poor shot from outside the box but it was another impressive set-up from the youngster.
Anyone who has watched Connolly underage understands that he's exceptionally good with the ball at his feet. Ireland haven't had an attacking player who combines his pace with his technique probably since Damien Duff. Wes Hoolahan and Robbie Brady were exceptional on the ball but neither player was likely to run away from anyone. Shane Long could run away from most players but isn't celebrated for his work in tight spaces.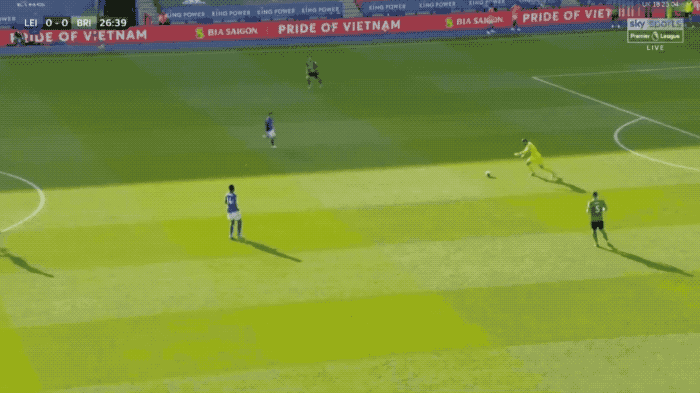 This again is a play where Connolly is picking up scraps. He reads the header and stops his forward run as the ball drops down. This puts him in a pocket of space where he eventually picks up the ball. With two touches, he's turned the centre back around and is in the box. Connolly's finish leaves something to be desired but he was given a corner by the officials.
Having that turn of pace with that ball control will allow Connolly to create his own chances. Maybe more importantly for Ireland considering the next game is an away trip to Slovakia, that pace also makes outlet passes against defences pressing high upfield easier to execute.
Connolly should have gotten an assist against Leicester because of his pace.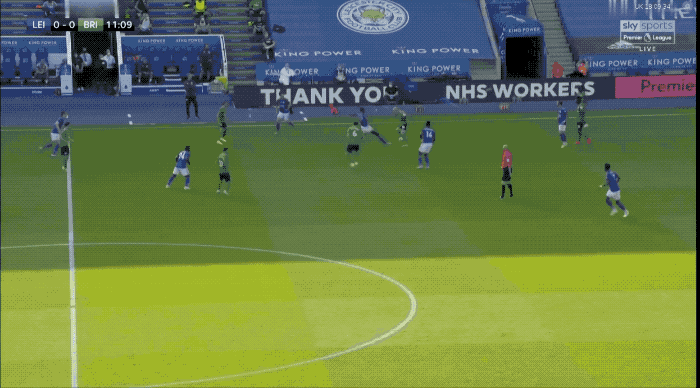 Brighton's right back, the impressive Tariq Lamptey, takes a throw-in from midway in his own half of the field. Leicester press up to try and box the ball in. When it finds its way to Aaron Mooy, Connolly sees his opportunity to sprint upfield. He splits the defenders and wins the race against Leicester right-back James Justin.
This was a big moment in the game, it would have been bigger if Maupay hadn't missed the ensuing penalty. It was also just one of many occasions when Connolly worked hard defensively.
Bringing Stephen Kenny in doesn't mean Ireland are abandoning defensive responsibilities to go gung ho. Discipline and passion without the ball will still be required. Connolly wasn't James McClean when he played on the left wing for the under-21 team, he was the exact opposite really, but his work rate for Brighton has been very impressive. He hasn't been playing the full 90 minutes of games. He doesn't need to do that for Ireland either.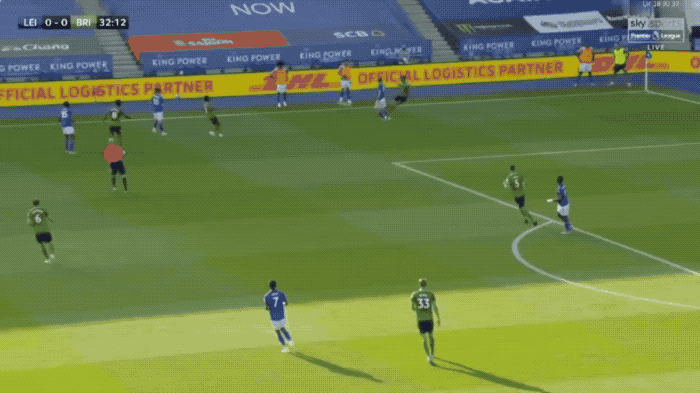 Just because Connolly isn't a 10-year international starter it doesn't mean he doesn't know how to defend from the front. It was noteworthy how often he anticipated the play or took away a passing lane to pressure the ball against Leicester. He's not shirking his responsibilities to the team just because he's capable of creating scoring opportunities.
In the above clip, there are three plays.
The first is a familiar sight to anyone who watched Ireland the past 10 years. He chases a lost cause and wins possession high upfield. Nothing comes of it but he's eased the pressure on his defence and prevented Leicester from building an attack in the Brighton half.
The second play sees the Leicester midfielder attempt to turn on the ball to set up an attack, Connolly had pressed the ball higher upfield, then read the play to get back involved. Disrupting the central midfielder alone is valuable. Then chasing the breaking ball to pressure the next defender releases any pressure on the Brighton defence.
The third play comes when Brighton were temporarily down to 10 men. Connolly pressures the defender who responds with a composed pass that gets him out of trouble.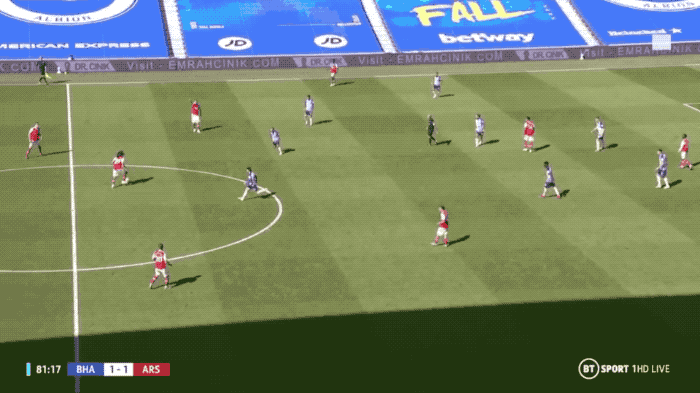 Against Arsenal, Connolly had a very impressive three-factor sequence. Firstly, he takes up a good position against Matteo Guendouzi in the middle of the field. He takes away the forward pass without pressuring the ball. He then follows the ball to Shkodran Mustafi. He's not just mindlessly chasing the ball like a toddler on a Saturday morning. Connolly looks around him as he's moving, checking his angles and Mustafi's options.
He knows he can put pressure on Mustafi by taking away the ball back to Guendouzi because there's nobody in an inside position for Mustafi to pass through to. Connolly's pressure and position forces Mustafi to go back inside to his defensive teammate. Connolly's attacking teammate can see that this is his only option, allowing him to break on the ball as it arrives.
Arsenal are fortunate to retain possession so Connolly's job isn't done.
He recognizes that once Guendouzi plays the ball wide, the midfield will sink off of him. Guendouzi becomes an option then as a playmaker for the return pass. Connolly sprints back in time to take him away as an option. Forcing the ball to stay in the corner where Brighton have defenders.
There are a lot of games to be played between now and October 8th. Beating Slovakia and reaching the next European Championships would be nice. Financially, it's very important to the FAI. From a football perspective and in terms of building toward the next generation of the Irish senior team, winning that game isn't that important. Fortunately, it's not a choice between one or the other.
Playing Connolly is giving Ireland the best chance of progressing. The only question is if he should play on the wing or upfront.
Download the brand new OTB Sports App in the Play Store & App Store right now! We've got you covered!
Subscribe to Off The Ball's YouTube channel for more videos, like us on Facebook or follow us on Twitter for the latest sporting news and content.