Former England and Harlequins winger Ugo Monye dropped into Off The Ball with Keith Wood to chat about his career and one of rugby's most infamous moments: 'Bloodgate'.
The Harlequins 'Bloodgate' scandal rocked rugby at the time.
A quick refresher: Nick Evans replaced Tom Williams in a fake blood injury substitution against Leinster in the Heineken Cup quarter-final in 2009 in the hope the All Black could take a kick if required.
"It wasn't a shame that we got caught ... it cleaned up the league massively"

Ugo Monye on the infamous 'bloodgate' scandal of Quins-Leinster 2009 🏉📺 https://t.co/iAXnpcABSN

— Off The Ball (@offtheball) May 18, 2020
Monye recalls the incident and the day with sadness but without bitterness - he says that Harlequins were not alone in using blood capsules.
"It was there on hand. We used it. We were found guilty on that day against Leinster and three other occasions but it could have been more if we had needed to.
"I think that was a process that clubs have used in the Premiership for a number of years and it's sad, really, but the best thing to happen that day was that we lost to Leinster because it would have been a total farce."
Stain
The impact of 'Bloodgate' on the legacy of the club is not lost on Monye, who spent his entire career at The Stoop.
"It's a stain that will forever be there," admits Monye, "it's a really frustrating time as well because things at the clubs were going really well. We were in a European Cup quarter-final against Leinster.
"It's an unfortunate use of the word but that level of behaviour bled into our system. Not just what Harlequins were doing, right across the league.
"I won't point fingers and name names or name clubs but that was just a part of what we did.
"We were so complacent with it because it was a case of, 'have we got everything? yeah. Boots, bag? yeah, Blood capsules? yeah got them in the physio bag. That was just a part of what we did and it's a shame.
"It wasn't a shame that we got caught because it actually cleaned up the league massively. There was one other case in a European semi-final that went totally under the radar later on that year.
"The same thing happened and I remember ringing the player saying 'are you joking, I can't believe you've done this.'
"In terms of harming the history of Harlequins, I'd like to think we've come on in a huge way since that."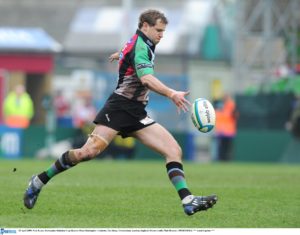 While the impact collectively of 'Bloodgate' is somewhat obvious, with acres of news coverage and bans for a player and officials at the club, the severity took a while to hit home to Monye.
"It was a devastating time and I actually didn't realise the impact it had on the squad and some individuals until the next year. Tom Williams namely," recalled the former Lion.
"When you're losing good men, Stef Brennan mainly who had just got the top job at England. He had to move away from that and lost his physio licence.
"The doctor, Wendy Chapman, her story alone is absolutely devastating. Staff in the office were made redundant, the impact was so wide-reaching.
"So for us to not put our hands up and totally claim responsibility would have been pathetic of us. Yeah, it's a frustration, but it's part of our history.
"I was ashamed at the time, but do I feel any shame now? No, I think you've got to move on, those wounds have got to heal.
"It's out there in the public domain and I guess in ten years' time, you might ask some of the Saracens guys about what's happened in the last year.
"It's one of those things that everyone will forever associate with your club, but you've just got to move on and evolve."
Everyone's in the Team Of Us.
Vodafone. The Official Sponsor of the Irish Rugby Team.