This week on the Tight 5, we broke down some of the changes Ireland have made to their scrum setup in 2021.
It was no secret that the scrum and lineout were areas of concern for Ireland in 2020. Having had one of the most consistent scrums in world rugby for half a decade prior to the 2019 World Cup, Greg Feek's departure as scrum coach was always going to be present a big challenge.
John Fogarty stepped into the breach, and while Ireland struggled in the first campaign post-World Cup, the early signs are of improvement in that setpiece in 2021, the return from injury of Tadhg Furlong being no coincidence.
There have been some subtle changes to their setup though, two of which we discussed on this week's Tight Five.
Firstly, we looked at the position of CJ Stander in the setup. Below, we can see how Ireland's number 8 would have been entering the scrum before this year. In the pic below, taken against England in the 2020 Autumn Nations Cup, Caelan Doris is the man at 8, and as we can see circled, he is bound traditionally on the hips of the two second rows, while putting as much weight as he can on his back feet, in a bid to pull the hips of the second rows together, and also so he can then pull himself into the scrum with force upon engagement.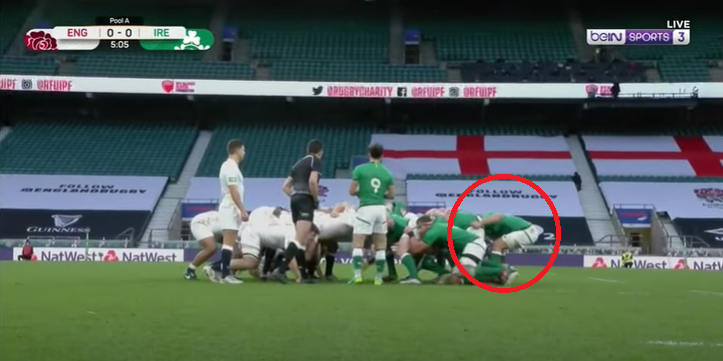 However, in the last year, Ireland have changed their setup so that their second and back rows will have a kneeling start. A model used by Saracens, it was than adopted by Leinster, before making it's way into the Irish camp; the idea being that if your second rows (and optionally backrows) begin their setup on both knees rather than just one knee, it brings greater stability and results in fewer resets.
Ireland are taking that approach even further though by having their number 8 begin his setup kneeling down, as we can see in the picture below. As well as that, Stander is binding to his second rows under their legs rather on their hips, which keeps his shoulders tighter to the scrum, allows him a longer body position on defensive scrums, and holds the second rows hips square.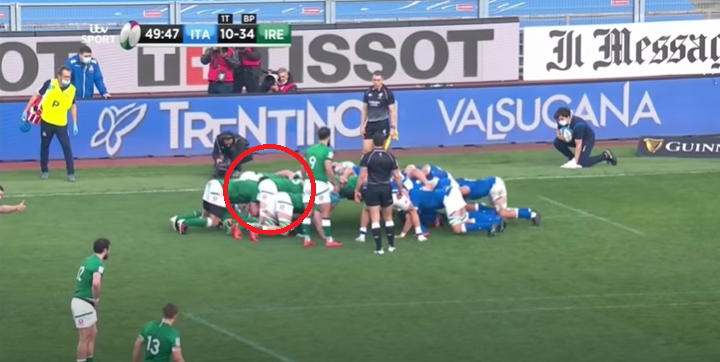 Second row binding
One other area Ireland have tweaked is the bind of their second rows.
According to World Rugby law 19.7 which deals with how a scrum should be formed, it states:
"The locks bind with the props immediately in front of them and with each other."
However in Saturday's win against Italy (and at times earlier in the tournament), Ireland have changed that bind on defensive scrums, in a bid to offer their hooker and loosehead prop more support. By the letter of the law, it's not a legal bind, but it hasn't been spotted by the officials.
Below, we can how it normally looks as Ireland prepare for a scrum. Circled in red is the arm of Iain Henderson, wrapped around the body of his fellow second row James Ryan, which is the standard setup.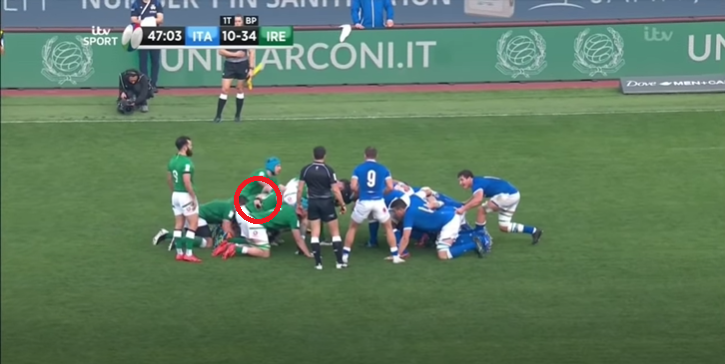 But just as the referee calls "Crouch", Henderson lets go of Ryan, slipping his right arm in under Ronan Kelleher. By doing so he is bound to his loosehead prop with his left arm, and his hooker with his right arm, acting as further support against the opposition tighthead prop who is trying to split him.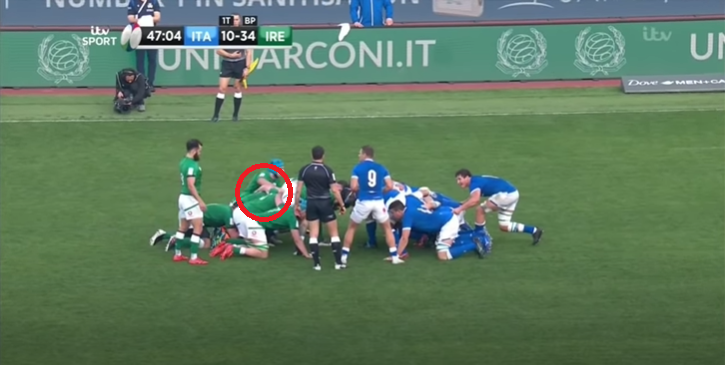 From looking back on the games against both France and Italy, this only appears to be happening on defensive scrums - but not all defensive scrums - and takes place on the loose side of the scrum.
It doesn't appear to be specific to a player; against France it was Tadhg Beirne doing it, and later in the game against Italy Ryan Baird could be seen to do it.
We'll be sure to keep an eye out to see if Ireland try it out again against Scotland next week, and with the overhead spider-cam in operation at Murrayfield, we'll be able to spot it easily if they do.
Download the brand new OTB Sports App in the Play Store & App Store right now! We've got you covered!
Subscribe to Off The Ball's YouTube channel for more videos, like us on Facebook or follow us on Twitter for the latest sporting news and content.