Dr. Una May from Sport Ireland joined Monday Night Rugby on Off The Ball to discuss why the organisation will not be appealing James Cronin's doping ban.
The Munster prop failed a routine drug test after Munster's draw against Racing in the Heineken European Champions Cup this November.
Cronin blamed the adverse finding on a pharmacy dispensing error, for which he received a one-month suspension.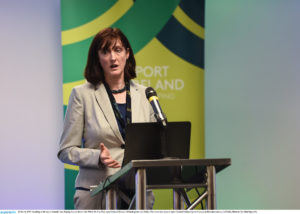 Sport Ireland has decided not to appeal the leniency of the doping ban despite Cronin not missing any rugby due to the coronavirus shutdown.
"People were publicly aware that we were not enthusiastic about the one-month suspension," Dr May told Off The Ball. "We felt it was quite lenient.
"On full analysis with the full backing of a legal team, comprising a barrister who is a former CCAS council and who regularly appears before CAS.
"We took the decision on legal advice and their suggestion was that we would be unlikely to get a significant increase in a sanction.
"Sanctions under the world anti-doping code are standardised in accordance with the substance that was found and the circumstances of the case.
"Whereas in a normal case with a doping substance four years is the entry point, in some cases that can be reduced to two very rapidly and then in the case of certain substance sit can be reduced significantly right down to zero sanction.
"It's based on the athlete's degree of fault, their level of intention. So in this particular instance it became very clear that no matter what the process involved, this was likely to fall within the lowest category of sanction.
"Our review of the analysis was that we could enter a very lengthy process, and bearing in mind CAS is not currently hearing cases we could be entering a process that could take six months to a year, for the sake of increasing a sanction by a month or two.
"We were also aware that WADA had been consulted in the establishment of this sanction, so, all in all, it didn't seem appropriate, from our point of view, to pursue this, even though we would have been more comfortable with a longer suspension."
Everyone's in the Team Of Us.
Vodafone. The Official Sponsor of the Irish Rugby Team.
Subscribe to Off The Ball's YouTube channel for more videos, like us on Facebook or follow us on Twitter for the latest sporting news and content.