Ruaidhri O'Connor of the Irish Independent joined Wednesday Night Rugby on Off The Ball where he looked at how the lockdown is affecting the IRFU finances.
Rugby will not return in Ireland until phase five of the government's return to business roadmap, a situation that is already affecting it financially.
The Irish professional rugby game is heavily reliant on gate receipts without major television revenues like other sports.
"We're all used to the Six Nations being in February but why is that sacred? Nothing should be off the table at the minute" @RuaidhriOC on what the future might hold for future tournaments at the end of this. @VodafoneIreland #TeamOfUs https://t.co/swN3QPW76L

— Off The Ball (@offtheball) May 13, 2020
"To use a phrase we heard frequently in 2008 and 2009," according to O'Connor, "It's a very open economy, that is connected internationally.
"The provinces don't play in a domestic competition, but that's probably how we'll start back. How do you sell that to broadcasters?
"We all know the TV market here is not that big, broadcasters are struggling as well as everyone else, so where is the money going to come from?
"Ireland needs everyone to start to be able to play against each other to really make some money, and they need bums on seats to make the whole thing tick.
"It's 81% of the IRFU's revenue comes from the men's' International senior team and I think it's 96% comes from the professional men's game.
"So even stuff like Leinster v Munster being cancelled or even being behind closed doors, that's a million off the table straight away.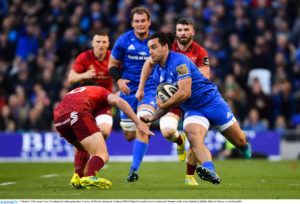 "Leinster Saracens has gone by the wayside, prizemoney has been put on hold, so Philip Browne (IRFU CEO) has said they can get to September with their cash-flow as is, having agreed a temporary wage deferral with staff, including players.
'They need the cash to start coming in (from September). Gate receipts are obviously huge but if they got going behind closed doors, in the absence of everything else, broadcasters are willing to pay a little towards it. Then, they can keep the show on the road.
"They are allowed to apply for a rugby relief fund from World Rugby, up to €9 million, which would be a help. But to access that they have to show that they are in financial difficulty.
Other nations have said they will need state aid should the Six Nations not go ahead next year - should that happen, it is not good news for the Union.
"If the Six Nations does not go ahead in 2021," according to O'Connor, "It's a pretty appalling vista for Irish Rugby.
"We are way off that point yet and I am loathe to make big predictions, but two months ago we didn't know where we would be now."
Big Issues
There have been several reports of bullishness about rugby returning in some form in August or September, but there are many medical reports saying the opposite.
According to O'Connor, there are many major bumps on their financial road still to come.
"If the November internationals are cancelled, which looks like it might happen due to travel restrictions, that is a big issue for the IRFU.
"If it extends beyond Christmas into the Six Nations or even a Six Nations behind closed doors, that's a big issue.
"They have kept schtum on how big an issue it will be, we haven't gotten them on the record about where they are at.
"It will be very interesting to see when they do break cover what that impact will be.
"They will hope the government will be able to help them to some degree and they have the World Rugby relief fund.
"They will be loathe to go back to that, as it would compromise their position of strength at the World Rugby table."
Everyone's in the Team Of Us.
Vodafone. The Official Sponsor of the Irish Rugby Team.