Ronan O'Gara dropped into Monday Night Rugby on Off The Ball where he spoke about some of the great imports from his time at Munster.
The players, not from the province who adopted the club as their own, have left a lasting impression with the former out-half.
"Especially with the passing of time and the appreciation of hindsight, it has left an incredibly strong imprint in my mind in how these guys affected my development," says O'Gara.
A couple of former All-Blacks stand out in particular at Munster.
"The positives they brought out in me," recalled O'Gara. "In Dougie's case, for example, probably about five years after I wish I was more open to his growth mindset.
"He was very different but I was very closed in that it was fixed in terms of how I saw this. I wish I had appreciated more what he had said because he had an exceptional outlook on the game. He wanted the ball passed into his hands, and having played in New Zealand you see the benefit of their core skills.
"For him, it wasn't an issue anyone handling the ball but maybe sometimes I didn't trust people the way he did. That's something I put my hand up for and probably should have had a better mindset. But it goes back so much further and deeper than that.
"It goes back to Seanie McCahill, 25 years ago was playing with Sunday's Well. It goes to Rhys Ellison who played with Shannon, to Mikey Mullins, to Jim Williams, John Langford, they were the initial batch.
"I think it's important too, to respect what the guys who come over, do. Each of those guys had a huge influence. I think the Kiwis are humble people, some people don't find them humble, I do, very down to earth when you spend time with them.
"They are very open and very decent about sharing their game. Their most important point is repeating the basic skills really well and it's what they believe in, where I was of the opinion 'what's the magic formula?' but there isn't one.
"It's doing the simple things well over and over again. Having spent a bit of time with a lot of these guys who come in, like Jason Holland. He was playing with Middleton, he wasn't bought by Munster.
"He performed at club level and Munster gave him a chance. He took it with two hands and he's still shining after his defeat of The Crusaders at the weekend."
"We Had Christian Cullen, even though we didn't see the best of him. Although any young player saw what the definition of rehabbing means. It doesn't mean come into the physio appointment and get a little rub and go again and drink coffee.
"It was six hours a day trying to get back from injury, but his body had given up. what great players do, they commit to the project and give it their best shot, something else takes over, they can live with that decision."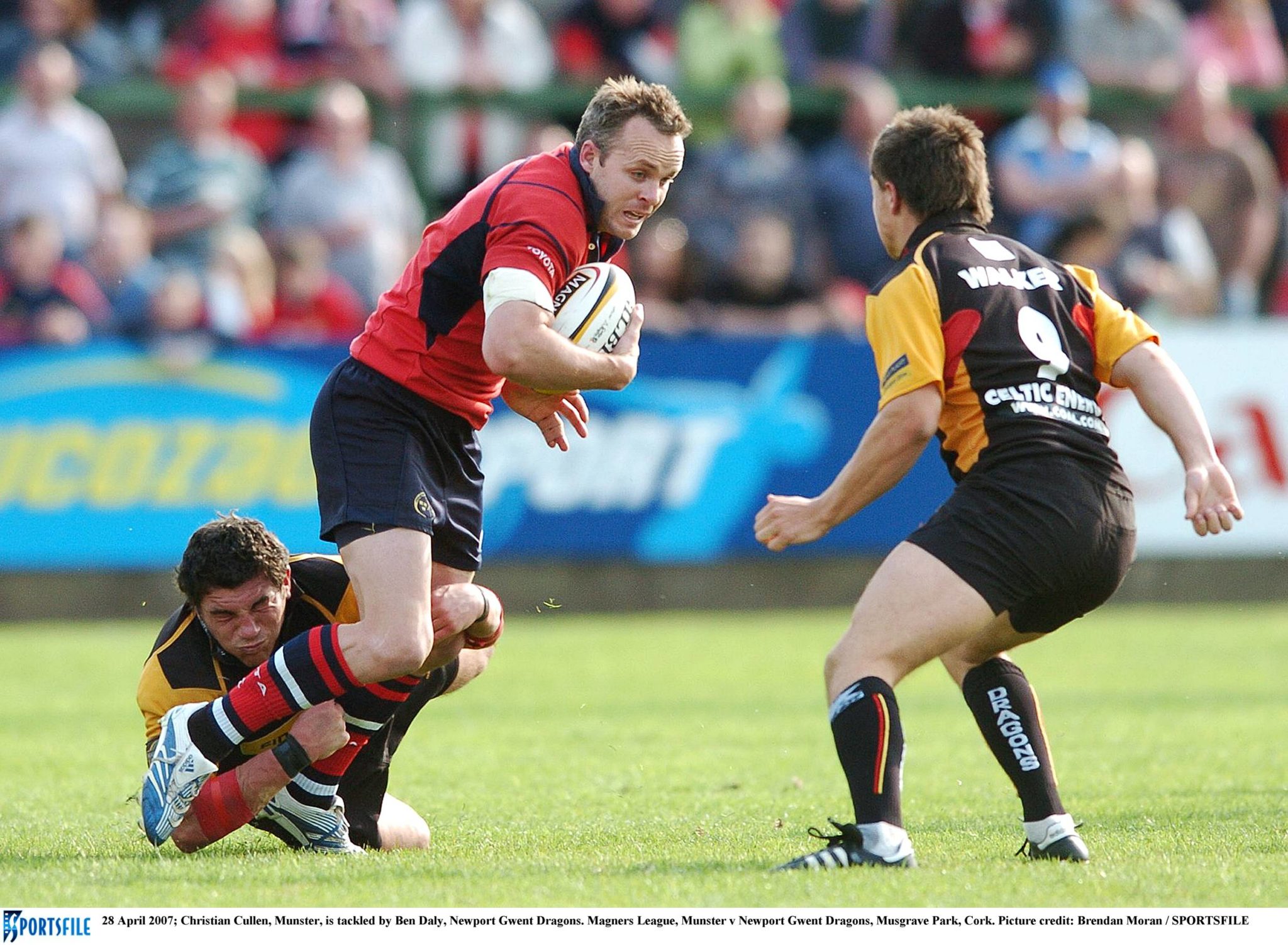 Cullen holds a special place in O'Gara's affection, often to the amusement of his teammates.
"They used to call me 'shadow' because I used to shadow him around the place, everywhere he went, "remembered O'Gara. "I'm a little bit biased but his professionalism is something that left a huge mark on us as players.
"Any player will speak highly of him because of what he brought to the environment. When the body gives up on you there's not much you can bring to the team, but if you are a team player you can bring something tot he environment. He fits into that category."
"There were always rays of hope there [with Cullen's recovery], unfortunately, he ripped up defences when he was 18, to 27. That is still nine years of wear and tear."
The former out-half recalled Dougie Howlett's pace in all senses on the pitch.
"Incredibly fast, but what stood out for me was his speed of thought," said O'Gara. "His capacity to scan space inside me or outside me was just so good.
"Over 40 to 80 metres, I don't have the official [speed] data for you, but if you put him into space, he'd score. The highest try-scorer ever for the All-Blacks.
"What a great time," recalled O'Gara. "Obviously we didn't see the best of Cully but playing with Dougie, playing with Jean deVilliers, it's what you can look back on with such delight.
Everyone's in the Team Of Us.
Vodafone. The Official Sponsor of the Irish Rugby Team.
Download the brand new OTB Sports App in the Play Store & App Store right now! We've got you covered!
Subscribe to Off The Ball's YouTube channel for more videos, like us on Facebook or follow us on Twitter for the latest sporting news and content.