Written by Eoin Harte. 
Robbie Henshaw will be able to step up to the plate at fullback against England, according to former Ireland international James Downey.
"As Joe has mentioned he's played a lot at fullback anyway," Downey told Off the Ball's The Saturday Panel.
"It's been a while, but it's his favourite position, he'll tell you that."
While Downey believes that Henshaw will do fine at fullback, he does expect Eddie Jones' side to test the man who has played predominantly at centre for Ireland and Leinster.
"I just think the positioning aspect of fullback, he's going to be tested today," Downey said.
Former Ireland women's captain Fiona Steed was also in studio and believed that while Henshaw's positional change is a risk, Ireland will come into the game well prepared.
"Joe Schmidt doesn't take a chance on these sort of things," Steed noted. 
"You can bet your bottom dollar that the world player of the year has been putting high bombs for Robbie Henshaw with people chasing.
"I think Robbie has all the skills. It's a brave move but it could be a masterstroke couldn't it?"
You can bet your bottom dollar that the world player of the year has been putting high bombs for Robbie Henshaw with people chasing.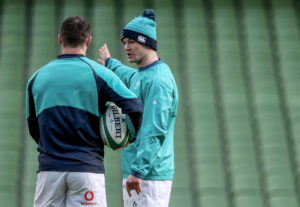 Henshaw fills in at fullback at the expense of Rob Kearney, who finds himself out of the match day squad for Ireland's opening game of the Six Nations.
The 32 year old has had troubles with injuries in recent times and has been dropped following a rusty performance against the Scarlets for Leinster.
Downey believes that Kearney's absence could potentially be more about Joe Schmidt's desire to strengthen depth in the squad , rather than axing Kearney on the back of recent performances.
"How many times has he been written off in the past and he bounces back? It's about the combinations," Downey argued. 
"Joe doesn't do things half cocked, he's thinking ahead.
"He's thought about that Argentina exit in the last world cup and it's we need players to be able to cover more than one position."
The battle of the fly-halves will be another decisive aspect of the game, with Johnny Sexton and Owen Farrell set to face off yet again.
"They're the two characters who will bounce off each other so much and they're so driven to win and of course you're going to try and antagonise Farrell," Downey said.
England will also look to give Sexton no room to operate today and the return of Manu Tuilagi will likely be a major tool Eddie Jones' men will use in an effort to dismantle Ireland's talismanic number 10.
"Obviously Sexton is officially the best ten in the world at the moment but he has been injured and he hasn't played. What would you do first ball up? Here you go Manu, have a little run," Steed said.
Ireland face England at the Aviva Stadium at 16:45 to kick off their defence of the Six Nations Championship.
Our rugby coverage is brought to you by Vodafone – Team of Us – Everyone In.
Subscribe to Off The Ball's YouTube channel for more videos, like us on Facebook or follow us on Twitter for the latest sporting news and content.