Made famous off the back of his music career, the heady days of Niall Breslin's time as a rugby and Gaelic football hopeful brought him into contact with some of Irish sport's most widely known coaches. 
An U21 provincial winner with Westmeath, a budding rugby professional at Leinster and an underage Irish international, when The Blizzard's debut album appeared in 2006, guitarist Niall Breslin already had an idea of what life was like in the public eye.
Across such disciplines, he had his fair share of experience working with various coaches, as he explained on Wednesday's OTB AM.
From Matt Williams at Leinster to Declan Kidney with the Irish U19s, an all too brief spell with Westmeath even gave him a glimpse of Páidi Ó Sé's gifts.
"He had some presence, I'll tell you that for nothing," explained Breslin of the Kerryman.
"I remember he'd land in his helicopter, walk over and he'd just start talking. People talk about presence not knowing what it is, but whoever's met Paidi realises that that is what it is.
"Even sometimes where you were thinking, 'For God's sake,' you're still thinking, 'This guy has it.'
"Making Westmeath win a Leinster championship was no mean feat, and that was a good Leinster, and we deserved that one."
For Niall Breslin, it could have been a success he shared in were it not for injuries.
Departing Leinster when it no longer seemed feasible that he could go on, Breslin received a phonecall from Ó Sé in the same week his rugby career came to a premature halt.
Unable to reach the necessary physical demands, while he had claimed U21 provincial success with the county it wasn't to be at senior level.
People talk about presence not knowing what it is, but whoever's met Paidi realises that that is what it is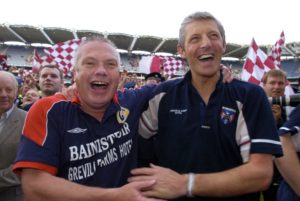 With Leinster, the majority of Niall Breslin's development came under Australian head coach, Matt Williams.
A period that witnessed the 38-year-old become a fully-fledged professional, Breslin expressed why he believed Williams's tenure in charge ultimately came to an end.
"He was very professional," recalled Breslin, "[but] he'd had the hold of the group and he lost it.
"I'm not sure why, but I think the senior players started to see that he sometimes had an incredible ability to tell you what you wanted to hear.
"Sometimes you need to hear stuff that you don't want to hear."
There to witness Gary Ella's attempts at harnessing the group after Matt Williams departed in 2003, the former Wallaby had as much luck as his fellow countryman.
Although Breslin's own stint with the province came to an end shortly thereafter, the opportunity to play alongside one of his heroes offered him a special insight into the man at the centre of Leinster's current success.
"He is still the best player I've ever played with," remarked Niall Breslin of Leo Cullen, "and I don't think he gets the credit he deserves as a player.
"He was the ultimate leader. It makes absolute sense to me that he is as good a coach as he is. Leo didn't care who you were, didn't have that about him.
"There always was a clique in Leinster, players will tell you.
"When Leo came back to Leinster from Leicester, so the story goes, he thought they'd win nothing unless they figure out how to change the culture.
"He was the guy who instilled that change."
You can watch back a broader assessment of Niall Breslin's sporting background here. 
Subscribe to Off The Ball's YouTube channel for more videos, like us on Facebook or follow us on Twitter for the latest sporting news and content.