Ireland international and current Ulster flanker Jordi Murphy joined Wednesday Night Rugby on Off The Ball and spoke about his disappointment ahead of last year's Rugby World Cup.
The 29-year old flanker moved from Leinster to Ulster in a bid to get more European game time to cement a regular place on the Ireland team and make the World Cup squad.
Joe Schmidt gave Murphy his break at Leinster and the flanker says he is the "best coach in the history of Irish rugby," but getting that phone call was still tough.
"It was one of the worst feelings I've ever had"

Jordi Murphy on missing out on the Rugby World Cup last year 🏉@VodafoneIreland #TeamOfUs https://t.co/0I92Iar5ws

— Off The Ball (@offtheball) May 20, 2020
"There must have been six or seven of us," remembers Jordi Murphy, "you knew Pete was going, CJ was going, Josh was going, and then Jack Conan, who had been playing so well. So I thought it was between myself Rhys and Tommy O'Donnell, so I always knew the phonecall could possibly come.
"It did, unfortunately. He rang me on my Irish number. I have a UK number for the last year and a half, two years, and that's the one I use 99% of the time.
"On that day I was like 'I'd better turn on my Irish number, just in case,' and unfortunately he ended up ringing that phone.
"It was tough, I won't lie. It was probably the worst feeling I've ever had. I've been dropped plenty of times before but it was a mix of a lot of things."
"You're not playing enough"
There was a gamut of emotions for Jordi Murphy when he lost out on selection for the tournament, having made so many changes to his life.
"When I decided to leave Leinster it was around the November series of 2017," recalled the flanker. "Joe rang me and said 'you're not playing enough, we need you to play more Champions Cup.'
"I knew that if I wanted to play for Ireland I could see the World Cup on the horizon so I knew I needed to make a move.
"So you spend 18 months [there] and I felt like I was playing some decent rugby and you go through the whole summer camp for the World Cup, feeling in good shape, literally one step away and you just fall at the final hurdle."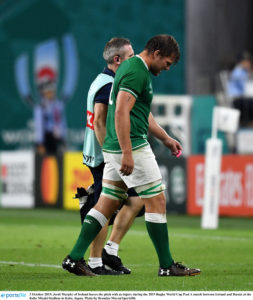 "It was tough to take because I'd been to a World Cup, I know how special that is. It's always been a goal of mine to go to World Cups and even after the last one I was like 'I'd love to go to another one.'
"It was really set in stone in my mind for the 18 months to two years before.
"To be told you haven't quite made it, that's pretty rough. It was rough for a week or two, rough for my fiancee Laura as well," said Murphy
Jordi Murphy
When the phone rang it was clear that Schmidt was not calling with good tidings.
"I think that has only happened once in the history of Joe Schmidt phonecalls - that was to Tommy Bowe before the 2015 World Cup.
"I had a feeling, I just answered the phone, barely said hello and he was like 'this isn't a phone call I want to make' and I just didn't say anything.
"I just let him talk for two or three minutes. There wasn't much to be said, I wasn't going to have an argument."
The brief one-sided phone call wasn't the end of Jordi Murphy's 2019 Rugby World Cup, as he did get the call to replace Jack Conan in the squad.
However, that experience was short-lived as he picked up a rib injury in his only appearance, effectively ending his involvement.
"Culturally the experience was pretty good in Japan," recalled Murphy, "but it was a strange one."
Everyone's in the Team Of Us.
Vodafone. The Official Sponsor of the Irish Rugby Team.