Alan Quinlan was joined by All Blacks great Sir John Kirwan for the first episode of a new series of OTB's mental health awareness show How's The Head?.
Both Kirwan and Quinlan have battled anxiety and depression during their rugby careers, Kirwan detailed to the former Munster man how he had to "restart" his mental health.
"I was so bad," recalled Kirwan, "I said to my mum one night 'I'm dead, I'm walking around but I'm dead. I don't want to get up in the morning, I don't like myself, I don't like my world, I don't want to be here.'
"My mum said to me 'the good thing about your death JK, is you are still here, so you can start again.' I didn't think that I could start again and I also was looking for the 'big' me back.
"I used to run down the wing with long blonde hair and not a care in the world, I wanted that person back. So I was looking for this big thing that didn't really exist because I didn't really know who I was.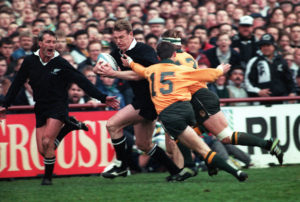 "The next day I started again and I started with the real simple things. So I started with a shower, most people, when they jump in the shower, live in the past or live in the future, but I just concentrated on the water and that I looked forward to every single day and still do.
"One of the dumbest things people ever told me was that a zebra doesn't change its stripes. That is bullshit because I have changed my stripes. I made a decision to change myself, I worked incredibly hard on my mental health and went from surviving to thriving.
"I feel as if I am thriving today, do I have darker days than others? Of course I do, but I have tools and techniques now that I use to keep myself in a really good state.
"That's the most important thing you can learn is actually, what is your mental fitness plan. You pick up the paper now and tell me what diet I should be on.
"One says to 'eat a whole cow,' the next says 'just eat vegetables,' the next says 'paleo.' We don't know what to do anymore, there's all this information coming in.
"The most important thing you can do is have a really solid mental health plan. that means understanding your mind as well. One of the hardest things for me to learn was how this little baby [points to the temple] works and how I can get the things that suit me.
"I tried many things before I found what I could do on a daily basis to stay really well."
Download the brand new OTB Sports App in the Play Store & App Store right now! We've got you covered!
Subscribe to Off The Ball's YouTube channel for more videos, like us on Facebook or follow us on Twitter for the latest sporting news and content.