Jeremy Davidson joined Keith Wood and Joe Molloy for Wednesday Night Rugby on Off The Ball where the former Lions second row spoke about his career.
Davidson had his career cut short by injury, a situation he is philosophical about noting others have had much fewer playing days.
"I was still almost a fledgling in the Irish set-up, so to go to [South Africa] and be playing alongside childhood heroes was something to take in..."

Jeremy Davidson on being voted Player of the Tour with the victorious 1997 Lions 🦁https://t.co/4sZXG6jtGF

— Off The Ball (@offtheball) July 8, 2020
The transition to coaching was not completely intentional with the former lock unwilling to shut the door on playing completely.
"It wasn't always a level playing field. There were days where you thought 'I'm going to go to the gym and I'm going to train and I'm going to start playing again,' which was completely ridiculous.
"Whenever I coached at Dungannon, the Chairman of Rugby I told him every year for four years to keep me on the playing roster, just in case we were in a relegation battle and I had to do something.
"That was completely ridiculous as well because I could barely walk, nevermind run, but you always keep a small memory of the past and wanting to get out on that field.
"There's no substitute for it, the changing room the build-up for games, for training, for preparation, for a coach it's the best substitute you can get.
"I'm still involved in my passion in life and I'm thankful for that every single day, I pinch myself every day."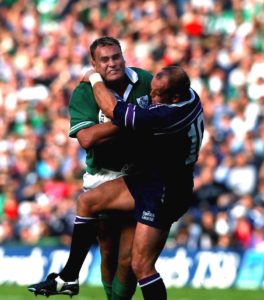 Jeremy Davidson empathises with players who have found the transition from playing tough.
"It was a hard moment to pass and now you see players are suffering more and more from mental health issues at the end of their career because they haven't had the guidance that they need to get their career sorted.
"I was very lucky in that Dungannon came to my bed in Belfast when I was struggling with my knee and my back at the end of my career and basically demanded that I start coaching.
"I didn't want to coach rugby, I wanted to do something different, I wanted my family not to be slaves to a rugby club. Three nights a week and weekends at the rugby club all day.
"I wanted to do something different. After my first training session at Dungannon that all changed. I went out on the pitch, back in those days it was quite long and I didn't see the two hours pass.
"So I was lucky in my transition from professional sport into coaching."
Jeremy Davidson's move into the professional game came very much out of nowhere, with his intentions to pursue a career outside the game very much to the fore.
"I had hoped to go and do European business studies," says the former Irish international, "I had done business studies and French at University.
"I played in France and after four years of coaching at Dungannon, and loving every moment of it, then I got a phone call out of the blue.
"It was Pierre-Yves Revol the President of Castres and I got a leg up into the professional game. A lot of credible people who know the game inside out, don't necessarily get that chance. So you have got to make your own luck but you have got to get a bit of luck as well."
Everyone's in the Team Of Us.
Vodafone. The Official Sponsor of the Irish Rugby Team.