Mack Hansen made his debut for Ireland against Wales in the Six Nations. The winger won man of the match.
Andrew Conway outshone Mack Hansen yesterday. The Munster winger scored two tries playing on the right wing.
One of Conway's tries was as good of a finish as you're likely to see. He adjusted to an underthrown pass that brought him infield. He had to go down to a knee to catch the ball and then he was confronted by three Welsh defenders. The try line wasn't beckoning. Conway had to create a route to the whitewash before reaching it with an incredible finish.
Yet despite Conway's big scores, it was Hansen who was named man of the match. Part of that was the novelty of giving man of the match to the debutant. But Hansen also played very well.
Wingers often have a singular defining trait. Bryan Habana is as fast as a cheetah. That's what made him so dangerous. Jonah Lomu ran over everyone. That's what made him great. Hansen doesn't have one elite trait. He won't break past every other winger in international rugby and he won't overpower everyone. Instead, what makes Hansen effective is a more subtle skill set.
Hansen's Ireland debut was reminiscent of Hugo Keenan's. Keenan scored on his debut and scored consistently after that too, but it was his well-rounded performance that stood out.
Keenan probably had his worst game for Ireland yesterday against Wales. Nobody noticed because Keenan's worst game for Ireland is a 7/10 while every other game he's played is at least an 8/10. Players with rounded skill sets often find consistency more easily than those who rely on singular elite traits.
That's because they contribute positively in different ways.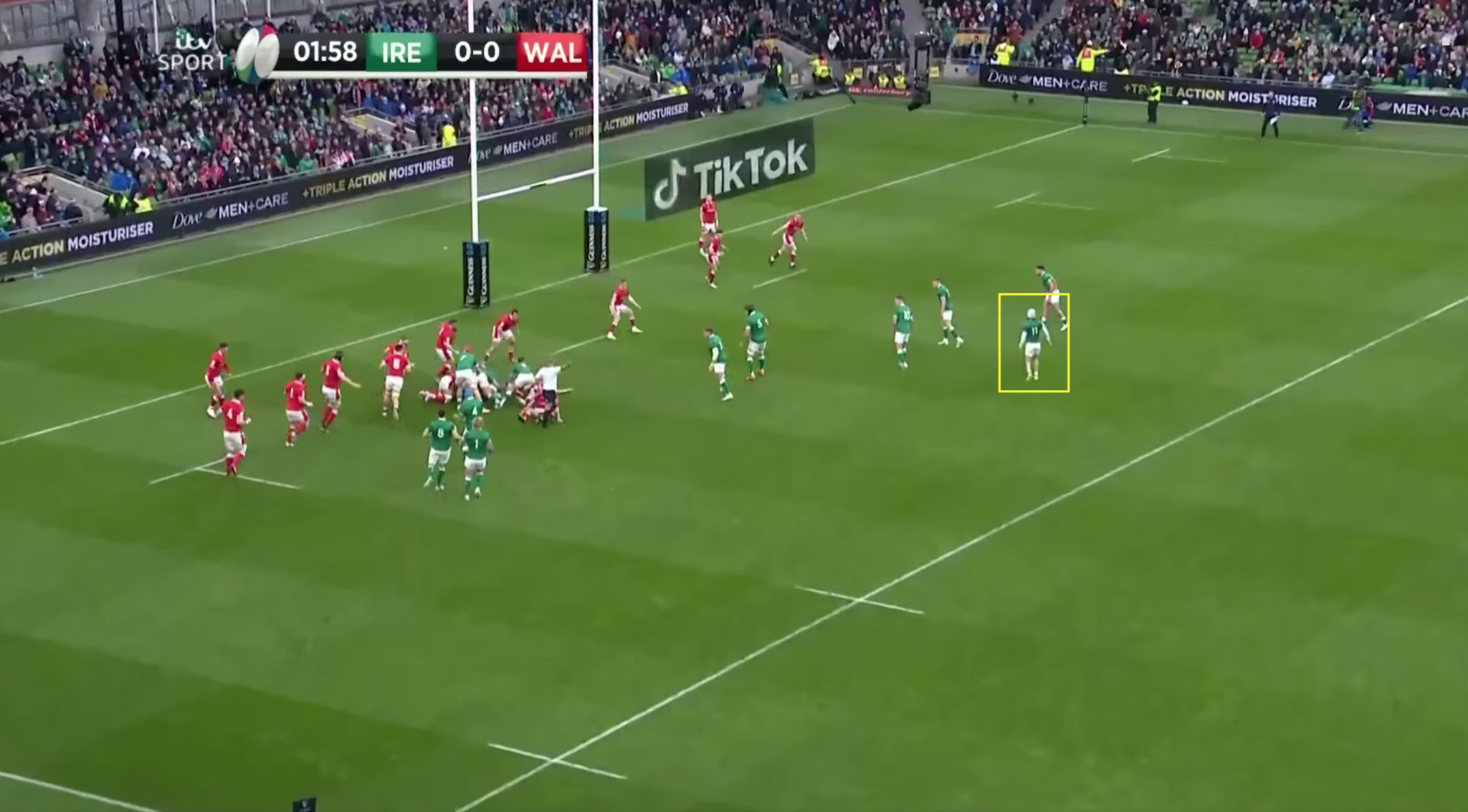 Bundee Aki scored Ireland's first try within three minutes. Aki eventually scores when he's uncovered on the left wing. The sequence began with an Irish lineout in the Wales 22. Hansen is in the middle of the field after the first phase. This is a new aspect of Ireland's attack since November.
Ireland's wingers are now central to our gameplan. They no longer stay wide and hope to finish moves off. They are instigators and protagonists with the ball in their hands.
Hansen lingers deep behind Garry Ringrose and Jonathan Sexton. Hugo Keenan has joined the line from deep. Andrew Conway is wide to the right side off camera. Hansen's position on the field forced the Welsh winger on his side to come infield. That leaves a wide-open blindside for Ireland to eventually attack.
Aki is going to finish this move off, but he's not on screen at this point. That is because Aki was the first ball carrier. He is at the bottom of the ruck and is going to quietly slip out to the sideline while the defence focuses on the play going in the opposite direction.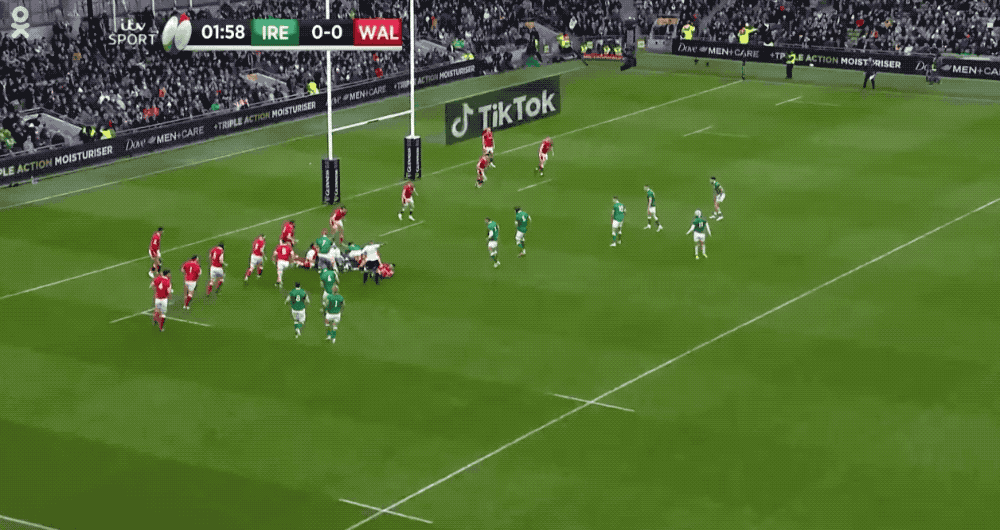 Hansen is easily recognizable because of his scrum cap and bright yellow boots. You can see him attack wide on the right side during the first phase. The ball stays infield so Hansen keeps working from his deep alignment to involve himself in the play. It's a bit like underage rugby where the children playing just follow the ball and don't care about their positioning.
Except this is perfectly played underage rugby by Hansen. He pulls the defence to their left before coming back to their right at speed.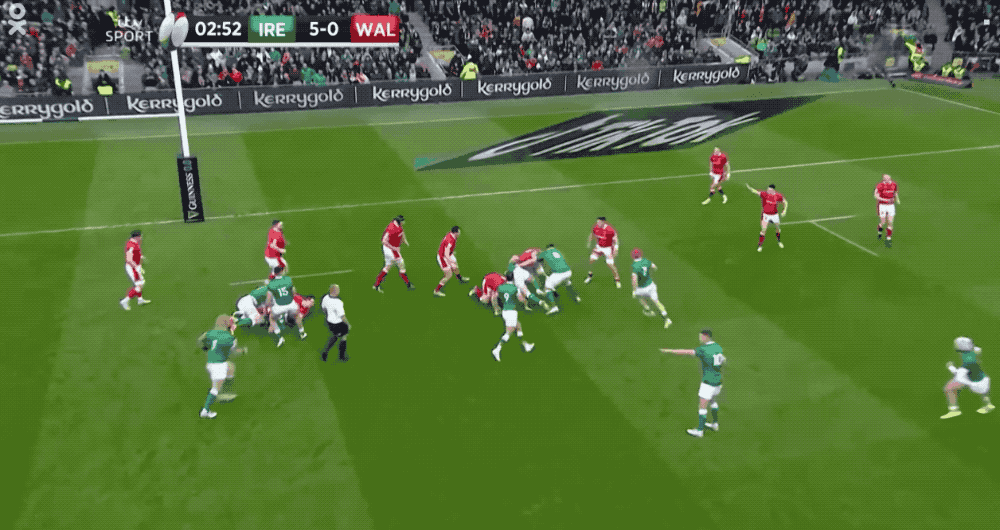 The endzone angle gives us a better view of Hansen's impact. Keenan and the Connacht winger actually make very similar movements. Caelan Doris runs a straight line infield from outside when Sexton gets the ball. This holds the defence initially and turns the right winger's attention inside.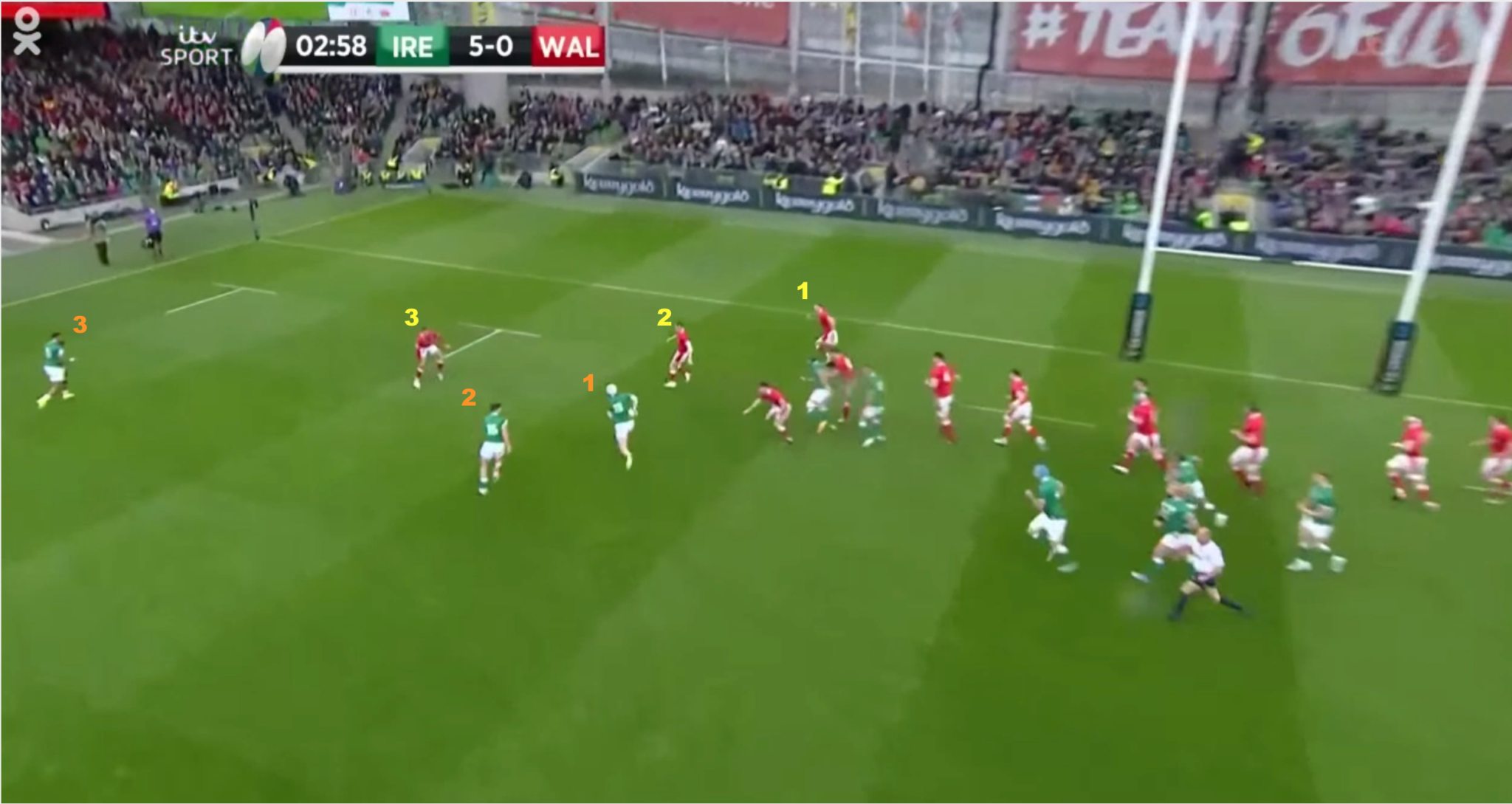 Wales actually have the numbers to stop this try. But the movement of Hansen coming across the field alongside the presence of Keenan on his outside shoulder distort the defensive line. Keenan brings the right winger inside, while the full back can't track across the field as fast as Hansen can.
When Doris prevents the inside defenders from drifting, the space is created. Hansen delivers an outstanding pass to give Aki the walk-in score.
Delivering that pass is not something every winger will do. Wingers want to be in Aki's position. They are finishers. Hansen is not only a capable passer from these positions, he understands how to read defences when he's got the ball in the middle of the field. Ringrose's try to seal the bonus point win came from Hansen making a great read and pass in the middle of the field.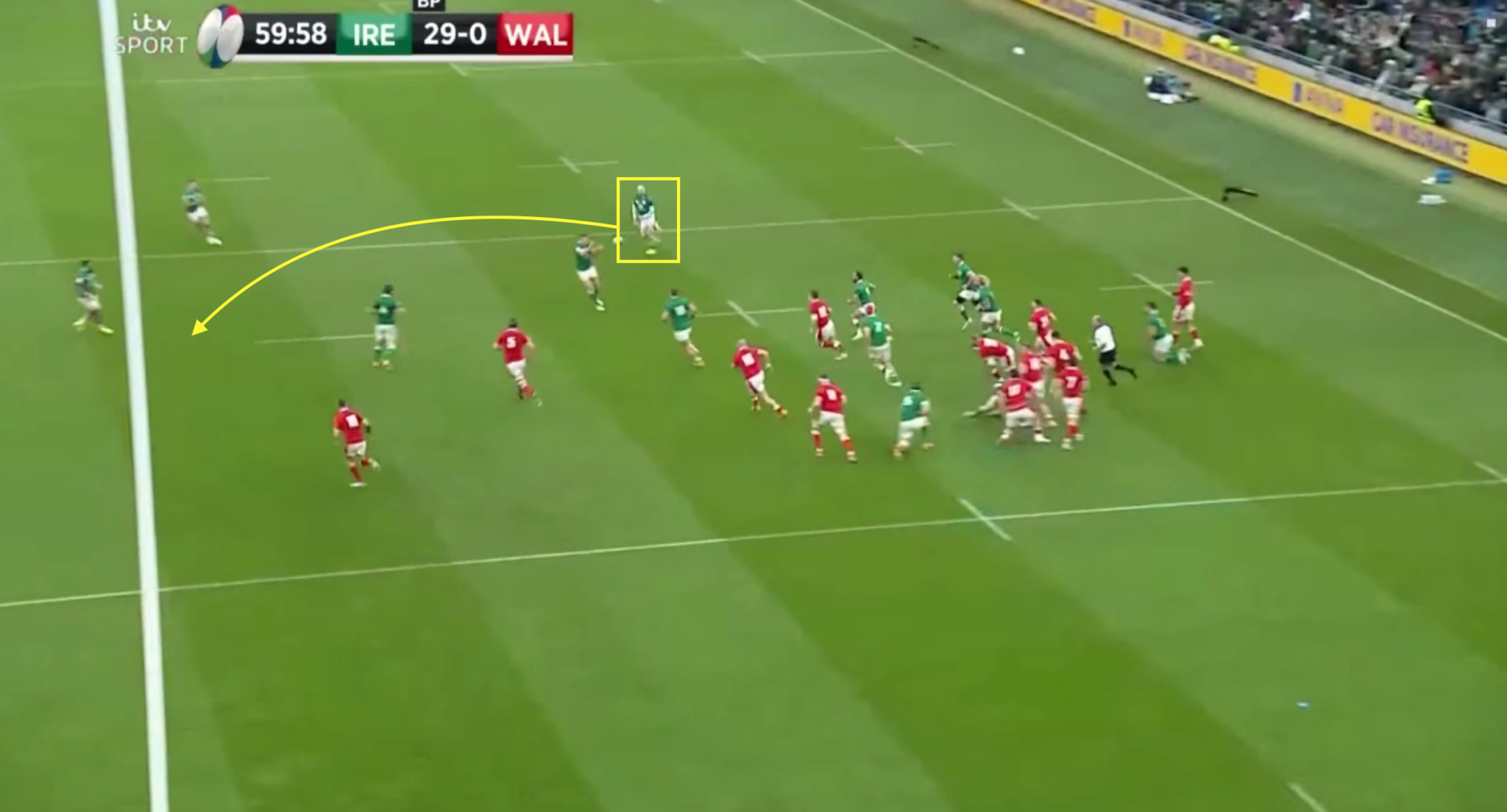 Hansen is on the left wing when Wales give up a sudden turnover. The winger immediately sprints towards the middle of the field. He can see the space on the far side so he hits Jonathan Sexton's outside shoulder at pace. Sexton turns quickly and pops the ball to him so he is coming onto it without breaking stride.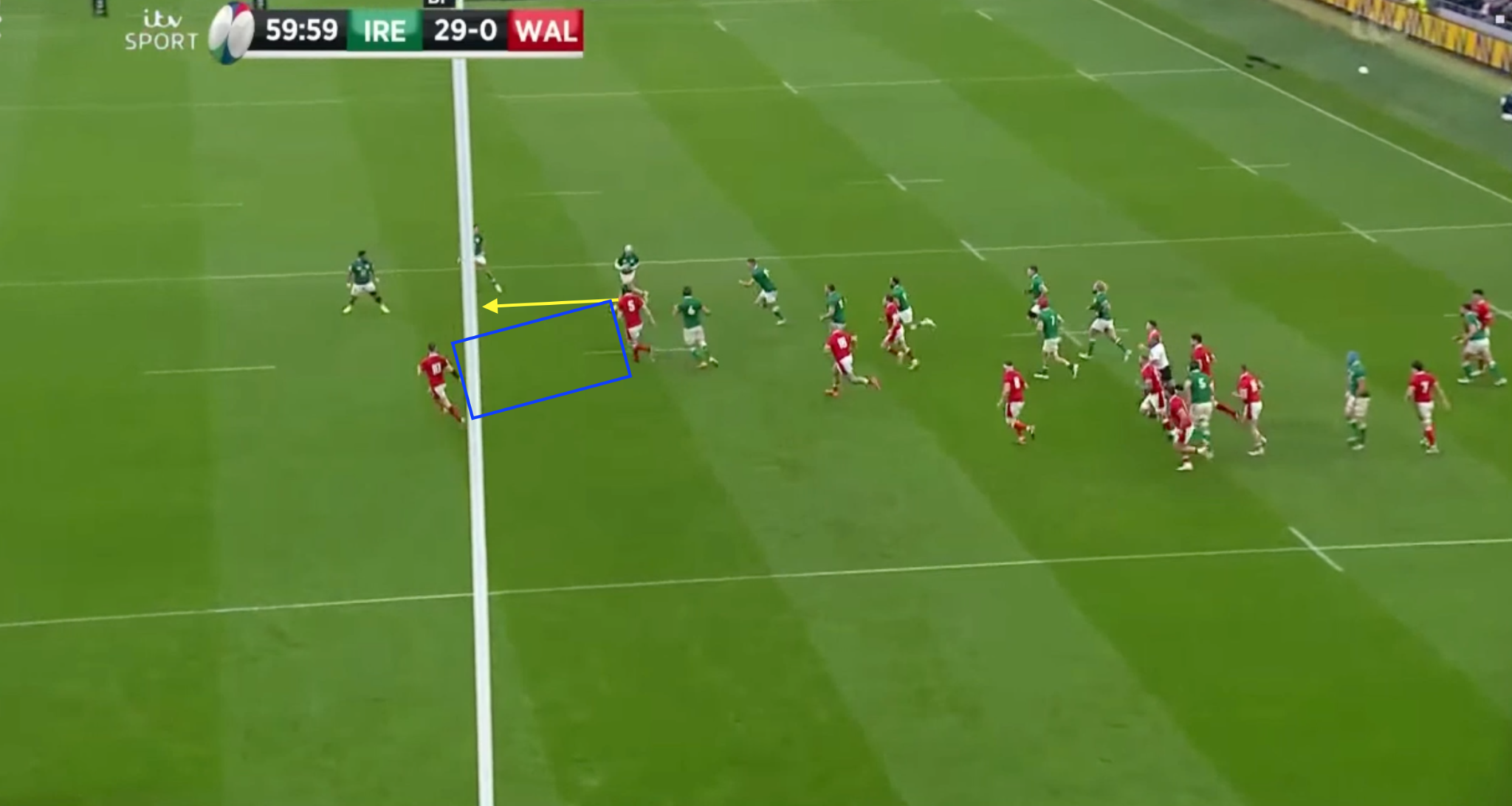 Hansen is going sideways when he catches the ball. There is an ocean of space in the middle of the field with only Dan Biggar outside of him. Biggar has to account for Aki and Keenan. But he only has a second row inside of him. Hansen is isolated one-on-one with the second row.
A selfish winger sees this as his opportunity to force his way towards the try line. Hansen sees that same gap between Biggar and the second row, but instead of trying to score himself he makes the best rugby play to set up Ringrose outside.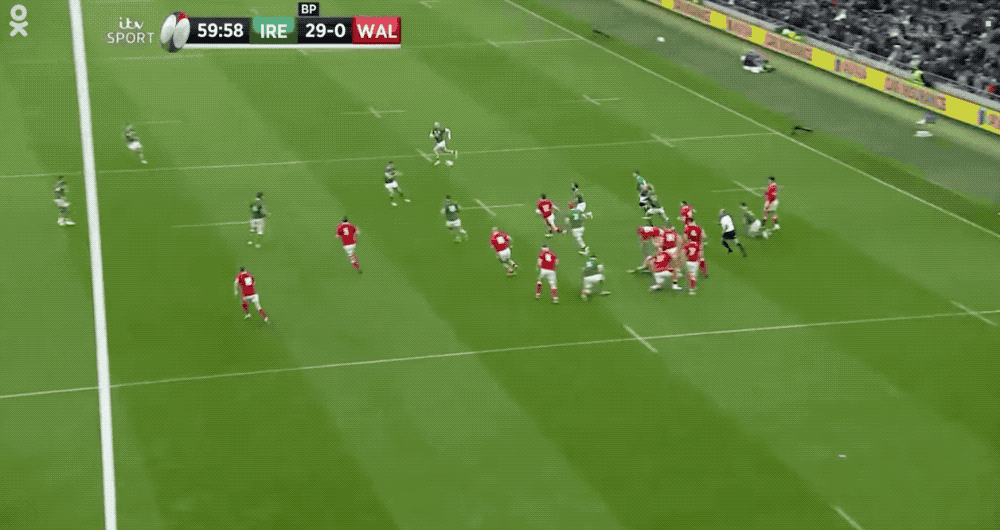 Hansen purposely redirects to Biggar's inside shoulder before popping the ball outside at the last second. This is a textbook example of how to draw a defender inside to create space outside. Ireland only have to put the ball through the hands from here to take advantage of the overlap.
Either Ringrose or Conway were going to score. Whoever did could thank Hansen for being the protagonist of the play.
Andy Farrell spoke about Hansen's ability to create before the game.
"He's a smart rugby player, he makes things happen," Farrell said.
"He knows how to get himself involved in the game. He's got great feel, a good skillset across the board. It's tough when you first come into international camps but the ones who do it best hit the ground running and end up getting to a good few caps. They're the guys that are able to be told once, maybe twice, and pick things up straight away and Mack certainly did that."
It's clear that Farrell is a big fan of the winger and that's not just based on his comments in press conferences. It's based on how Farrell uses Hansen in Ireland's attacking moves. There was one particular example in the second half that highlighted just how precise Hansen is with his movement.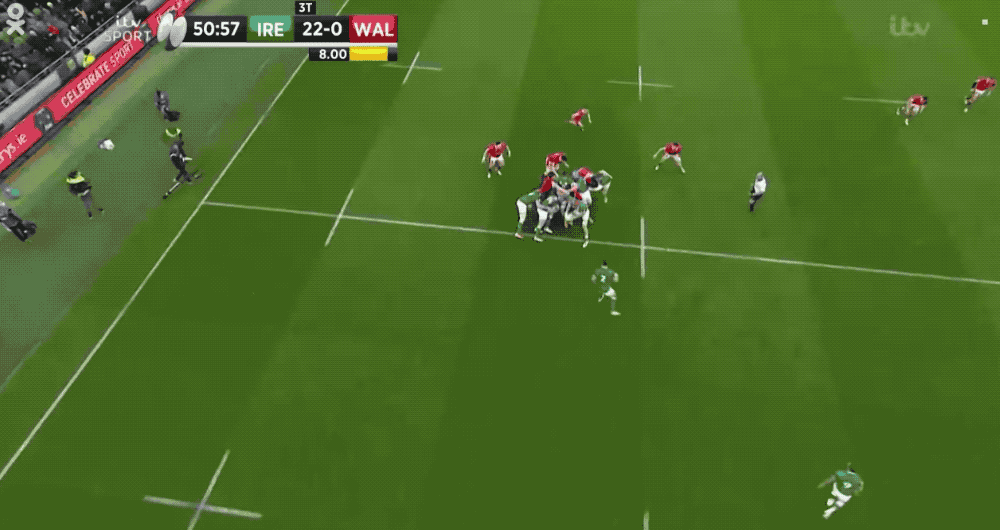 Again, Hansen comes infield off his wing during the first phase of the play. He's behind Sexton initially and straightens his running line. Hansen is one of three Ireland attackers running to the middle of the Wales defence. Sexton feeds the ball to Ringrose on his straight line. As he does that, Hansen is coming straight but redirects swiftly with a perfect pivot. Now Hansen is drifting outside with Sexton.
The gif above is in slow motion so you can see specifically where Hansen is at all times. Hansen eventually is on Sexton's outside shoulder. Ireland threatened hard inside to create an overlap outside. Sexton pops the ball to Hansen who then throws a perfect pass to Conway who is unaccounted for outside.
In one movement, Hansen was an interior threat and an outside threat. The timing and quality of his distribution allowed Conway to move forward at speed.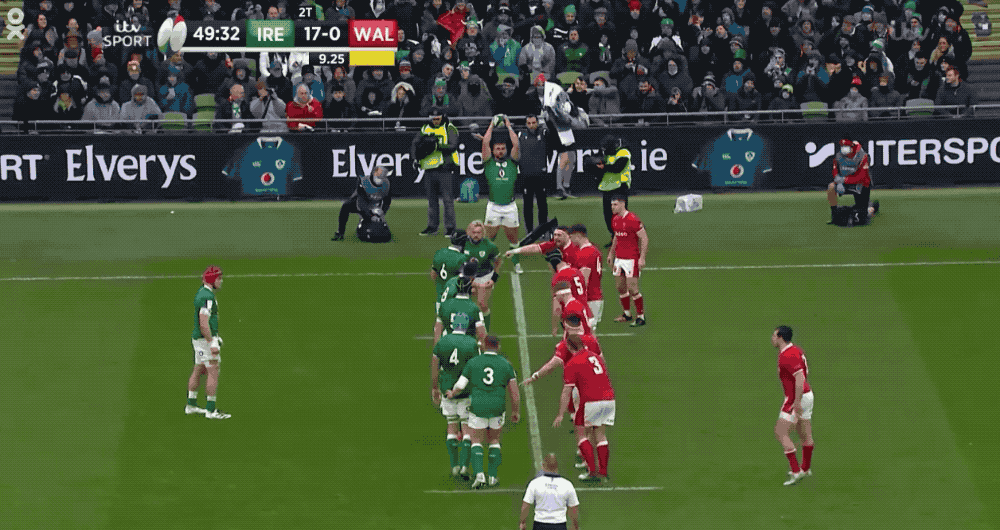 The regular tv angle shows us a close-up of Hansen's redirect and the hit he takes after the final pass of the move.
Hansen scored a lot of tries for Connacht this season. He's proven himself to be a talented finisher at that level. He might not be the same calibre of finisher at the international level. His biggest opportunity in this game came at the very start. Before Bundee Aki's try, Hansen had a guilt-edged chance to run in a try from deep.
He didn't take it and ultimately he played a key role in setting Aki's score up, but it's still a notable detail moving forward.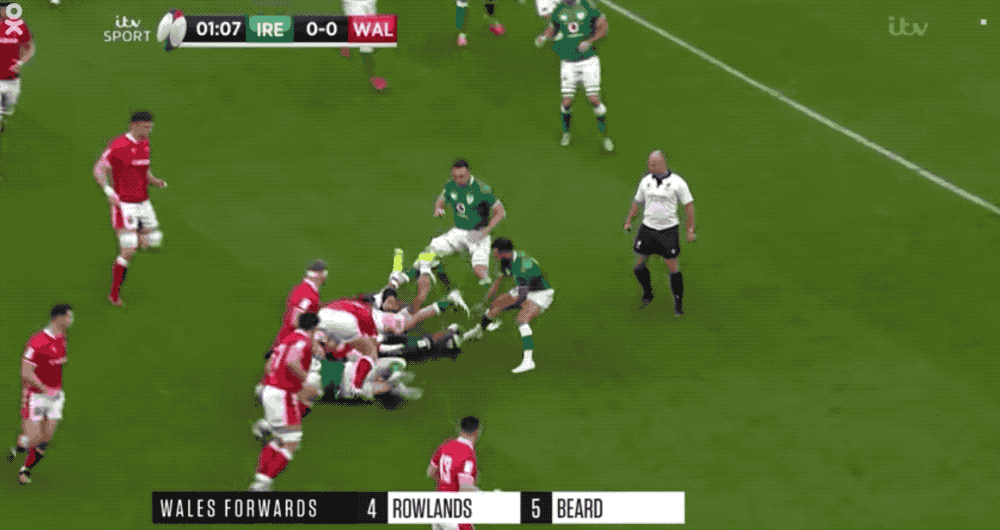 Ireland are lucky when the ball breaks to Hansen. He does a good job reacting to the ball then escaping the first defender. He's now in open field and has only one man to beat. The Welsh defence does a good job of trailing him so he can't change his speed at all. That's a problem for Hansen because he needs to chip the ball over the last defender's head.
Hansen is a right-footed left winger. This isn't a major problem but it's a detail that has an impact. Not only do Ireland lack a left-footed kicker for clearance kicks that they have when James Lowe plays, but it's also tougher to make this type of play.
The close-up view of the moment Hansen attempts to kick the ball shows a lack of comfort. He doesn't get a clean connection on the ball because he has to turn his hip a little bit to clip the ball up and infield from that position.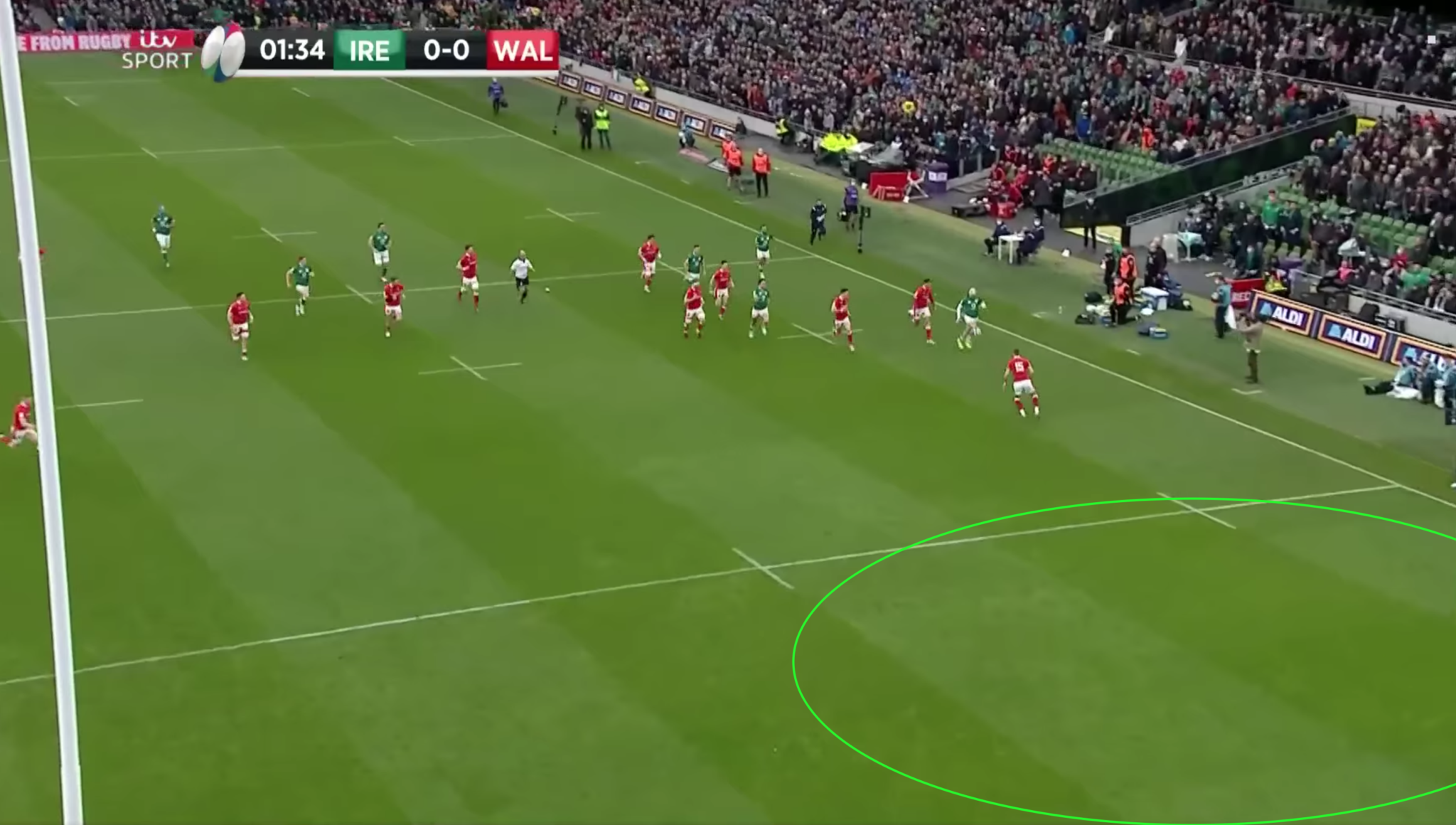 A right-footed kicker running at speed is naturally going to see the ball drift to the left after it comes off his foot. Hansen tries to kick up through the ball and turn that bit infield so the sideline isn't a factor. If you recall Jacob Stockdale's famous try against New Zealand, he can kick the ball at full speed without a second though because the ball naturally travels infield for left-footed kickers in this position.
This was a guilt-edged chance to score a try. A top finisher at international level will expect to make this play. The fullback was forced into no-man's land and trailing defenders would not have caught him.
Hansen won't outrace the best wingers in the world. That won't stop him from being a great winger for Ireland. But he must understand his skill set. Hansen can't stand up the likes of Louis Rees-Zammit and run past his outside shoulder. When that glint of space appears next to the sideline, he can't just react to it and sprint through it.
Fortunately, there were moments in this game that suggest Hansen understands that.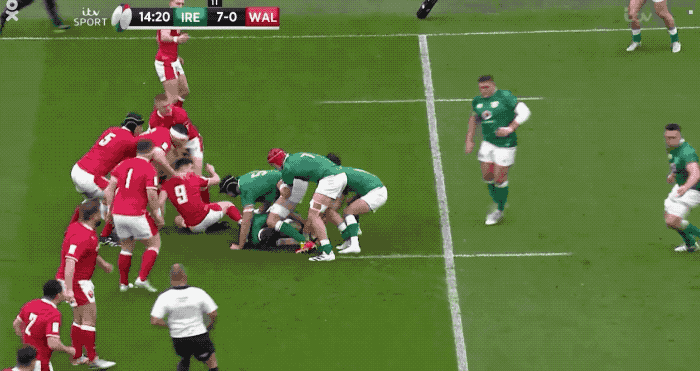 Wingers at every level have made the same mistake at some point. They see space outside, they can't stop themselves from attacking it and suddenly they're bundled over the sideline. Each of them has the same confused look with a pinch of shame on their faces after they stand up. It's rugby's equivalent of a dog that can't stop itself from robbing food from the edge of the table.
Hansen faces that temptation here. You can see him point to space. He wants the ball at speed or over the top so he can run down the sideline. Hugo Keenan's pass doesn't allow for Hansen to run through it. Hansen's starting position was set up for a kick through rather than a pass.
The winger catches the ball into his chest and off his feet. He doesn't try to reaccelerate down the sideline, instead, he immediately attacks space infield and gets back to where his forwards are. This gains ground and gives Ireland clean possession at the next ruck.
It also means there is a blindside for the team to attack should they choose.
Wingers who force big plays slow the ball down, allow the defence to reset and cut off options for their own team. They might breakaway and score on one or two of those attempts, but they're more likely to congest the offence too often for it to be worth it. Hansen proved in his debut he's more than capable of being an International winger. He should be a factor for Ireland for years to come.
But it's unclear if he will retain his starting place ahead of James Lowe. The Leinster winger does everything Hansen does with greater athleticism and a left foot.
Still, Ireland are now in a position where Keith Earls may not even make the matchday squad. Robert Baloucoune, Jordan Larmour and Jacob Stockdale aren't even guaranteed to be in the squad when everyone is healthy. It's an astonishing depth of talent.
Ireland are the best team in the world - Stuart Barnes
Team of Us. Everyone In.
Vodafone. The main sponsor of the Irish Rugby Team.
Download the brand new OTB Sports App in the Play Store & App Store right now! We've got you covered!
Subscribe to OTB Sports's YouTube channel for more videos, like us on Facebook or follow us on Twitter for the latest sporting news and content.