A year filled with so much promise, Donnacha Ryan remains somewhat concerned should Irish rugby find themselves suddenly bereft of Leinster's Devin Toner.
"I think Joe [Schmidt] is really trying to look for a line-out caller to replace Dev if he gets injured," Ryan stated on Thursday's OTBAM.
"I read an interview before about Devin that he had a 'unique set of skills' he was joking about, but he was actually right.
"He's got experience calling line-outs under pressure. He's admitted that he's had bad days as well, and he's learned from that.
"That's the frustrating thing then for Simon Easterby and Joe [Schmidt], they'd love to get the other guys the experience."
Of principal interest for Ryan is his Leinster namesake, James.
"You'd love if it happened over the Six Nations," Donnacha Ryan said of the Leinster man's evolution into a top-class line-out caller.
"But, unfortunately, it just takes time. The more games you do, the more scenarios you do, and then the relationships you've got to build with the guys around you and your hooker, because you're there to facilitate him.
"That's why Paul O'Connell was the best at it. He just knew the limitations of the hooker and knew the capabilities."
I think Joe [Schmidt] is really trying to look for a line-out caller to replace Dev [Toner] if he gets injured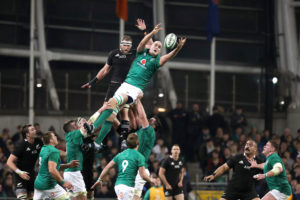 Delving into the additional pressure a line-out caller faces mid-match, Ryan described a situation where responsibility rests with the caller to make others look good.
"If you are an athlete that is performing," Ryan stated, "you can just run around the pitch hitting rucks, carrying ball, making tackles and there's no other science to it."
"If you're having to do the strategy game as well, which Devin is familiar with, it might take away from your own game.
"You're dipping into the thought-process, 'what am I going to do next?'
"That takes away from the aggressive element of your game, and that's the frustrating thing sometimes of being a line-out caller.
"It's a pivotal part of the game to make the guys around you look better."
Detailing the importance of the line-out in Joe Schmidt's plans for Ireland, Ryan believes the New Zealander will be desperate to have a suitable back-up in the event of Toner's absence.
"That platform is pivotal for Joe to launch his attack off of, and no better example is the Jacob Stockdale try [against New Zealand]," Ryan recalled.
"If you don't win that line-out ball, or you don't have the line-outs done earlier on in the game that maybe Dev would have put together, then you don't do so well.
Download the brand new OTB Sports App in the Play Store & App Store right now! We've got you covered!
Subscribe to Off The Ball's YouTube channel for more videos, like us on Facebook or follow us on Twitter for the latest sporting news and content.