Swapping Conor Murray out for John Cooney but not changing the way Ireland play will only be a negative for Andy Farrell's Ireland.
Choosing between Conor Murray and John Cooney isn't easy.
Andy Farrell needs to have the right process of evaluation in determining who his starting scrum half will be. He can't simply go to the opposite extreme of Joe Schmidt's over-reliance on his tried-and-trusted starters. That would be making the same mistake in a different way.
Cooney could start against Scotland on February 1st. Nobody has been in better form this season. He's made 13 starts for Ulster, scoring nine tries and kicking 16 penalties. He's been the fulcrum of Ulster's attack and played in 60+ minutes in 11 of his 13 starts. If this was a decision between the form player in the country and a struggling incumbent, it would be easy. But this isn't Jordan Larmour and Rob Kearney.
Murray is far from an out-of-form player. If anything, he's done better than he should have behind a Munster pack that has been found wanting too often this season. Murray has always been held to a higher standard than his peers. It's a byproduct of being one of the best players in the world for a stretch of his career. That and being a key player for the team that failed in Japan has put him under greater scrutiny.
His play is held up against the best version of what he can be, whereas Cooney's play is held up against the worst version of what Murray has been. Cooney has (subconsciously) been given a lower bar to clear.
This double standard would be fine if Cooney was a developing youngster. If Cooney was playing the way he is with the age profile of Connacht's Caolin Blade, this wouldn't be a competition. But Cooney is in the same age bracket as Murray. He just turned 29, Murray will turn 31 during the summer. Neither player will be deep into their decline when the next World Cup comes around. Starting Cooney isn't ushering in a new era the way maybe starting Blade would. (Blade hasn't performed anywhere near well enough for that to happen).
A fair argument in favour of starting Cooney is how it would impact the extended squad. Fringe players never got real opportunities under Schmidt. You either became a starter and stayed there or you were kept on the outside. Cooney starting would set a new precedent under Farrell. Anyone from the likes of Stuart McCloskey, Chris Farrell, Rhys Ruddock, Andrew Conway or Andrew Porter qualify as fringe players in form who deserve to start. If Farrell wants to make that statement for the extended squad, it doesn't have to be with Cooney replacing Murray.
No, the Cooney decision should be made based on what style of rugby Farrell wants to play.
A first time head coach, we can only look to Farrell's resume as hints of what he will be like moving forward. A defence coach who worked under a head coach who prefered the rigid over the fluid, the defence over the attack and structure over creativity. A safe assumption would be that not much changes in Ireland this year. But Farrell was also a rugby man long before he met Schmidt. So there aren't any safe assumptions here.
Dan McFarland should be the blueprint if Cooney starts. McFarland has encouraged his Ulster players to play an ambitious, expansive style of rugby. He empowers them to make mistakes. Offloading the ball is the expectation in Ulster. McCloskey and Cooney have thrived because of McFarland's attacking mindset. Cooney isn't tied to specific responsibilities. He can be the on-ball protagonist or excel as a support line runner off the ball. Cooney isn't expected to deliver from the base of every ruck and box kick repeatedly. That's an approach that wouldn't set the Irish scrum half up for success.
It's an approach that doesn't set Murray up for success either but since Murray has a broader skillset than Cooney, he could still provide huge value in defence and with his superior box kicking game.
Cooney is the form player because of what he does in attack. McFarland has allowed Cooney to be effective by allowing his team to make mistakes. He trusts them to create big plays and scoring opportunities by trying to create space. If Cooney starts for Ireland, Farrell needs turn away from those who are more reliant on structure and who provide more value on set pieces. That means Niall Scannell can't be your starting hooker, it has to be one of Rob Herring or Ronan Kelleher. That way the hooker gets involved in open space and doesn't stop flowing attacks. David Kilcoyne and Andrew Porter become more likely starters in that style of attack, but Cian Healy and Tadhg Furlong still fit the gameplan. Devin Toner and Peter O'Mahoney don't. They should lose out to Iain Henderson and Rhys Ruddock (or even Will Connors).
But most importantly, if Cooney starts at nine, C.J. Stander can't start at eight. Stander is valuable at the breakdown, in defence and as a ball carrier, but he doesn't look to offload the ball. Stander isn't going to change at this point. He plays with his eyes down and the ball tight in his chest. All the tries Cooney has scored as the support runner after the initial linebreak this season would never have materialized if Stander was involved in the buildup play. Caelin Doris has to start at eight if Cooney starts at nine.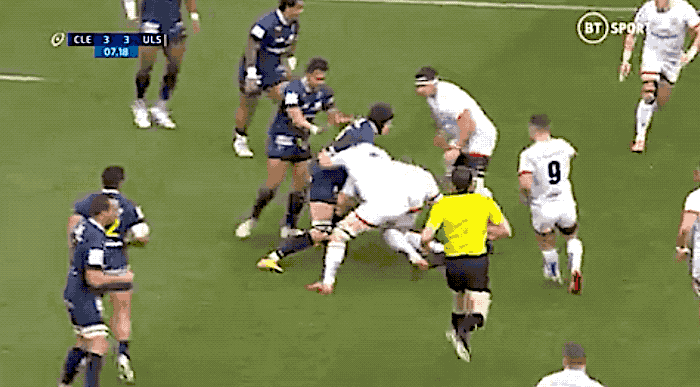 This initial setup off the ruck should look familliar to anyone who watched Ireland under Schmidt. The three-man pod of forwards is in position with the middle of the trio acting as first receiver. Irish international loosehead Jack McGrath catches the ball before drawing in the first defender. He doesn't drop his head to plough into the tackle. Instead, he commits the first defender before popping the ball inside to blindside flanker Sean Reidy.
Not only is there an offload here, but Reidy takes an angle from outside in. This allows him to create a gap past his inside shoulder. Tighthead prop Marty Moore came from the outside onto Reidy's inside shoulder to take an offload from Reid. Reidy stepping across the tackler took him out and prevented the other defenders from getting to Moore. Cooney watches this develop from behind, accelerating to be the final receiver from Moore.
Cooney does two things on this play that impress. He pushes Moore so he is forced to draw the defender and leave a gap for Cooney to attack once he catches the ball. Then he has the acceleration to reach the line.
Murray is willing to make these runs and he did so during the World Cup many times. He didn't score tries because the Ireland players were seemingly discouraged from offloading the ball. There were multiple occasions when Stander specifically was in open space and looked for a defender to run into rather than look to draw the defender in then give the ball off. Cooney doesn't always get the ball in these scenarios, but he is always present.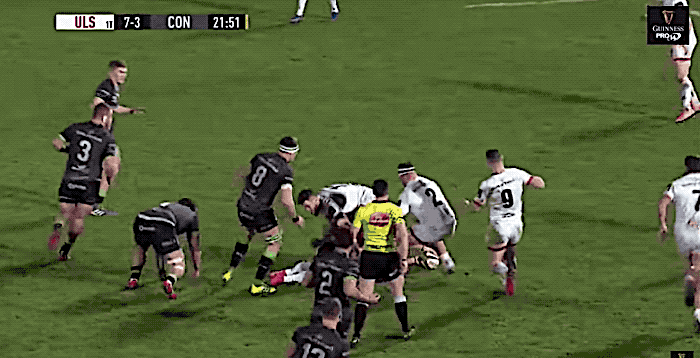 This try against Connacht goes to Billy Burns off an excellent offload from Reidy. Cooney begins the play off the base of the ruck and is knocked backwards by the opposing eight after he lets the ball go. He's far behind the play when Robert Baloucoune is sprinting down the sideline.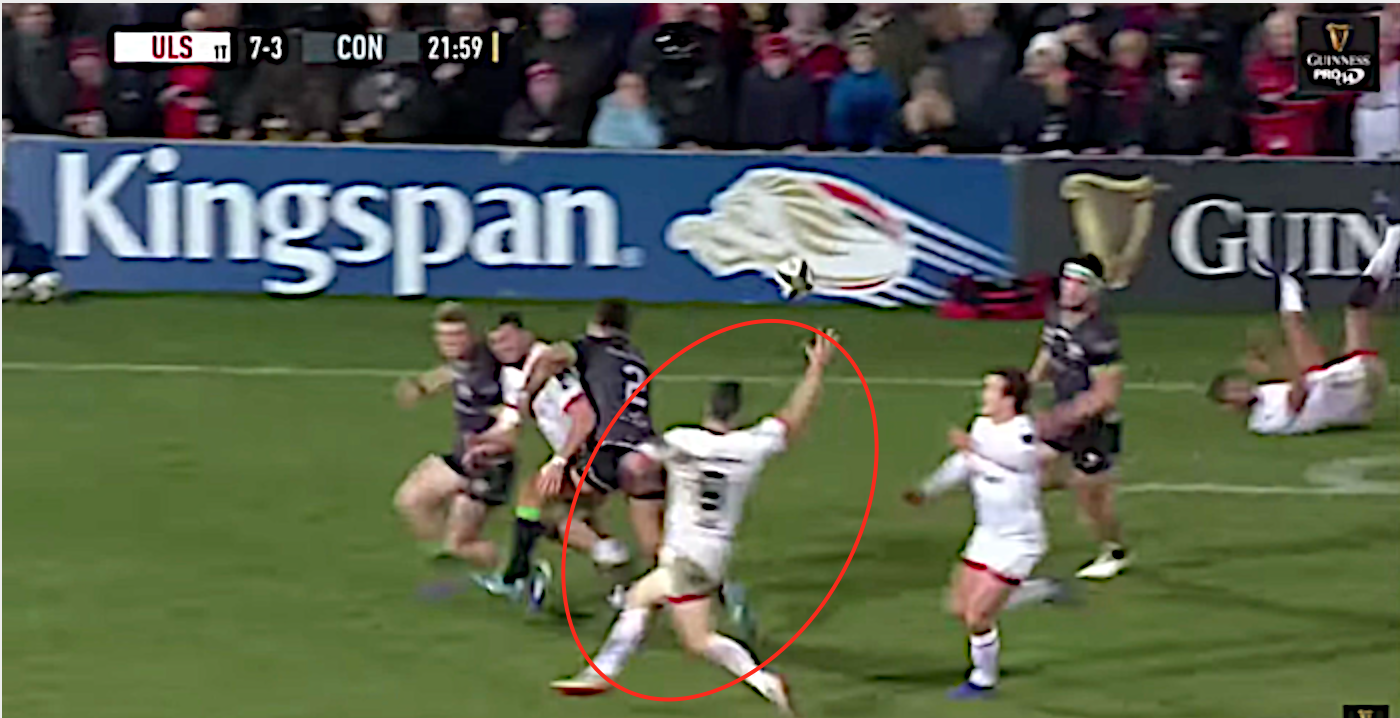 Yet Cooney was in position to take Reidy's offload in front of Burns, the ball just lofted over his head.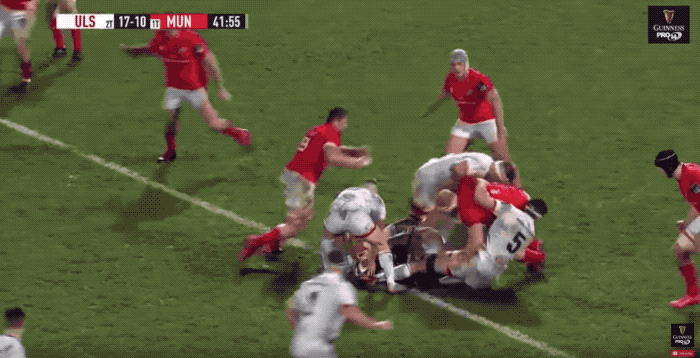 This try against Munster is set up by Stuart McCloskey. He draws the defender to set Reidy through. Reidy runs a perfect line to break the defensive line and get to the endzone. Had there been a last line defender to stop him, Cooney is again on his inside shoulder waiting for the final offload. He would score a try of his own when he ran a support line for Jacob Stockdale in this game as well as scoring one at home against Harlequins earlier in the season when Ulster went the length of the field off a scrum.
Cooney starting should be a big bump for McCloskey and Chris Farrell's chances to start at 12. Farrell plays 13 for Munster but has the skill set to slide inside. Robbie Henshaw is the obvious option inside of Garry Ringrose, but both McCloskey and Farrell should be ahead of Bundee Aki because of their ability to create space and offload. Aki is obviously a very good player, but his value to Ireland was amplified by Schmidt's approach.
In truth, Conor Murray is a better player than John Cooney. His skill set is broader. He can do the majority of what Cooney does in attack while being the better defender and far better kicker in open play. His performances haven't been peak Murray over the past 12 months, but his defence remains the standard for nines across Europe.
Furthermore, a healthy Johnny Sexton or Ross Byrne starting means Cooney's goalkicking becomes irrelevant. Only if Sexton is out and Farrell prefers Billy Burns to Byrne will Cooney get that edge.
Everyone's in the Team Of Us.
Vodafone. The Official Sponsor of the Irish Rugby Team.
Download the brand new OTB Sports App in the Play Store & App Store right now! We've got you covered!
Subscribe to Off The Ball's YouTube channel for more videos, like us on Facebook or follow us on Twitter for the latest sporting news and content.