Keith Wood and Liam Toland were guests on Monday Night Rugby on Off The Ball where the pair looked back at Leinster and Ulster's PRO 14 semi-final wins.
The provinces will meet for the second time in a fortnight at an empty Aviva Stadium in Saturday's PRO 14 final.
Friday Night's semi-final was low on entertainment as Leinster's winning streak continued with a dour 13-3 win over the men in red, but Keith Wood was impressed by Leo Cullen's men.
Woody and Liam Toland sat in for Monday Night Rugby on OTB earlier@vodafoneireland #TeamOfUs

PODCAST: https://t.co/KSUeyk5Kmg

— Off The Ball (@offtheball) September 7, 2020
"What I liked about Leinster on Friday," said the former Lions hooker, "which as a Munster fan is horrible on that day, is they had us under pressure all over the field.
"So, things that were slightly out of kilter two weeks ago, were not. There was pressure all of the time, every facet of play, there was pressure.
"It becomes very difficult when you are comparing like with like, and players with players because say take Caolin Doris and Jack O'Donoghue.
"If you swapped those players, Jack O'Donoghue would have a far more comfortable afternoon if he was playing behind a team that was [comfortable].
"Even though they weren't in front for a big chunk of the first half, they were in control of an awful lot of that game without trying too hard.
Leinster, playing chess
Wood was impressed by Leinster's precision albeit in flashes.
"They weren't making errors, they weren't trying to do a huge amount. They were playing chess and doing it really well.
"Same as Johnny, When he had the ball in a more attacking mindset, he was running on to it a little bit more. They didn't do it very often but when they did do it, there was a lot going on.
"It wasn't simple, it wasn't one out ball, there were an awful lot of moving parts and it's one of the differences between Johnny and JJ.
"Johnny is an accomplished international who has been playing the game at a high level for a long time and he knows the game very well.
"He was comfortable, but so was everybody else on the Leinster team and I felt Munster were under pressure for a huge amount of the game.
"I will say though, they were in a position to be in the game but they were not comfortable at any stage within that. Whereas Leinster looked to be comfortable for a huge amount of it."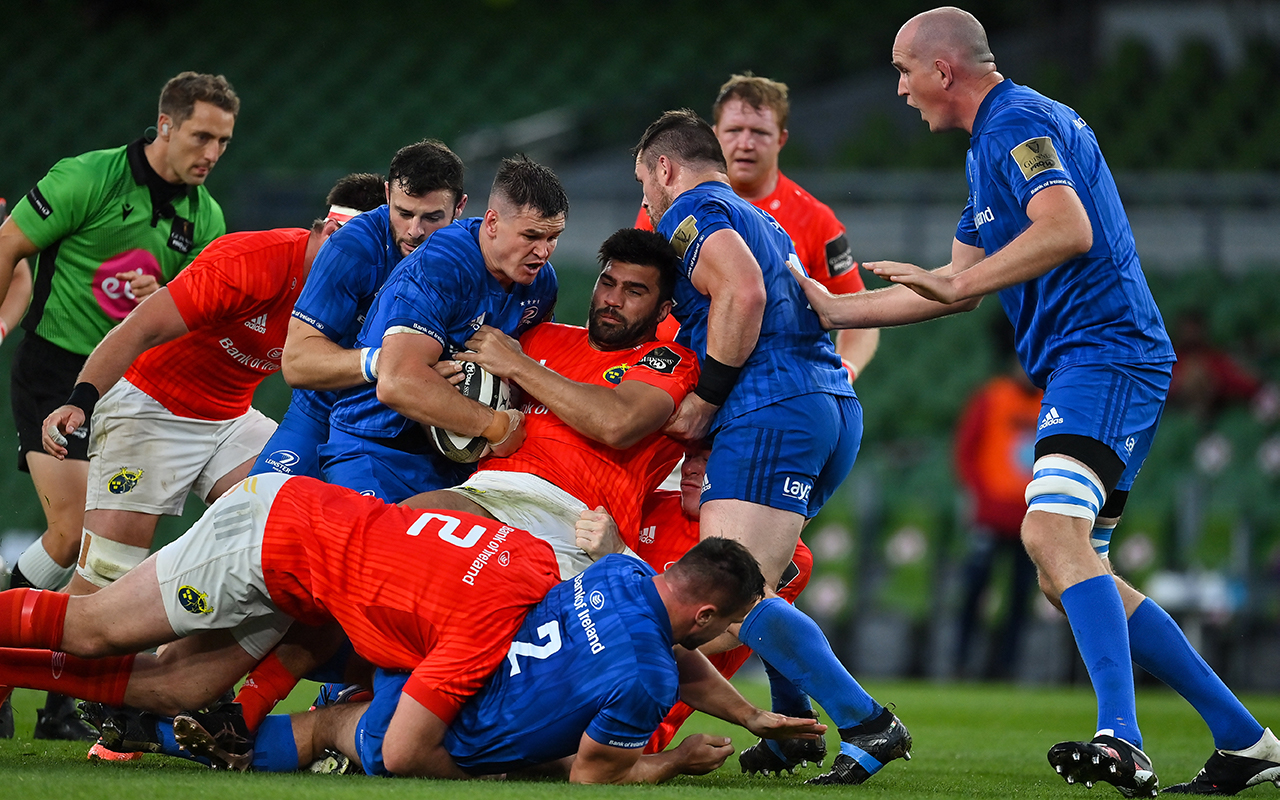 One aspect of the performance that caught Wood's eye was an element of Leinster's game more usually associated with the southern province.
"I thought it was incredibly impressive, I do love that a team like Leinster who kick a fair amount of ball but they run a lot of ball.
"They have a lot of ambition, a lot off hands on the ball, a lot of tip-ons, a lot of different running angles. They try and incorporate their players an awful lot more, their wingers come in off the wing a lot.
Ambition
"Yes, they have ambition, but they can mix it up with a boot and bollocks sort of game as we had on Friday and still come out the right side of a victory.
"We keep talking about times in the past, if you go back twenty years, Leinster couldn't do that but they do it now.
"It's something you have to look at and say it's pretty fantastic and I wouldn't imagine they will play even vaguely like that in the final or in the [European] semi-final after that.
"They will have a different game depending on the team they pick and the side they are playing against."
Team of Us. Everyone In.
Vodafone. The main sponsor of the Irish Rugby Team