Modern heartrate monitoring in horse racing is an impressive piece of technology, however trainer Patrick Harty has opted not to use it anymore.
One half of Ireland's first joint-trainer partnership, alongside his father Eddie, Harty made use of Equinity's heartrate monitoring system for his horses for a brief period last year.
While he was impressed with the data that he was able to analyse using the devices, which included the horse's speed, gallop and stride length over and above the heart monitoring, Harty soon stopped using the monitors on his horses.
Speaking on Friday Night Racing, the Kildare native explained why he and his father chose to stop using the modern technology.
"There are heartrate monitors for horses, they take the horse's heartrate obviously, but they also have a GPS chip in them, so they map their gallop, the speed they do and their stride length," Harty said.
"You can use those three key data points to get an awful lot of information, incredible stuff. We were using them for a couple of years, they were very interesting, but I just thought they were maybe clouding our judgment a little bit.
"We possibly weren't training the horses as well as we should have. Our judgment was clouded by this impressive speed data or the stride figure or something like that.
"Rather than actually just looking at the individual horses and seeing how it worked and discussed with the work jockey what you thought, which is traditionally what you would always do.
"We were just getting a bit too caught up in data, and we decided to park them for a little while last year, we got three winners in quick succession, and we thought, 'right, we will stop using these for a while and see what happens'.
"We have had six winners this year since, so I would say leave them where they are for now, we won't be using them for the time being."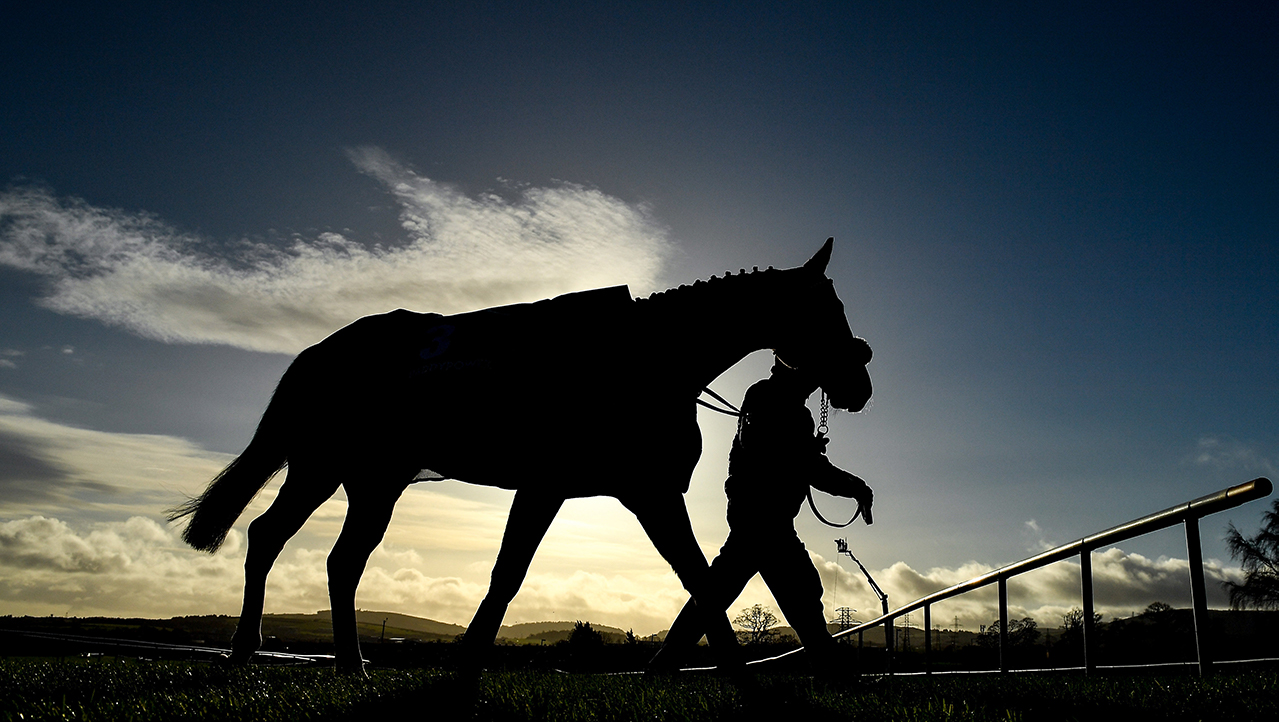 The new technology clouded their judgment
For Harty, the new technology took away the feeling in training horses; they were blinded by the numbers rather than simply feeling and seeing how the horses were performing.
"I thought we definitely lost an important element of how we train horses by using them," Harty said.
"There are definitely enormous benefits to having heart monitors and all of the data that they provide.
"I just thought they were clouding our judgment too much; we weren't training the horses as well as we could.
"I think we will probably go back to them at some point, but just for the time being, it is just a little bit more than we are probably capable of using at the moment."
While he is happy to continue without using the monitors for now, Harty knows that, at some point in the future, it will be unavoidable to use some variant of the new technology with his horses.
"The point will come where heart monitors and all of the data will be essential, but at the moment I think there are just so many variables that you can't rely on it," Harty said.
"If you go out on a dry day, the ground is going to be totally different to a wet day, but the computer doesn't know that.
"So, I just thought it clouded it, but there definitely will be a day where it is all essential."
Ireland's first joint-trainer partnership
Harty and his father recently formed the first joint-trainer partnership in Ireland, which means that they share the responsibility and plaudits for the horses they train, as both of their names appear on the license.
"It has been a while in the making," Harty said. "Training partnerships have been on the go for a long time in the southern hemisphere mainly.
"Dad has been quietly trying to get them brought into this country in the last five or six years and has had a big push on in the last two or three."
Harty, who has been wanting to take over as a trainer for a while now, is excited that now he will be able to work equally alongside his father and share the accolades.
"It is fantastic," Harty said. "I am not putting any pressure on him, to give me a bit of limelight; the two of us are happy doing what we are doing.
"We disagree on plenty, but it works. We have plenty of issues butting heads over this and that, but we like to try and, at the start of every week, put up the plan and make sure we are both pulling in the same direction.
"You can butt your heads over little things and have little arguments, but at least you're both pulling in the same direction with the same goal."
Previously in Ireland, despite a trainer almost certainly receiving help from others, only one trainer was named on the license, meaning that they would be the only one to receive the blame or plaudits for failure and success.
"Dad has been quietly lobbying and talking to the right people in the IHRB and the HRI and getting a lot of help from a lot of good people," Harty said.
"Ultimately, what it means is that the two of us have a license, we both share the same responsibility, and we both share the same ups and downs. We both get the plaudits, but we are both equally responsible.
"There are very few trainers in the country who do everything on their own without having somebody behind them that is every bit as supportive as I was to dad for the last five or six years.
"It is just great to be able to put someone's name on the license so that they are there to get the plaudits; to be congratulated."
Download the brand new OTB Sports App in the Play Store & App Store right now! We've got you covered!
Subscribe to Off The Ball's YouTube channel for more videos, like us on Facebook or follow us on Twitter for the latest sporting news and content.