On Episode 1 of the OTB Culture Club, brought to you by NOW TV, we decided to delve deep into the world of Rocky III, for your reviewing pleasure.
Former world middleweight champion Andy Lee also champions the third installment in the Rocky series as it turns out, and he joined Ger Gilroy and Eoin Sheahan for a closer look at the Sly Stallone classic.
The soundtrack alone, given this is the film where 'Eye of the Tiger' first appeared, would be worthy of an induction into the OTB Culture Club, according to Andy, and nostalgia makes him love the film more than he otherwise would.
"This is not a really cultural choice... but for the very cultured viewers and listeners of Off the Ball, we've gone for Rocky III!
"The remit was something you watched that meant something to you... listen, I haven't watched this film in years, I probably wouldn't watch it now if it was on TV!
"But, growing up as an aspiring boxer... I lived it every day. Rocky III was certainly my favourite. It's got everything, the start of it was the end of Rocky II when he wins the title and you have that great music playing, you've got tingles and you're getting pumped.
"It's got wrestling, it's got Hulk Hogan, it's got Mr T from The A-Team, it's got Apollo Creed and some great montages, and at the end he wins! There's plenty of characters in there who we'd pretend to be as kids!"
Eoin Sheahan has noticed a particular trait from the films.
"It's almost as if there's a template that each Rocky film follows. It's like - opening montage... bit of dialogue... montage... bit more dialogue... fight... montage... another fight... end. That's almost the entire concept of Rocky, isn't it?"
Ger wasn't quite having Eoin's scepticism over the film, and is quite happy to recommend it.
"I loved it. It is cheesy, and it's so utterly predictable. But there are bits of this that are actually genuinely laugh-out-loud, and not always intentionally.
"I think as a cultural artifact, [in terms of] where America was at in the early 1980s, it's pretty amazing. And when you think Sylvester Stallone invented the whole Rocky franchise!
"He wrote, and acted in the first one at a time when he was absolutely nobody. And here we are, what 50 years later, where they're still making Creed movies. And actually those Creed movies have a credibility... I actually really enjoyed it!"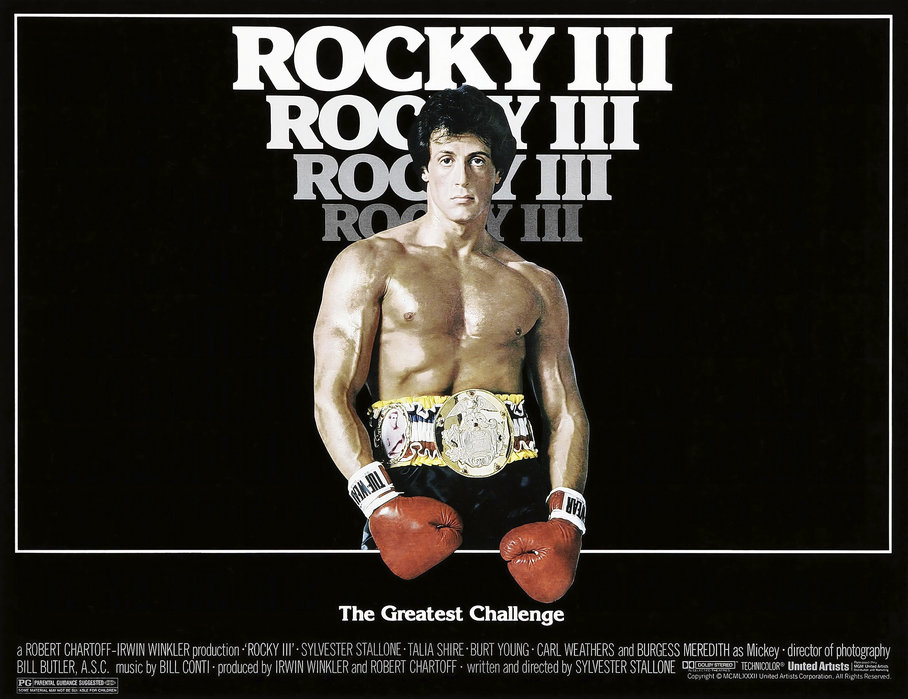 Eoin acknowleged the rich awards history of the very first Rocky film, and said it can count itself lucky to have taken home the top gong at the Oscars in particular.
"The 49th Academy Awards, for Best Picture it beat All the President's Men, Network, and Taxi Driver. This is the first Rocky! I think this is an unbelievable achievement, let's put it that way!"
Another theme both Andy and Ger noticed throughout was the intimate relationship between the two main characters, and Andy said it added greatly to the film.
"There is also a heavy bit of homo-eroticism in there, with the two lads on the beach hugging it out, which is also cool! Those short shorts, I don't know whether you'd get away with them today!"
Ger agreed, and said it was a theme he had noticed throughout too.
"Ding ding at the end! Myself and my wife were shitting ourselves at the end on the couch laughing at this... it was literally the most homo-erotic film I have ever seen. There is no two ways of looking at this, it's a love story between Apollo Creed and Rocky Balboa.
"From the get-go, there was just this brooding chemistry between them, and I thought that was one of the best, and most interesting, and funniest subplots you were going to see!"
Eoin wasn't having the acting performances, and said Stallone's skills (or lack thereof) make him ready to disagree with Andy's sentimental takes.
"I actually think Sylvester Stallone is not a good actor, there's an unbelievable level of cheese that goes with every single he says as Rocky Balboa.
"Some people may say that there's almost a charm to that, maybe not all athletes should be the most charismatic people ever, maybe he's got that nailed!
"I disagree with that, personally... we've already used the term 'unintentionally funny' in this. The Room is unintentionally funny, there is no unintentionally funny film that is good because it is unintentionally funny. There is a crapiness that makes it unintentionally funny."
Regardless of opinions, it's hard to argue with Rocky III as a piece of culturally important film, and as such is our deserving first inductee to the OTB Culture Club.
The OTB Culture Club is brought to you by NOW TV, where you can stream classic Box Sets, the latest award-winning TV shows and unmissable movies with a new premier every day. Visit nowtv.com to check out the wide variety of great entertainment and movie options.
Download the brand new OTB Sports App in the Play Store & App Store right now! We've got you covered!
Subscribe to OTB Sports's YouTube channel for more videos, like us on Facebook or follow us on Twitter for the latest sporting news and content.