34-year-old Simi Singh bowled the fourth over of Ireland's T20 World Cup match against the Netherlands. He became the first Asian-born cricketer to represent Ireland at a World Cup.
Sean Hussey and Brian Dowling report for OTB Sports.
Simi Singh grew up in India. Once a promising and dedicated underage player in cricket-obsessed India, Singh would skip school and exams to focus on his sport. Unfortunately, by 2006 he was a teenager with no clear avenue towards a professional career in cricket.
"It was around that time when I was in that phase of being sort of nowhere cricket-wise," Singh told OTB Sports.
Ireland had never crossed Singh's mind. He knew very little about the country but had a friend who lived there. That friend made a phone call that would unexpectedly change the course of Singh's life.
"He rang me kind of out of the blue really...I obviously didn't have much knowledge of Ireland and he kind of encouraged me to come to Ireland and try out a season. That got me interested and slowly that thought of moving abroad to Ireland grew on me."
So a teenager traveled 8,000 kilometers to a completely different culture in search of a cricket career. Leaving a cricket-obsessed country for Ireland was the road less traveled. Cricket has grown in Ireland over recent years, but it is still firmly an afterthought on the national stage.
He would soon make his debut for Malahide Cricket club while studying Hotel Management at the American College.
But his first trip to Ireland didn't last.
Singh returned to India and attempted to chase his dream again the way he had always envisioned. The pressure of performing in India was different to that in Ireland. Playing in Ireland offered him a freedom. He felt a burden of expectation in India but could express himself on the pitch in Ireland.
"That pressure began to release when I came to Ireland. There was no expectations. Obviously deep inside I had ambitions to play international cricket and play for Ireland, but nobody knew that, and nobody knew me."
Ireland became Singh's home. Old Belvedere became his club.
Singh became an overseas Pro for Old Belvedere. He got a work visa and took his first steps towards becoming eligible for Ireland. His first steps towards becoming Ireland's first Asian-born cricketer to play at a World Cup.
Following his time with Old Belvedere, Singh moved across the Liffey to YMCA in Sandymount in 2012. That promise and potential that he had shown in India began to change into production and consistency in Ireland. Singh considers his move to YMCA a turning point in his career.
"I always feel if I didn't go to YMCA, I wouldn't have a career in cricket." 
Former Ireland cricket captain Alan Lewis played against Singh for YMCA when he was at Old Belvedere. Lewis remembers how talented Singh was but felt he was not fully focused on himself. He was too concerned with what people were thinking around him.
When Singh moved from Old Belvedere to YMCA, Lewis became a mentor for him, "Alan Lewis has been a great help in my great career, on and off the field. I owe him a great deal as well, bringing me to where I am now. Moving to YM, was the best move I made."
Lewis noticed Singh's work rate at YMCA. He gave Singh the news of his first call up to the Ireland squad in 2017.
"I couldn't believe it, I was thinking, are you serious. I rang my parents straight away, it was like two o'clock in the night in India, I woke them up and they were worried why I was ringing so late. Then I told them, and it was pretty emotional." 
Singh made his international debut aged 30 against New Zealand in a one-day international. The game took place in Malahide - where Singh played his very first game on Irish soil - but it resonated most in India.
Television crews and media even gathered outside of his family home.
"I started to get a lot of attention which I did not expect at all. My parents were kind of overwhelmed with the TV and media at my house. I did not think everyone would notice that much but it became a big deal back home.
"In Ireland, you do not get that much attention as you would do in India." 
The attention was about to ratchet up in Ireland too.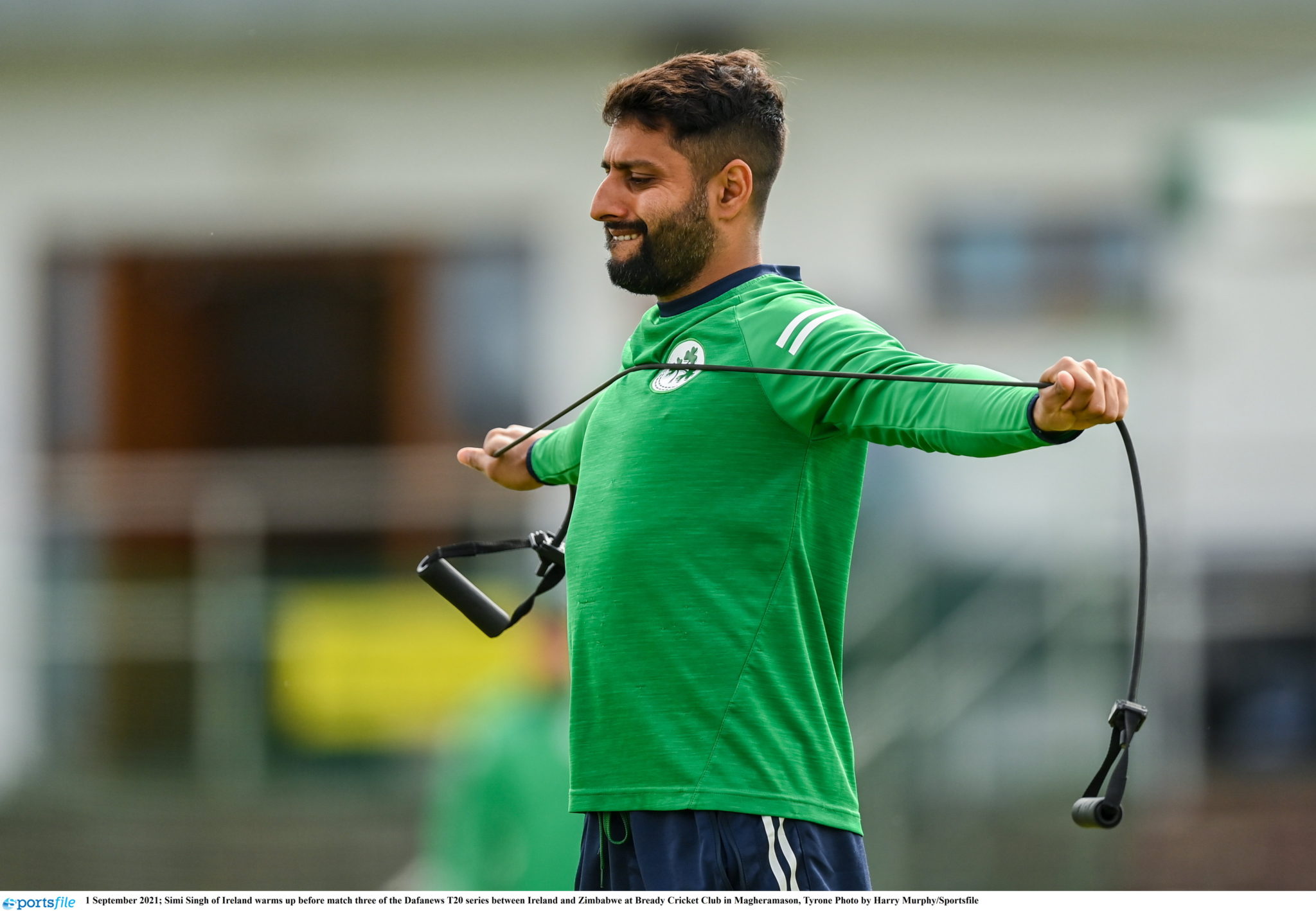 Less than 12 months after making his debut against New Zealand, Singh got to do something he never even considered doing. He played international cricket against India. Although India comfortably beat Ireland, Singh was a focal point throughout and during the aftermath.
"I remember leading up to these games, there was a lot of focus on me...there was a lot of pressure on me
"I remember before the games we did the anthems and obviously growing up listening to the Indian anthem all the way through. It was hard to not sing along. Obviously, I sang Ireland's call, but it was weird being on the other side. 
"I remember I was fielding at point and Rohit Sharma was batting and he hit a square cut to me and I fielded it. And I was like this is for real I'm actually playing against all these guys, so I have to get switched on."
The game itself was only the start though. Singh received online abuse from different quarters that stuck with him.
"I received a few bad messages on social media, insulting messages.  
"I realised especially with my bowling that I had to get better. Especially when you play against the bigger teams, the bigger players you have to more in your armoury, that was a turning point for me. I was really disappointed with my performance but then again I had to up my game.
"I have to prove to these people that I'm not just there to take part and that I'm better than this."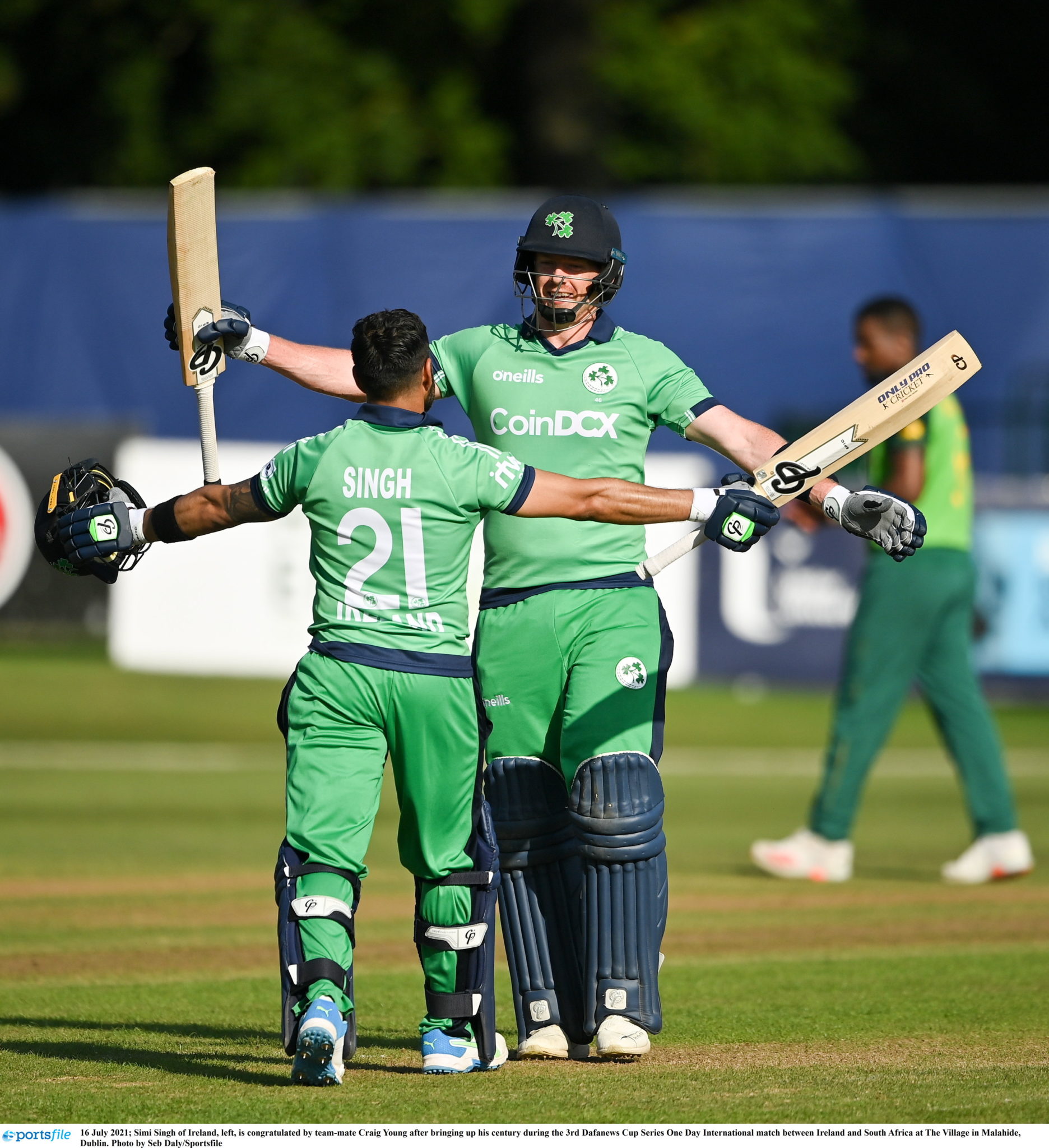 Singh had to wait for a while. He had to work hard. But eventually, his hard work and determination paid off. In July 2020, he became the first cricketer to make a century at number eight in a one-day international. He did so against South Africa, one of the best teams in the world.
"I always had belief, I always wanted to score a hundred but batting at eight, it's almost impossible in a way unless as it happens you get in early. We lost early wickets so I had time to bat but I never imagined when I went into bat that I would get a hundred.
"It was a magical moment for me.
"When I went back to my room, it was a satisfying feeling to have done that and again show the world that I can do it. It's one of the top, top feelings in the world."
15 years after visiting Ireland for the first time, Singh made his World Cup debut for Ireland this week. He was one of nine new faces in a 15-man squad. Curtis Campher was the star against the Netherlands but Singh played well finishing 0-27 in a 7-wicket victory.
Ireland face Pool A favourites Sri Lanka on Wednesday. If Ireland finish as runners-up in their group, there's a strong chance that Singh could once again face India. He'll hope it's another career-defining performance should that happen.
Sean Hussey and Brian Dowling report for OTB Sports.
Download the brand new OTB Sports App in the Play Store & App Store right now! We've got you covered!
Subscribe to OTB Sports's YouTube channel for more videos, like us on Facebook or follow us on Twitter for the latest sporting news and content.