Fresh from the successful defence of her gold medal at the European Rowing Championships Sanita Puspure joined Off The Ball on Tuesday.
The dual-Olympian picked up her gold medal for the second successive year in Poznan over the weekend, but the path to success in Ireland stemmed from a wrong turn when attempting to visit Dublin Zoo.
Puspure was a competitive underage rower, having picked up a bronze medal at the 2003 under-23 World Championships, but had stopped competing by the time she moved to Ireland.
"I was totally finished with rowing and never had any thoughts about going back doing it again," Puspure told Off The Ball.
"Just when we moved to Ireland in 2006 and even in 2007 when we discovered Islandbridge by accident, I was like 'Oh yeah, I'll go back rowing,' but I was pregnant at the time.
"So I had to wait until Daniella was born before I got back in the boat. Even then it was just for a bit of socialising with other people and a bit of peace and quiet from the kids.
"It was time to myself and then pretty fast it kind of took over, the ambitions grew and I wanted to get more out of it."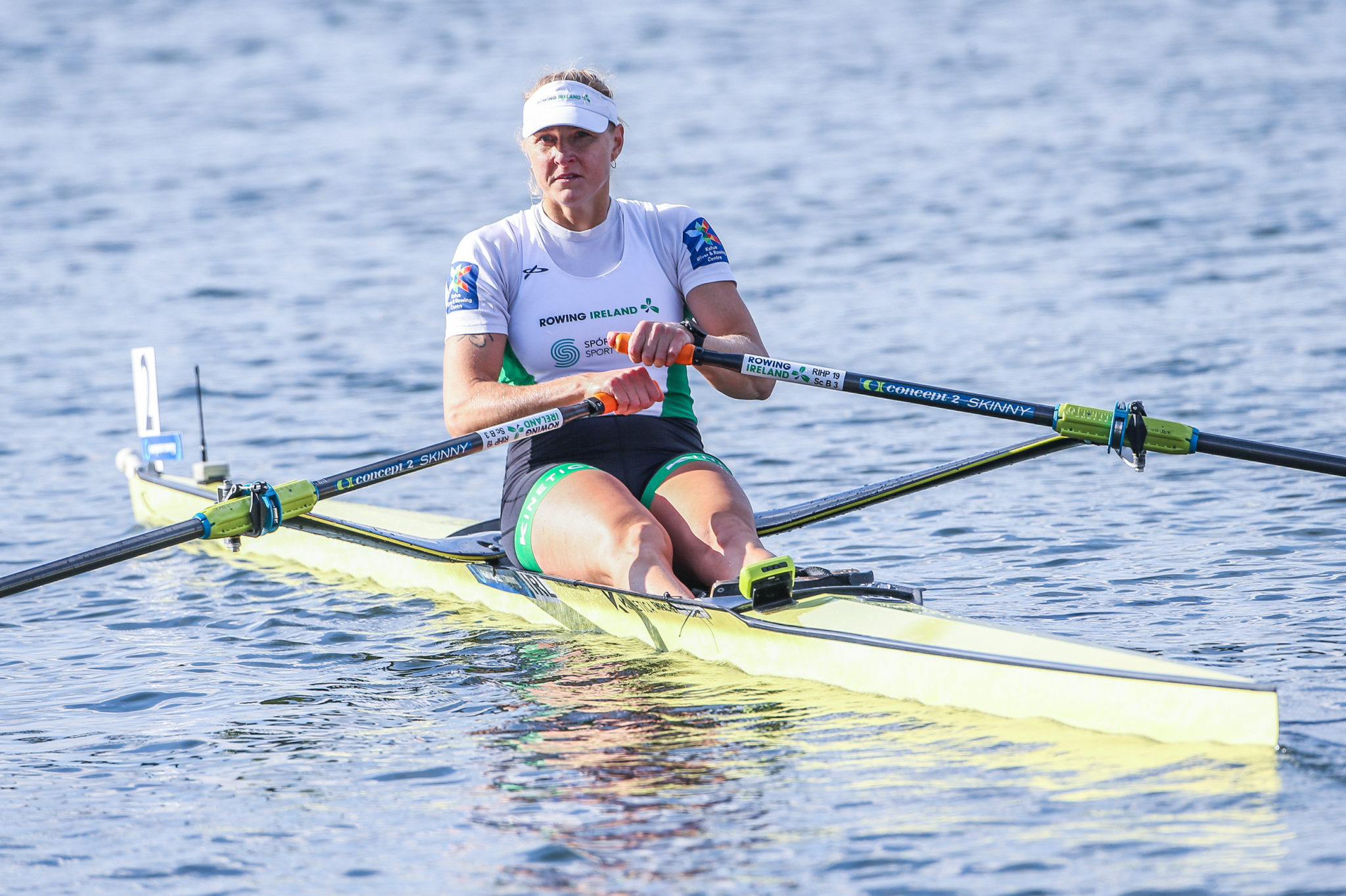 The moment she returned to the boat was literally a case of taking a wrong turn or rather missing a turn.
"We were on our way to the zoo with the kids and my friend was over," recalled Puspure.
"We missed the turn for the Phoenix Park and we went straight on to Islandbridge and it was peak training time.
"There were a load of boats on the water and I thought that was it. We just had to wait for the baby to be born and that was it."
Socialising to World Champion
From that wrong turn, the progress from 'socialising' to dual World Champion and dual European Champion is incredible for an athlete who will be in her fortieth year by the time the Olympics in Tokyo eventually rolls around.
"It's crazy and it feels like I have just started doing it and now here we are," recalled Puspure.
"I'm just very competitive by nature and once I started getting on the water I just wanted to be faster all the time.
"Then there was an opportunity to go in a double with one of the girls from the club and then it just went step by step.
"In the summer of that year, I knew I wanted to go back to the National rowing. I was a bit more motivated to go out and do two sessions a day. Training a bit more, getting out in the boat a bit more often.
"We used to live in Skerries and I remember myself running on the beach thinking that 'one day I'll get the Irish passport and wear that green jersey at the Olympics.
"I wasn't even that good at the time, I was just good at dreaming, I suppose, and that was it."
Actually Sanita, you were that good.
Download the brand new OTB Sports App in the Play Store & App Store right now! We've got you covered!
Subscribe to Off The Ball's YouTube channel for more videos, like us on Facebook or follow us on Twitter for the latest sporting news and content.