Former Irish tennis player Conor Niland joined Off The Ball on Tuesday evening to chat about the nightmare year Novak Djokovic has had in 2020.
The incident that led to Djokovic being defaulted from the US Open was controversial to some but when Niland saw what was happening he knew what was coming next.
"As soon as it happened I was on WhatsApp to friends and family saying 'Djokovic is on his way out,'" he recalled. "It's cut and dry, the conversation at the net between the referee and Djokovic went on for quite a long time.
"Do you know what came into my mind? David Beckham's flick-out against Diego Simeone..."@ColmBoohig has seen the Djokovic reaction before... 🎾@GilletteUK | #MadeofWhatMatters

FULL CHAT: https://t.co/ZFdZPJyDWN pic.twitter.com/sd1jAaagGA

— Off The Ball (@offtheball) September 7, 2020
"I was thinking 'they are not going to bottle this, are they?' because Djokovic is such a big star. What I think transpired was that Djokovic was trying to persuade the referee that it was unintentional and the line judge was fine.
"'Wasn't going to go to hospital' was one fo the sentences he used and I think then he compounded it by leaving Flushing Meadows straight away and not doing a press conference.
"He compounded it by leaving the site and not facing the media. It was not a good evening."
Similar incident to Djokovic
Niland was involved in a similar incident but had a different reaction to Djokovic after hitting the line judge with the ball.
"I was really concerned, that I might have done some damage, but luckily he was fine. The referee came out and I was defaulted. It happens probably two or three times a year on the Challenger Tour and Futures tour, very rare to see it at a Grand Slam to the number one in the world.
"It's one of those instances where people who don't follow tennis or don't even follow sport are talking about it. With the year that Djokovic has had, with the Covid stuff and the Adria Tour he held in Eastern Europe that was obviously a horrible series of events.
"Players got Covid and many fans as well and then he had the anti-vaccination comments. So while he was out of tournaments he was still in the limelight.
"Then for this to happen at the very end when he's still going for the Grand Slam record against Federer and Nadal. It was something we will talk about for a long long time."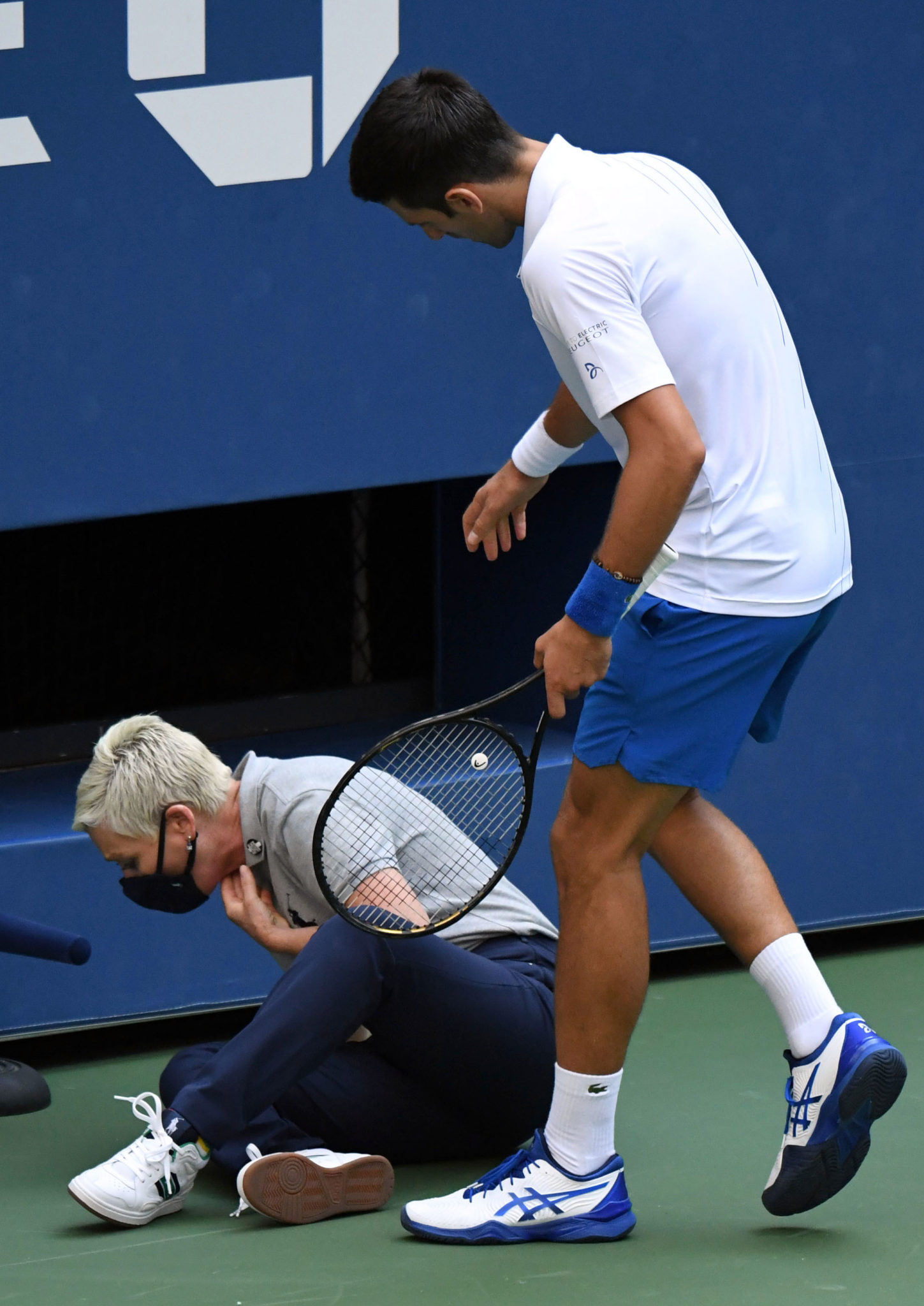 The question over how intentional the incident was is an irrelevance to whether Djokovic was going to be defaulted, there are no mitigating circumstances.
"Just look at his face when they pan to Djokovic," said Niland. "He realises what has happened, it'll tell you all you need to know, he was done, he was defaulted, without a shadow of a doubt.
"Obviously it's almost never going to be intentional if somebody on a tennis court gets hit with a racquet or a ball, but if you are doing it out of anger [it's a default].
Damage to Djokovic legacy
It is difficult to assess how the incident will affect Djokovic's image in tennis long term.
"He was never taken in by the tennis fans and then I know it's a bit of a cliche but he's tried to be liked too much. That has then worked against him," was how Niland assessed the Serbian relationship with fans as a whole.
"He could have gone quiet in the last six months but he's managed to put his foot in it three or four or five times. There was talk of changing water molecules with the power of positivity on Instagram.
"He's continued to reveal and 'quirky' is probably too light a word, these potentially dangerous views on things that has gone from him being this slightly unloved but unbelievable tennis player to this unbelievable tennis player who has got a bit of a tattered legacy.
"Whereas Nadal and Federer have just cruised through the last twenty years with no controversy off the top of my head right now.
"It's been a weird year. When you see the PTPA thing happening, a lot of the lower-ranked players would see Djokovic as a bit off a knight in shining armour here.
"What he's doing is essentially setting up a breakaway group that's can strike and tennis players can bargain for more money.
"The revenue that the players are getting at the top events has gone from maybe eight percent to twelve percent. While the NFL and these organisations it's more like 60 percent.
"So players are trying to band together but they need a top guy and Djokovic has been that guy. So if you asked the number 80 in the world, he'll say Djokovic is an 'unbelievable guy' because he doesn't need to do this, he's made his money."