Legendary sports personalities John Giles, Rosemary Smith and Eddie Keher joined the Saturday Panel on Off The Ball to talk about how they have dealt with lockdown and the importance of community.
Since March, Smith, Giles and Keher have been isolating due to the heightened risk to their health should they contract COVID-19.
While they all said that it has been a challenge, they have found security and comfort in the support of their community.
Giles doesn't walk alone
Giles, who is a Leeds United legend and the former Republic of Ireland manager, mentioned that the virus has made him scared to go out, but that he never really went out much anyway.
"Generally speaking, it hasn't affected me that much, except that I am terrified by it," Giles said.
"I went out one day for a walk and these two ladies were coming by and I stopped, and they were asking me directions.
"I shouldn't have done that; well that's what I thought anyway.
"I was worried then for the next 10 days to see if I had any symptoms. I am driving my wife mad, to be honest.
"If I get a tiny tickle in my throat, I am complaining saying I think I have it, I think I have this virus.
"So, I am terrified of it, because at my age it is very dangerous."
A former teammate of Giles at Leeds, Norman Hunter passed from the virus earlier this year, around the same time that Jack Charlton and Trevor Cherry also passed away with other conditions.
"Norman Hunter was a big shock; huge shock," Giles said.
"Norman was a very good pal. He caught the virus and he had underlying conditions and he didn't recover from it."
But Giles is happy to be able to live with his wife so close to some of his children, who are able to help him out if needed.
"I am very lucky. My wife and I, our health is reasonably good, and we have two of the kids, we have six kids altogether, two of them are quite near us in Birmingham," Giles said.
"They can bring the stuff in that we need, so we are very, very lucky to have that."
Rallying around the community
Smith has been running her own driving school for a number of years prior to the pandemic.
The rally driver mentioned that since the school was forced to suspend their activities because of COVID, she has been looking to fill her now endless amount of free time.
"I just have nothing to do basically since the 10th of March, [which was] my last school day," Smith said.
"I can't even do my private [lessons] because I am of the age that now I am high-risk.
"The days are very long now, because I was so used to being out and about. I was never at home.
"We are even wondering about the [events] that I am supposed to be doing next year, which go from London to I think Dusseldorf and one in America.
"The one thing that keeps me going is thinking about what might be happening."
Smith said that her neighbours have been wonderful throughout the pandemic and lockdown, especially because she barely knew them beforehand.
"For the first few months I enjoyed the lockdown," Smith said.
"I do live on my own, but I have got wonderful neighbours I must say.
"They are really fantastic, and they looked after me like their old granny basically.
"A lot of them I didn't know at all, but I used to sit in my front garden and my next-door neighbour Deborah would sit in her front garden and we'd have a glass of wine on the wall between us.
"Then all the neighbours came around and they would say, 'what can we do for you? Do you want your messages got? Is there anything we can do?'
"The funny thing is I can't think I'm old, so I have been saying to other people, who are probably younger than I am... 'is there anything I can do for you?'
"It has brought the whole community together."
Golf and gardening
For six-time All-Ireland-winning hurler Keher, the lockdown has afforded him the time to be able to get his garden back to a suitable condition.
"I am very lucky where I live in the country," Keher said.
"During the lovely weather, during the real lockdown, we able to sit outside and have coffee and look at the scenery.
"We have a huge garden which had gone a bit unruly over the last couple of years… myself and my wife got into that and we have it back to pretty good shape now.
"It is not garden of the year now, but it is manageable."
Like Giles, Keher enjoys walking on a daily basis, which he has been able to do despite the restrictions.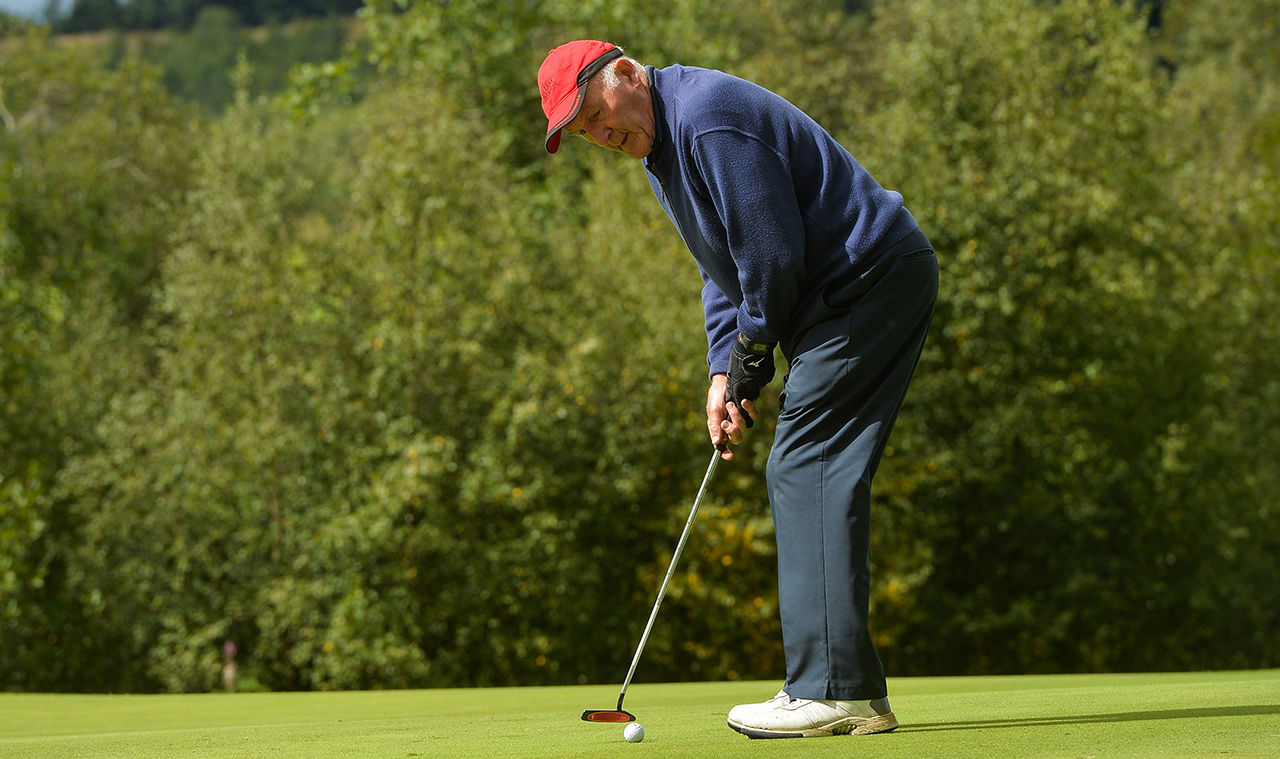 He was glad when the restrictions were lifted slightly, though, as it has allowed him to play more golf.
"I've been walking every day, particularly during the real lockdown where we couldn't move more than 2km from the house," Keher said.
"Now, of course, we are just confined to the county… I am very lucky that my own golf club is New Ross Golf Club… in Co. Kilkenny.
"I have been playing there quite a lot.
"Also, I am close to Mount Juliet and I have a few friends who are members there, so I have been able to play there as well."
Perhaps the biggest thing missing for Keher now is being able to go out and support his team on the hurling pitch, although he has been able to get some comfort from streaming them at home.
"I obviously miss going to hurling matches, so we have been watching them on TV and Skyping them," Keher said.
"It is not the same as going to the match, but it is a substitute."
Together celebrating and connecting older people in our communities with @ALONE_IRELAND supported by Guinness.  Always drink responsibly, visit drinkaware.ie
#YouAreNotAlone
Please consider donating if possible: ALONE.ie/donate
Download the brand new OTB Sports App in the Play Store & App Store right now! We've got you covered!
Subscribe to Off The Ball's YouTube channel for more videos, like us on Facebook or follow us on Twitter for the latest sporting news and content.