Kenneth Egan dropped into Off The Ball on Monday as part of Eric Donovan's coaching ticket ahead of the Kildare boxer's bout against Zelfa Barrett on Friday.
Egan has travelled to the UK with Donovan ahead of the fight for the IBF Intercontinental belt and the former Olympic silver medalist could not be happier with how preparation has gone.
'Good guys don't always get the breaks so we're thrilled for him.'@gergilroy on Team OTB's excitement to see Eric Donovan compete at #FightCamp 🇮🇪

We were joined on #OTBAM by Eddie Hearn - who has been warned that the Irish fighter is ready to stage an upset on Friday night pic.twitter.com/fFo2e9Pq0l

— Off The Ball (@offtheball) August 11, 2020
"Everything is bang on," says Egan. "He has absolutely smashed it this time, the camp has been perfect."
"He has been a real profession, everything has been bang on. The commitment and the sacrifice in this camp and it's the only way to do it.
"He's going to go out here on Friday, he is the underdog. This guy he's fighting Zelfa Barrett is Eddie Hearn's new signing, he's his little golden goose.
"Eddie wants him to win, let's not bullshit this. But to everyone outside of that, it's a real 50-50 fight. If Eric puts the plan into place and executes that gameplan, there's no reason why he can't go out and beat this guy."
Eric Donovan was ready to go
Egan emphasised how Donovan had already been working hard before there was even a prospect of a fight.
"Eric was in a privileged position," said his coach. "He was already training, doing his online sessions. He was tipping away and keeping fit until he got the news that he was fighting Zelfa.
"He wasn't starting at a one or a two out of ten, he was up at a five or a six. So when we got the green light when the boxing gyms were open again, he was in good shape.
"He was ready to go, so we just got plenty of sparring into him, we did over 100 rounds of sparring. We had southpaws, we had orthodox boxers, we had all sorts there - bigger, heavier lads and he worked through every session.
"He pushed himself to the limit in almost every session, so that part is ticked. He's not going to look back and go 'Did I train hard enough? Did I work hard enough?' Everything is done.
"He has no negativity in his body whatsoever, and no doubts whatsoever. It's been a gruelling camp for him, he's pushed himself very, very hard, but he knows this is the opportunity he can't let slip.
"I don't think there's any pressure on Eric. Eric is enjoying this, it's a privilege to go out here and fight on a show like this."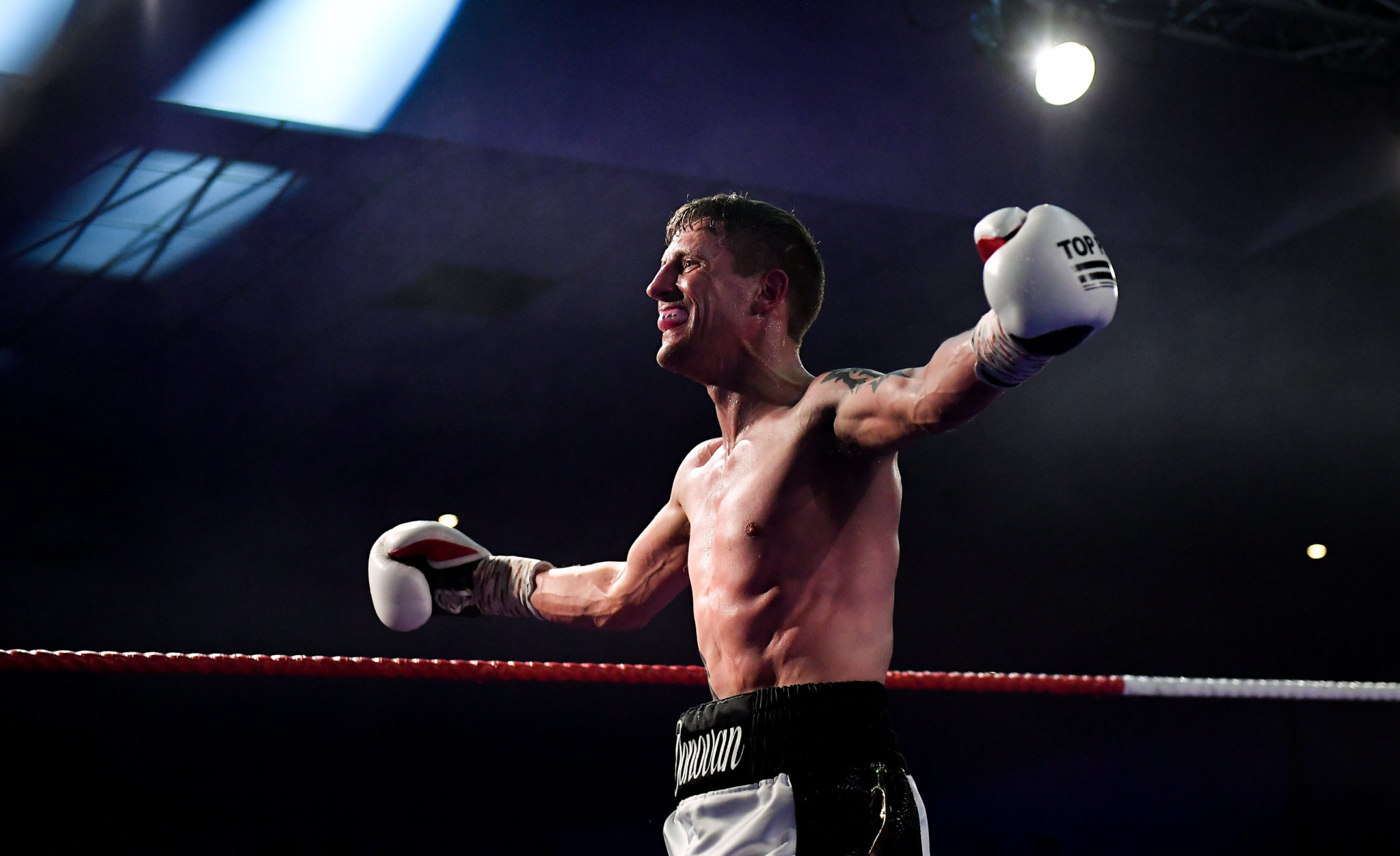 Without giving too much away, Egan is clear that the Eric Donovan team are happy with the Kildare man's preparation for Friday's fight.
"If he gets out there and he relaxes and gets the game plan right, we're going to frustrate," said Egan.
"We're going to annoy this guy, make this guy doubt himself. We're going to make this guy lose his will, get frustrated, make mistakes.
"They say Eric hasn't got that much experience in the pro ring, but the wealth of experience he has in the ring full stop, is second to none.
"You can't buy that stuff. He's travelled across the world, he's been in the WSB. He knows how to handle himself in the ring.
"This is going to be a ten-rounder, no problem to Eric's fitness and conditioning - we've done the rounds in sparring. It's just a matter of who brings the better gameplan.
The Donovan team sound happy with their plan, even if they are obviously not going to reveal it.
"We're going to box clever," said Egan, "Eric Donovan is a very intelligent boxer. He's a slick southpaw and we know this guy doesn't like southpaws, that was the only loss on his record.
"We're not going to take too much heat on that, it was a blip on his record. Eric just needs to be clever, he needs to frustrate his guy and we're going to stick to our plan.
"I won't say too much, but we are very confident in the plan we have, and if Plan A doesn't work we have a Plan B to step into and Plan C as well."