With everyone stuck at home, there's going to be a lot of binge-watching. With no live sport on, there's also going to be a lot of rewatching classic games, documentaries and films. 
The Maradona film, which aired on Channel 4, rightly had the country encapsulated on Saturday night.
However, even with the endless recommendations of the best sports films to watch, there has been one glaring omission: 'Dodgeball - A True Underdog Story'.
A film about a once-in a-generation-event that eclipses Leicester City's Premier League triumph of 2015 and the New England Patriots' comeback in Superbowl LI.
The story is amazing. Peter LeFleur (Vince Vaughn) is the owner of 'Average Joe's' gym. A small, local business for those who want to keep in shape without overdoing it. LeFleur is your average nice guy, easy-going, friendly, and isn't chasing you up if your payment is late.
That's not an efficient way of running a business though and even nice guys have to pay the bills. The gym is bankrupt and faces closure. Closing isn't even the worst outcome though as they come to learn.
The gym is bought out by White Goodman (Ben Stiller), the owner of a new-flashy gym across the road. His gym is only for the elite athletes of the world, the people who make you feel bad for failing to finish a rep of 20kg bicep-curls.
"Here at Globo-Gym, we're better than you - and we know it" is their motto.
He threatens to demolish the gym and build a car park for his members. The only way to stop this from happening is by raising $50,000 in two weeks to pay off the debt.
LeFleur rustles up some of his loyal members in the hope they might come up with an idea of how to save the gym. After some failed attempts to raise the money - they are ready to accept defeat.
Until. Gordon Pibb (Stephen Root) lands on the genius idea of entering into the Las Vegas International Dodgeball Open which just so happens to have a cash prize of $50,000. He read all about it in 'Obscure Sports Quarterly" - a popular sports magazine at the time.
The film follows the journey of a rag-tag group of misfits - one of whom thinks he's a pirate - as they learn the sport from scratch and work their way through the tournament.
Here's why it ranks as a top-shelf sports movie.
White Goodman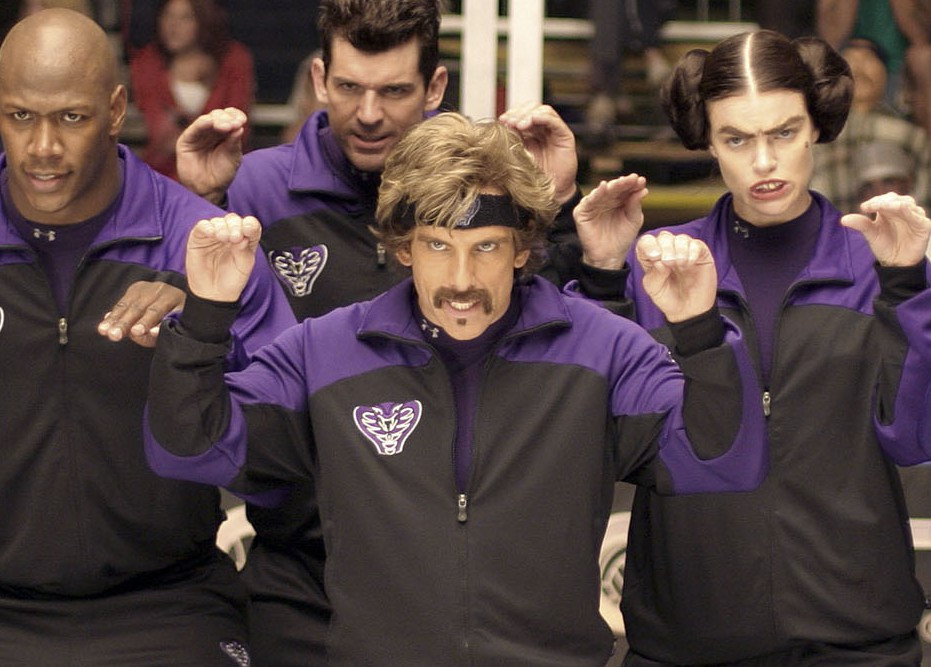 Played by Ben Stiller, White Goodman is everything you want from your villain. As any bad-guy should be he's the antithesis of his counter-part Peter LeFleur. Cocky, arrogant and sleazy throughout the film, Stiller does a brilliant job at making you hate White Goodman from the get-go.
Goodman's goal is to crush Average Joe's and ensure they don't win the tournament. He does so by bringing together some of his best athletes and forming the "Purple Cobras".
The team made up of; Blade, Lazer, Blazer, Michele and Fran Stalinovskovichdaviddivichski (the deadliest woman on Earth with a Dodgeball). They enter the tournament as clear favourites.
Goodman cheats, lies and steals in attempts to foil the hopes LeFleur's team. The Purple Cobras also drew some negative press when they were caught spying on the Average Joes' training with hidden cameras.
They are talented, there's no doubt about it, but Goodman and the Cobras will do anything to win.
When the going gets tough though, they turn to their opponents biggest weakness. Money.
"Peter, I know you, you know you, and I know you know that I know you", Goodman says before offering LeFleur $100,000 to sign over the deeds to the gym. An offer he can't refuse.
Goodman is a ruthless winner. That's what he does and that's why it's so hard to give him any credit in the movie. Eventually, it all falls apart for him.
ESPN 8 'The Ocho'
Of course, an international dodgeball tournament is going to garner some attention from the national media. ESPN covers the entire tournament on 'The Ocho', its obscure sports channel.
"If it's almost a sport we've got it here".
Not only is the channel a great idea, but they also go all out when it comes to the production value.
The opening credits for the tournament features some brilliant graphics of a giant robot throwing a flaming Dodgeball through famous buildings in Las Vegas before knocking the head off another giant robot before flashing to the hotel where the tournament is taking place before flashing to the presenter and co-commentator; Cotton Knight (Gary Cole) and Peppar Brooks (Jason Bateman).
The pair are a commentary dream. Cotton Knight calls the game brilliantly and Peppar Brooks provides colour like no other.
They also don't hold back when it comes to the promotion of the tournament selling it as "A sporting event better than the World Cup, World Series and World War II combined". A bit more creative than the time Sky Sports sold 'Red Monday' to us all.
Lance Armstrong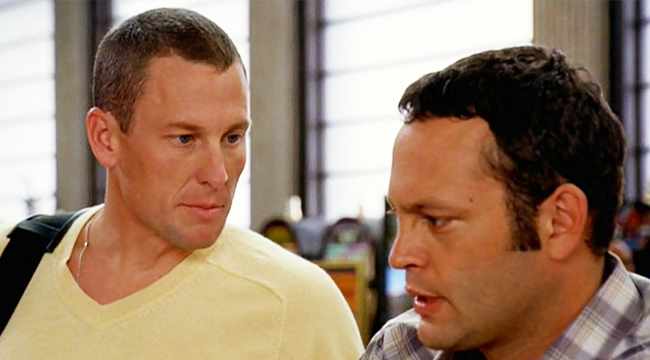 There are several celebrity cameos in this film. Chuck Norris appears as a judge, William Shatner is the dodgeball commissioner. But there will never be a cameo quite like this cameo.
After taking the bribe from Goodman, Pete LeFleur goes to drown his sorrows at the bar. As chance has it, he runs into Lance Armstrong. That for me is already enough. It gets better though. Remember, this film came out in 2004. Armstrong wouldn't confess to doping for another nine years.
This leads to the most extraordinary dialogue between the two. After telling Armstrong he decided to quit, the former cyclist responds.
"Quit? You know, I was going to quit once when I was diagnosed with brain, lung and testicular cancer all at the same time. But with the love and support of my friends and family, I got back on the bike and won the Tour De France five years in a row. But I'm sure you've got a good reason to quit. So what are you dying from that's keeping you from the finals."
Now, nobody is saying anything bad about his fight against cancer, his recovery was brilliant. All the other stuff, not so much.
It's incredible that he was so sure of himself not getting caught, he appeared in a Hollywood movie talking about his achievements on a bike. It's surreal watching.
An underdog story
Like any great story - the protagonists are Underdogs who overcome the odds.
Average Joe's is a team made up of sporting wannabes.
Justin Redman (Justin Long), a shy college student with no co-ordination, whose sports experience amounts only to his failed try-outs for the High School cheerleading squad. Steve Cowan (Alan Tudyk), who believes he is a pirate.
Gordon Pibb, a nervous nice-guy who wouldn't hurt a fly. Owen Dittman (Joel David Moore), who has never played sports and Dwight Baumgarten, who isn't very good at anything.
Their only shining hope is Peter LeFleur and Kate Veatch (Christine Taylor), who, at the start of the movie was the lawyer working the contracts between the two gyms but joined the Average Joe's team out of revenge when Goodman had her sacked in a failed attempt to date her.
With her experience playing softball and LeFleur's natural ability on the court, they become a deadly duo on the court.
Of course, they didn't become a brilliant team overnight. They enlisted the help of a legend of the game 'Patches' O'Hoolihan (Rip Torn) - an All American Dodgeball Hall of Famer.
Through unconventional training, like dodging wrenches and traffic, O'Hoolihan prepares the team for what's to come.
Once they've learned the five D's of Dodgeball - Dodge, Duck, Dip, Dive and Dodge - they are ready.
On their journey, they face the German champions (Team Blitzkrieg) led by David Hasselhoff, Skillz that Killz and Flying Cougars. After some close calls, they somehow make it to the final where they face off against White Goodman and the Purple Cobras.
Everyone loves an underdog story. By all accounts, they shouldn't even have qualified for the tournament. To go on and win it is another story. At least with hindsight, you can say Leicester City had some top-quality players but Average Joe's had no real talent at all.
They had to overcome the death of their beloved trainer the night before the final. They lost one of their key players to a cheerleading contest and another to a crisis of identity when Steve 'the Pirate' realised he wasn't a Pirate.
"Do you believe in unlikelihood?" the ESPN commentator says at one point in the movie.
After watching it, I absolutely do.
Download the brand new OTB Sports App in the Play Store & App Store right now! We've got you covered!
Subscribe to Off The Ball's YouTube channel for more videos, like us on Facebook or follow us on Twitter for the latest sporting news and content.