Ten years ago, Paudie McNamara stuck with a rebel fringe of Limerick hurlers that showed faith in an increasingly unpopular Justin McCarthy. A decision that made life difficult, McNamara was nevertheless one of Limerick's star performers as McCarthy's depleted side slipped to seven National Hurling League defeats in succession. Here's his story in Paudie's own words. 
Originally published February 17, 2019
"Look, the ex-players would never say anything like, but you'd often be hearing people on a night out, and they'd be calling you a scab because you stayed. Everyone had their own decision to go or stay, and fair play to them who left, but I made my decision as well."
********************
Nine-years ago, when Limerick last met Kilkenny on an equal footing in the National Hurling League, Paudie McNamara's 0-11 scored against the All-Ireland champions demonstrated the proficiency of a hurler hitting his stride as the world burned around him.
Tamely exiting the 2010 championship on the back of convincing defeats to Cork and Offaly, Limerick's league campaign had been a disaster. Beaten in all seven of their games, although McNamara's individual tally of 3-27 stood above what even Richie Power, Joe Canning or TJ Reid had to offer, it counted for little amid such collective suffering.
"Being honest about it, I was a big guy and I didn't probably fit the criteria of a hurler," a 33-year-old McNamara states by way of explaining why he would scarcely play a game for Limerick thereafter.
"People were looking at me and going, 'Oh, he's slow,' and all that. In my own mind, I wasn't faster than a lot of lads. So, I thought it was down to my legs more than anything that the chances stopped coming.
"The bust came then and work dried up, so you had to kind of make a decision you know?"
Like any number of others at the turn of the last decade, that decision culminated in the Murroe Boher hurler opting for emigration.
Following a well-worn path to Australia in search of greater opportunities, it had been McNamara's determination to walk a road perhaps better off left less-travelled that played its own part in determining his fate.
"I broke onto the team in '09 and then, listen, it ended very poorly with the beating we got in [the All-Ireland semi-final in] Croke Park against Tipperary," McNamara recalls.
"So, you were going into the Winter again and you wanted to get going because you didn't want to be thinking about Croke Park.
"I suppose with the trouble coming then in 2010, on my own part it was just pure frustration. I'd wanted to kick-on a small bit and then the troubles erupted and you could only try to do the best you could after that."
As team-mates, club-mates, idols and friends acted on their dissatisfaction with Justin McCarthy and followed those 12 hurlers the Cork man had ruthlessly cut from the Limerick panel at the tail-end of 2009, Paudie McNamara grasped the nettle and chose to remain in a depleted panel he had worked so hard to crack in the first place.
I remember going through the county championship and I was getting abused by people on the side-line, you know?!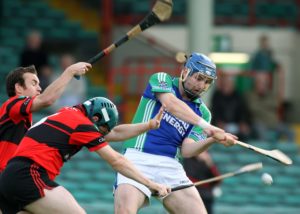 "I wanted to play hurling," McNamara plainly states when explaining his rationale for actively avoiding the Limerick hurling strike.
"I could have easily walked away as well, but you have to show a bit of loyalty toward Justin McCarthy. He gave me my chance, and I didn't want to be disloyal to him.
"People would say, 'why didn't you go with your friends?', but it was a lot different for the likes of Brian Geary and Stephen Lucey who had won All-Ireland's underage and stuff like that.
"They had a loyalty to each other, and to a degree I had a loyalty to them as well, but I wanted to stay playing and show a bit of loyalty to the man who showed loyalty to me.
"If I left I might never get a Limerick jersey back again. In my mind, that's what made it up for me."
Speaking almost ten-years after the event, it is difficult to decipher what consequence of his decision proved a greater disappointment for McNamara; staying when it would have been easier to go and perhaps forging a lengthier inter-county career down the line, or glimpsing the potential of a team that would never be realised.
"I remember we went down to play Wexford," McNamara notes of Limerick's entry into the qualifiers of the 2009 All-Ireland series.
"It was actually my debut and the weather was awful, but the fight in all the lads was incredible. They just wanted to win so badly, and I'll never forget that day. They just wouldn't give in."
Scoring 0-4 in Wexford Park, McNamara continued to feature (and score) in subsequent games against Laois (0-2) and Dublin (1-1). Humbled by a Tipperary side unlucky not to win that year's All-Ireland, it was nevertheless only Limerick's second-time reaching this point of the championship in over a decade.
Emblematic of the whole you'd suspect, McNamara was desperate to kick-on. Instead, he would be hurling with a panel of new faces in the wilderness of what Christy O'Conner would later term Limerick's "lost year."
Brian Geary was colossal and I have such respect for him, but he'd gone. I'm in my first year of starting with Limerick, and I'm one of the leaders. It was hard.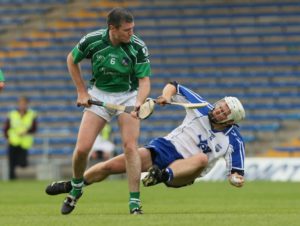 Adjusting to life whereupon the county's most talented hurlers were nowhere to be found, McNamara admits the task facing Limerick's 'remainers' was doomed from the outset.
"We knew ourselves that we were under pressure," he realised as a Limerick team that had begun to familiarise itself with hurling's top-table made way for an earnest, but unprepared group of youngsters.
"You wanted the best players around you, and the frustration in my view is that you wanted to be competitive and get better.
"Now, I'm not saying I didn't get better, but like, I looked up to Brian Geary, thought this man was just colossal, and I have so much respect for him, and then he's not there.
"So, all of a sudden you're going into you're first year of starting with Limerick, and you're one of the leaders of the thing. It was hard.
"Players like me, David Breen and Graeme Mulcahy were thrown into the deep end a wee bit because there was just no choice."
Predictably, the cobbled-together panel of players Justin McCarthy assembled fared poorly; a 31-point hammering by Dublin the nadir of Limerick's annus horribilis. 
Considering the manager he had chosen to stick by, and McCarthy's mind-set amid such crushing odds, McNamara cannot escape the feeling that this Cork man had paid little or no heed to the hurlers of his native county and a mode of action they had instigated only a few years earlier.
"I think it was just out of stubbornness and not letting player-power, if that's what you want to call it, win," McNamara notes of McCarthy's inexplicable resilience, "because from Justin's side, it was just purely being headstrong and not letting the players win."
Yet, even while abstaining from the conflict, McNamara identified what appeared to have passed McCarthy by.
"It was never about player-power," McNamara asserts, "it was about how the players were to be treated."
"I don't know this for sure, but I'd be fairly sure that guys who walked out probably wouldn't have played for Justin again anyway.
"Once I declared to go back with Limerick I wasn't involved with any of the conversations, but there was a bad taste left in the players' mouths after it. Going by what I witnessed and overheard, I don't think they would have gone back."
A few people wouldn't have thought of me being a county hurler, but Justin McCarthy did and I decided to show my bit of loyalty to him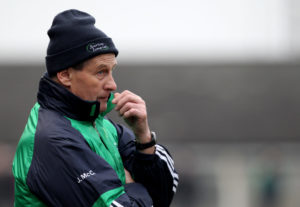 "I certainly would have saved myself hassle if I'd left too," McNamara accepts now.
"I remember going through the county championship and I was getting abused by people on the side-line, you know?"
To a man, however, McNamara is keen to assert that this is where the blow-back from his decision began and ended; no acrimony was forthcoming on either side of a Limerick panel where tough decisions had had to be made.
"The players that left never said anything, to me certainly," McNamara notes of his former inter-county team-mates, "they left me to make my own mind up, and in those meetings with the players, everyone was told to make their own mind up and no one was putting pressure on anybody."
"I often meet the players again, and never once is it mentioned that I stayed or anything like that, because when Justin left it was dead in the water, nobody ever said anything after it.
"It was an awful year and the players wanted to draw a line under it."
Within Paudie McNamara's own Murroe Boher, contrasting opinions were equally respected; a detail the forward found particularly admirable.
"When you think about it, I was playing hurling with the club with Seamus Hickey, Pat and Kevin Tobin," McNamara recalls.
"Those boys weren't with Limerick anymore and I had to go back down training and talk to these guys, and they're some of my best friends like.
"But they never said anything and wouldn't ever throw that in my face."
Yet, McNamara cannot escape the feeling that unlike some of his team-mates who walked, his decision came with detrimental consequences for his inter-county prospects thereafter.
"Ya, it probably did," McNamara acknowledges when questioned whether his association with the dying embers of McCarthy's Limerick harmed his chances going forward.
"I felt some lads were looked upon as being of a higher level because I stayed and they went, there was more thought of them to a degree."
A peripheral figure under McCarthy's replacement Donal O'Grady, Paudie McNamara found himself on the outside looking in when John Allen took control in 2011.
"There's always that bit inside me that says, 'what if?'", McNamara notes of his brief spell as a Limerick hurler.
"A lot of people that would love to have been in my position, they never got to play senior for Limerick,  but I wanted more."
Putting an end to the county's 17-year wait for a Munster Championship in 2013, McNamara, susceptible to the financial downturn and a willingness to leave Ireland behind, was already happily getting on with things on the other side of the world.
"Look, if I'm being totally honest, there were times when I was in Australia and I just didn't want to know about Limerick hurling," McNamara admits now, "it was only the year before last that I probably started following Limerick again properly."
It was never about player-power, it was about how the players were to be treated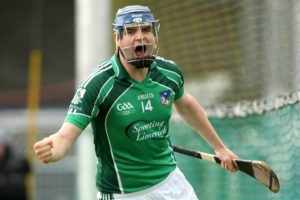 It's little surprise that Paudie McNamara can sum up his eventual desire to return to Ireland in one word, however: "Hurling."
"I'd fallen out of love with it," McNamara admits, "but then it sort of grew where I knew I only had a few years left in me and I wanted to play.
"Myself and my wife had had a child, and I wanted him to see me play hurling, and have him involved in it when he gets a little older."
In the shadow of Limerick's recent All-Ireland success, the 45-year wait between titles has swiftly taken on the form of a regrettable period that may finally be put to bed - thanks to John Kiely & co., Limerick hurling is back to Year Zero.
Unfortunately for Paudie McNamara, his spell as one of Limerick's leading lights came across a nine-month spell that is perhaps the most lamentable, and willingly overlooked of this generation-spanning era.
Yet, as "Dreams" played out across Croke Park last August, and the overwhelming propriety of the band's hometown, the song's title and Dolores O'Riordan's recent and untimely passing gifted the county an update on "Limerick You're A Lady", McNamara, like many Limerick hurlers before him, may well have looked on with cause to consider the reality of dreams left unrealised: "Then I open up and see / The person falling here is me."
He may primarily be left with a series of 'what ifs?', but Paudie McNamara and his cohorts throughout Limerick's "lost year" kept the show on the road. For the likes of All-Ireland winner Graeme Mulcahy, it was a cruel introduction to inter-county hurling that would ultimately work in Limerick's favour. For that, they shall not be forgotten.
Download the brand new OTB Sports App in the Play Store & App Store right now! We've got you covered!
Subscribe to Off The Ball's YouTube channel for more videos, like us on Facebook or follow us on Twitter for the latest sporting news and content.